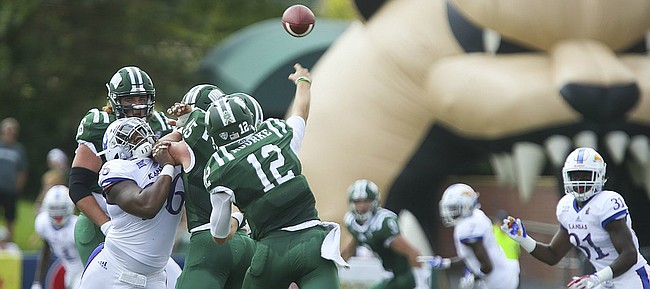 Like so many road games in the past several seasons, the Kansas football team fell into an early deficit and couldn't climb back.
Ohio took a three-score lead early in the second quarter and the Jayhawks weren't consistent on either side of the ball in a 42-30 loss at Peden Stadium. KU finished the non-conference portion of its schedule with a 1-2 record.
Kansas scored touchdowns on back-to-back drives in the second quarter via a 56-yard run by running back Khalil Herbert and a 9-yard touchdown catch by receiver Chase Harrell. Herbert, who had another touchdown as time expired in the fourth quarter, finished with a game-high 137 rushing yards on 19 carries.
But the Bobcats (2-1) scored on two straight possessions in the third quarter to squash any comeback bid. Ohio produced 450 yards of total offense, including 196 yards on the ground. Running back A.J. Ouellette had 102 rushing yards and a score on 10 attempts, while quarterback Nathan Rourke was 11-of-16 passing for 152 yards and two touchdowns.
KU quarterback Peyton Bender was 30-of-47 passing for 343 yards, two touchdowns and one interception. Junior receiver Steven Sims, who returned from an ankle injury, had six catches for 60 yards. Evan Fairs added three catches for 77 yards, while senior Jeremiah Booker had four receptions for 59 yards, including a touchdown in the fourth quarter.
The Jayhawks have lost 42 consecutive road games, dating back to 2009.
Photo Gallery
Kansas football v. Ohio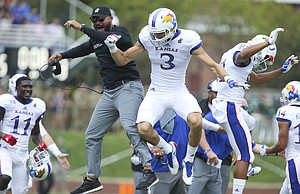 View a gallery of images from Saturday's game between the Jayhawks and Bobcats in Athens, Ohio.
Here's a quick look back at some of the action:
• The game turned when: Ohio cornerback Jalen Fox picked off a pass from KU quarterback Bender. Down 11 points at the beginning of the third quarter, the Jayhawks hoped to turn an interception by sophomore safety Mike Lee into some big momentum.
Instead, on the first play following Lee's interception in Ohio's end zone, Bender threw behind his intended receiver Sims, who reached back to try to put a hand on the ball. Sims tipped the ball in the air and Fox took advantage with the interception, which he returned to the end zone.
A holding penalty negated the pick-six score, but the Bobcats scored four rushing plays later — all from Ouellette — for a 32-14 lead. The Jayhawks never threatened again.
• Offensive highlight: After going scoreless for the first four offensive possessions Saturday, sophomore running back Herbert sprinted up the middle and went virtually untouched on his way for a 56-yard touchdown run.
The middle of the offensive line, including center Mesa Ribordy, created a gaping hole for Herbert, who scored his first touchdown of the season.
• Defensive highlight: The Jayhawks went through the first two games of the season without an interception. That streak ended on the first drive of the second half when Lee jumped in front of a pass in the end zone and wrestled the ball away from Ohio's receiver.
It was the second career interception for Lee, a free safety from New Orleans.
• Key stat: Third down conversions. The Bobcats went 5-for-9 on third down and only punted twice. Ohio ended up with points on six of its first eight drives.
• Up next: After three non-conference games, the Jayhawks will welcome West Virginia to open Big 12 play at 11 a.m. Saturday at Memorial Stadium. It's the last game for the Jayhawks before their bye week.
HOW THEY SCORED
FIRST QUARTER
10:49 — Louie Zervos 41 field goal. Five-play drive for 69 yards, in 2:05. (OU 3, KU 0.)
4:15 — Nathan Rourke 3 run. Jake Hale pass from Michael Farkas. Eleven-play drive for 64 yards, in 5:23. (OU 11, KU 0.)
SECOND QUARTER
14:53 — Troy Mangen 10 pass from Rourke. Zervos kick. Six-play drive for 58 yards in 1:51. (OU 18, KU 0.)
9:11 — Khalil Herbert 56 run. Gabriel Rui kick. Six-play drive for 84 yards, in 2:31. (OU 18, KU 7.)
6:20 — Mangen 9 pass from Quinto Maxwell. Zervos kick. Six-play drive for 91 yards, in 2:43. (OU 25, KU 7.)
0:08 — Chase Harrell 9 pass from Peyton Bender. Rui kick. Eighteen-play drive for 80 yards, in 6:06. (OU 25, KU 14.)
THIRD QUARTER
9:53 — A.J. Ouellette 8 run. Zervos kick. Four-play drive for 32 yards, in 1:13. (OU 32, KU 14.)
0:19 — Andrew Meyer 9 pass from Rourke. Zervos kick. Twelve-play drive for 84 yards, in 6:45. (OU 39, KU 14.)
FROUTH QUARTER
11:47 — Jeremiah Booker 1 pass from Bender. Rui kick. Twelve-play drive for 77 yards, in 3:26. (OU 39, KU 21.)
5:35 — Rui 34 field goal. Eleven-play drive for 75 yards, in 2:34. (OU 39, KU 24.)
2:13 — Zervos 46 field goal. Seven-play drive for 18 yards, in 3:21. (OU 42, KU 24.)
0:00 — Herbert 2 run. Eleven-play drive for 75 yards, in 2:13. (OU 42, KU 30.)
— See what people were saying about the game during KUsports.com's live coverage.
---
More news and notes from Kansas vs. Ohio