Athens, Ohio — Different venue. Same old ghost.
During the course of the past eight seasons, the Kansas football team's personal road losing streak phantasm accrued enough frequent flyer points to make the trip outside of Big 12 country, all the way to Ohio's Peden Stadium, where the Jayhawks lost their nonconference finale Saturday, 42-30.
As unforgiving as ever, the specter haunted present Jayhawks just like their predecessors, sometimes even finding new, inventive ways to extend the run of losses in opposing stadiums to 42 in a row.
KU's defenders couldn't unnerve an Ohio offensive attack known for its rushing prowess, in the Mid-American Conference facility manned by former Nebraska head coach Frank Solich. And an announced crowd of 22,056 saw the Bobcats (2-1) turn prolific through the air, as well.
Ohio averaged 9.0 yards per play in the first quarter, mixing in its effective run game equally with passing calls — no doubt inspired by the way Central Michigan exposed KU's secondary the week prior. The 10-rush, 10-throw balance fed an 11-0 Bobcats lead, one that quickly expanded to 18 seven seconds into the second quarter, when QB Nathan Rourke hit tight end Troy Mangen for a 10-yard TD.
"The thing that sticks out to me the most is we've got to do a much better job of limiting big plays in the passing game," KU head coach David Beaty said after Ohio quarterbacks Rourke and Quinton Maxwell combined to complete 16 of 22 throws for 254 yards, with three touchdowns and one interception in a typically rush-first offense. "We've got some young safeties back there that are playing and they've just got to grow up fast. They've got to grow up fast and we've got to find some guys that can help us back there to try and stabilize that."
Photo Gallery
Kansas football v. Ohio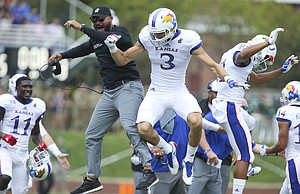 View a gallery of images from Saturday's game between the Jayhawks and Bobcats in Athens, Ohio.
Even after falling face-first into an 18-point hole, the Kansas secondary looked poised to make up for its flaws early in the third quarter. With KU (1-2) down 25-14, sophomore safety Mike Lee delivered the KU defense's first interception of the season, in the end zone, stealing a Maxwell throw.
One play later, Kansas junior quarterback Peyton Bender looked for junior wideout Steven Sims Jr., back playing at full speed in Week 3. Bender's throw ventured a step behind the team's top receiver, though, and when Sims only could get one hand on the pass, it deflected into the hands of cornerback Jalen Fox.
"It was a little bit behind me," Sims said after making six catches for 60 yards, "but it touched my hand, so I've got to catch it."
Like his target, Bender took the blame for what proved to be KU's only turnover in the loss.
"Tipped balls get intercepted," Bender said following his fifth of the season, on a day he went 30-for-47 through the air, for 343 yards and two touchdowns, caught by Chase Harrell and Jeremiah Booker.
Although a holding penalty on Fox's interception return backed up Ohio to KU's 32-yard line to open the next series, the Bobcats were in the end zone again four carries later, extending the lead at the time to 32-14, with the help of the powerful legs of A.J. Ouellette (10 rushes for 102 yards).
"We came out and wanted to cut the deficit to one possession and that's huge by the defense, getting that interception," Bender said of Lee's timely takeaway. "Unfortunately, we couldn't connect. But it ended up swinging the game. Definitely one we wish we had back."
Sims, too, characterized the dueling picks as deflating.
"I feel like that drive right there, that was a big turning point in the game," Sims said. "We really needed points that drive. And an interception caused by me, a tipped pass, that was a bad play by myself."
Lee, who also made nine tackles and broke up another throw, said he barely had time to catch his breath before he was back on the field.
"It was so fast," Lee said. "Our offense threw the pick so fast, I was like, 'Dang! I just caught a pick and we just turned the ball over again?' I was still tired a little."
When KU's offense got the ball back, Bender took two sacks — of the five total inflicted by Ohio — on one series. Ohio built on that momentum with a 12-play, 84-yard scoring drive full of Dorian Brown runs that ate up the majority of the third-quarter clock before Rourke hit Andrew Meyer for another Ohio TD.
By the end of yet another road defeat, KU's offense at least kept up with its opponent this time. Sophomore Khalil Herbert carried the ball 19 times for 137 yards and two scores, helping KU finish with the slightest, 451-450 advantage in total yardage at Ohio.
It was the Bobcats' 7.0 yards-per-snap average on offense and 15.9 per reception that troubled the Jayhawks most.
"The defense was in the right position to make plays and stuff like that," Lee offered. "There were just missed tackles that were going on. So really we just have to work on tackling and we'll be OK with it."
And as for his evaluation of KU defensive backs as a group?
"Umm … Well, we're a young secondary," Lee said. "So that's what it is. They were covering and we were getting beat. So, really, we've just got to work on that."
The labor continues for Kansas next weekend, when West Virginia visits Memorial Stadium.
— See what people were saying about the game during KUsports.com's live coverage.
---
More news and notes from Kansas vs. Ohio