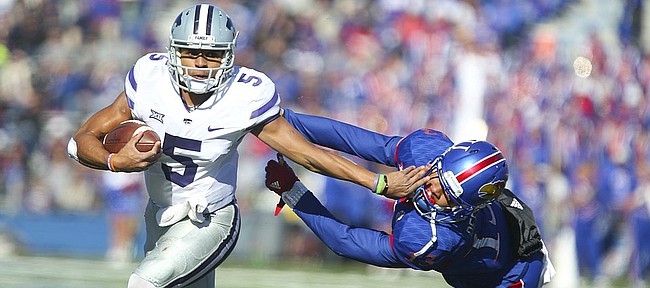 For the first time in Big 12 play this season, the Kansas football team didn't have to climb out of a major hole at halftime.
But even an improved start wasn't enough to lead to a win.
Trailing for two scores for most of the third quarter, the Jayhawks couldn't rally in a 30-20 loss to rival Kansas State at Memorial Stadium, which was filled with a season-high 36,223 fans.
The Wildcats (4-4, 2-3 Big 12) were held without an offensive touchdown in the first half — DJ Reed had a 99-yard kick return score. But they forced a fumble on the first play of the third quarter and took a double-digit lead on a three-yard touchdown run from Alex Barnes.
Kansas (1-7, 0-5) pulled within a touchdown at multiple points in the fourth quarter and even had the ball with an opportunity for a game-tying score. Each of those possessions ended in punts.
Most of KU's offense, which included the return of center Mesa Ribordy, revolved around junior receiver Steven Sims Jr., who recorded career high totals of nine catches for 233 yards. KU sophomore Carter Stanley earned his first start at quarterback this season, finishing 23 of 48 passing for 418 yards, one touchdown and one interception.
KSU quarterback Alex Delton was forced out of the game during the second quarter when he was hit on a run play. Skylar Thompson filled in for the second half and was 4 of 6 passing for 40 yards and added 39 rushing yards.
After back-to-back weeks with disastrous results on offense, the Jayhawks produced 482 yards and 6.3 yards per play. KU was 6-of-16 on third down while KSU was 3-of-11.
Defensively, the Jayhawks had 12 tackles for loss. Joe Dineen led with nine total tackles while Daniel Wise had 2.5 tackles in the backfield.
Photo Gallery
Kansas football v. Kansas State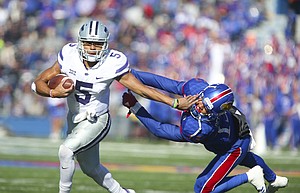 View a gallery of images from Saturday's game between the Jayhawks and Wildcats at Memorial Stadium.
Here's a quick look back at some of the action:
• The game turned when: On the first play of the second half, Stanley was sacked by KSU senior linebacker Jayd Kirby and lost a fumble. Kirby recovered the ball at KU's 18-yard line, which led to a quick three-play scoring drive for the Wildcats.
Barnes' three-yard touchdown run gave the Wildcats a 17-6 lead early in the third quarter and the Jayhawks were never closer than seven points for the remainder of the afternoon.
• Offensive highlight: Looking to create some offense near the end of the third quarter, Sims ran a fade route and took a few steps toward the middle of the field to give himself more room along the right sideline.
It was 2nd-and-7 from KU's own 6-yard line and Stanley looked in Sims' direction. Sims tracked the ball over his left shoulder, made a basket catch and hit the ground with his right foot for an incredible 37-yard reception with KSU defensive back Duke Shelley right next to him.
Sims' catch helped the Jayhawks on a 9-play, 97-yard scoring drive, which was capped with a five-yard Taylor Martin touchdown run.

• Defensive highlight: On two straight plays at the end of the first quarter, Kansas State needed one yard to pick up a first down from the 5-yard line. Backed up near the goal line, KU's defense responded with two stops at the line of scrimmage.
On third down, J.J. Holmes stuffed Delton on a run with strong penetration into the backfield. The Wildcats kept their offense on the field for fourth down, but Mike Lee made an open field tackle to stop Delton on a sweep.
In the first half, the Wildcats ran seven plays inside of the red zone and netted a total of six yards.
• Key stat: Return yards. For the third straight week, the Jayhawks allowed a special teams touchdown when D.J. Reed returned a kickoff 99 yards for a score in the first quarter. KU's punt coverage wasn't much better, allowing the Wildcats to return three punts for 61 yards.
Through five kick returns and three punt returns, the Wildcats totaled 244 yards to put themselves into strong field position. By comparison, the Jayhawks had four kick returns for 65 yards and one punt return for 13 yards.
• Up next: The Jayhawks will play host to Baylor at 11 a.m. Saturday at Memorial Stadium in a battle between the bottom two teams in the Big 12 standings.
HOW THEY SCORED
FIRST QUARTER
9:43 — Gabriel Rui 28 field goal. Ten-play drive for 73 yards, in 2:48. (KU 3, KSU 0.)
9:29 — D.J. Reed 99 kickoff return. Matthew McCrane kick. (KSU 7, KU 3.)
5:18 — Rui 42 field goal. Nine-play drive for 53 yards, in 4:07. (KSU 7, KU 6.)
SECOND QUARTER
5:23 — McCrane 31 field goal. Six-play drive for 25 yards, in 2:41. (KSU 10, KU 6.)
THIRD QUARTER
13:25 — Alex Barnes 3 run. McCrane kick. Three-play drive for 18 yards, in 1:24. (KSU 17, KU 6.)
6:21 — McCrane 36 field goal. Seven-play drive for 35 yards, in 3:46. (KSU 20, KU 6.)
FOURTH QUARTER
13:26 — Taylor Martin 5 run. Rui kick. Nine-play drive for 97 yards, in 3:25. (KSU 20, KU 13.)
7:36 — Barnes 9 run. McCrane kick. Three-play drive for 26 yards, in 1:25. (KSU 27, KU 13.)
6:51 — Steven Sims 60 pass from Carter Stanley. Rui kick. Two-play drive for 65 yards, in 0:37. (KSU 27, KU 20.)
1:21 — McCrane 41 field goal. Seven-play drive for 21 yards, in 2:52. (KSU 30, KU 20.)
— See what people were saying about the game during KUsports.com's live coverage.
---
More news and notes from Kansas vs. K-State