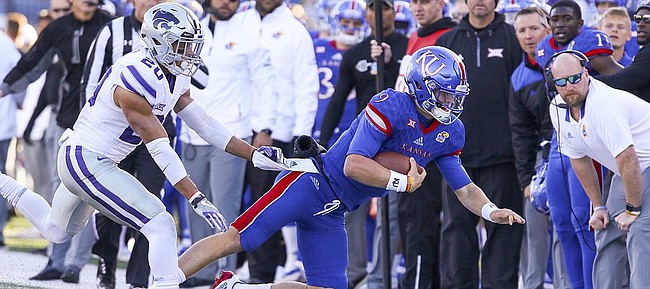 There was no question something significant about the Kansas football team's offense had to change Saturday at Memorial Stadium in order for the Jayhawks to exorcise the demons of their previous two weekends, and the torment of consecutive shutout road losses.
The modification came at quarterback, with coaches granting Carter Stanley the first start of his redshirt sophomore season.
The amendment to the lineup nearly worked, too, as Stanley and junior receiver Steven Sims Jr. had the underdog Jayhawks within a touchdown of rival Kansas State in the fourth quarter, in front of an announced crowd of 36,223. However, this Sunflower Showdown ended as most featuring a Bill Snyder-coached Wildcats team do, with K-State prevailing, 30-20.
A promising 97-yard touchdown drive — capped by a five-yard rushing score by Taylor Martin that made it 20-13, K-State — spanned the end of the third quarter and the start of the fourth. The series seemed to assure KU would put itself in position to seriously challenge its rival from Manhattan.
But after the Kansas defense, which limited the Wildcats to 340 yards and 15 first downs, compared to KU's 482 yards and 20 firsts, held K-State to 11 yards and forced a punt, the Jayhawks' chances of ending a six-game losing streak began to unravel.
Sims called for a fair catch on a 37-yard Nick Walsh punt, but his teammate Shakial Taylor was hit with a personal foul for a block out of bounds and the drive started on KU's own 6-yard line instead of its 14. On a day Kansas special teams gave up a return touchdown for the third straight week and punter Cole Moos averaged just 32.3 yards on his six kicks, the Taylor penalty was one of many black eyes in what head coach David Beaty calls "the hidden third."
In an empty backfield on first down, Stanley began the ensuing series trying to run but lost five yards. Two incompletions later, Moos punted again, and after the ball traveled 35 yards, Byron Pringle's 10-yard return made for an easy three-play, all-run Alex Barnes 26-yard touchdown drive, and an insurmountable 27-13 advantage for K-State.
"It was frustrating," Stanley said of the sequence after passing for a career-high 418 yards, the most by a KU QB since Todd Reesing. "Just wish we would have been able to go all the way down and get some points or at least get better field position for the defense, but it's just unfortunate."
Photo Gallery
Kansas football v. Kansas State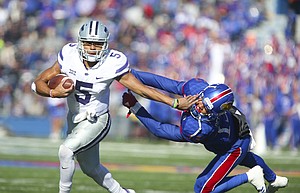 View a gallery of images from Saturday's game between the Jayhawks and Wildcats at Memorial Stadium.
To their credit, the Jayhawks (1-7 overall, 0-5 Big 12) made a lightning-quick response — a two-play TD drive, thanks to a 60-yard touchdown throw from Stanley to Sims, who racked up a career-best 233 receiving yards, the most by a KU receiver since Dezmon Briscoe had 242, in 2009.
"That's what we kind of expected out of ourselves all year," Sims said of the offense showing some explosiveness after a dreadful couple of road blowouts. "We know we've got a lot of big-play guys outside lined up at wide receiver. Any given game we can do that and I feel like we can do that every game."
Even so, the KU offense couldn't score again after that quick strike with 6:51 to play, and K-State (4-4, 2-3) sealed the victory, improving Snyder's record versus Kansas to 22-4 all-time, with a 41-yard field goal by Matthew McCrane with 1:21 remaining.
"I'm really proud of our guys," third-year Kansas coach David Beaty said after the home loss. "I'm very unsatisfied but really proud of the way our guys responded. Offensively, coming back, being able to respond off of a couple of weeks that were unacceptable. Defensively, seeing that unit continue to improve."
Podcast episode
Following a 30-20 loss to K-State, Kansas football coach David Beaty discussed the team's decision to start Carter Stanley at quarterback, what impressed him from the defense and problems on special teams.
Beaty lamented K-State's average starting field position was its own 46-yard line in the win, and often referenced the costly special teams mishaps while feeling positive about KU's offense and defense. On the Wildcats' five scoring drives the longest traveled 35 yards.
A week after making an impassioned plea to his team following the 43-0 loss at TCU, junior defensive tackle Daniel Wise said the team's leaders got the type of response they hoped for, even though it came in defeat.
"They stepped up and you could see it in their eyes early in the week and throughout the game. They played with a lot of passion, a lot of energy," Wise said. "Of course it's a rivalry game so that probably had a lot to do with it, as well. But guys definitely stepped up."
Wise also credited the production of Stanley (23-for-48 passing, 418 yards, one TD, and an interception on the game's final play) and Sims with igniting the whole team.
"It helps us a lot. He had the energy going. (Stanley) was moving the ball up and down the field, obviously getting points on the board," Wise said. "Not just him. Khalil (Herbert), Book (Jeremiah Booker), all the guys who played a role in catching the ball, and the coaches, as well. Everybody kind of played as a unit."
According to Stanley, he didn't learn he would start prior to Saturday, but had "a hint."
"I definitely had more reps with the ones this week, definitely as the week went on, too," Stanley said. "It was definitely nice to get the timing down with those guys."
Beaty characterized Stanley's game as "great" and said the QB who started the final three games of 2016 "did some of the things we really thought he could do and I was proud of him."
In place of former starter Peyton Bender, Stanley wasn't without his mistakes. It only took one play from scrimmage in the second half for momentum to swing the way of K-State, courtesy of a Kansas miscue no less.
The Jayhawks won the pre-game coin toss and chose to defer, which ended up providing them with the chance to start the third quarter on a positive note, perhaps even with a successful touchdown drive to take a lead. However, on the first post-halftime snap, Stanley couldn't avoid blitzing K-State senior linebacker Jayd Kirby, and Kirby stripped KU's new starting QB while sacking him. Stanley landed on the turf empty-handed as Kirby recovered the ball underneath him.
Three K-State rushing plays covered 18 yards to the end zone, and after the lost fumble the Wildcats had the game's first offensive touchdown and a 17-6 advantage less than two minutes into the second half.
Still, Beaty indicated he saw enough positives from Stanley to stick with him as the No. 1 QB moving forward.
"You're only as good as your next day around here, but I thought he had a pretty good day. I thought he took care of the ball for the most part pretty well. He made good reads, he put the ball in positions to be able to move the chains which was good. I thought he used his legs really well. I thought that he played a pretty smart game, which was what we wanted to see out of him," Beaty said. "I see no reason why we wouldn't stay with him this week, but if a guy takes a couple of days off we're not going to tolerate that obviously. But I know he won't do that."
After back-to-back blowout/shutout losses on the road, the KU offense finally looked competent again from the start, with redshirt sophomore Mesa Ribordy back at center and Stanley taking his snaps. Though the offense still failed to reach the end zone in the first two quarters, it at least picked up first downs and got Kansas in field-goal range, a welcome change from the fruitless endeavors that mired beatings at Iowa State and TCU.
After junior defensive end Dorance Armstrong Jr. chased down KSU receiver Pringle on a 28-yard reception to force a fumble and KU safety Tyrone Miller Jr. recovered it, the Jayhawks sent Stanley out on the field for his first start since the 2016 finale at K-State. The offense responded with a 10-play, 73-yard drive, ignited by a 47-yard strike from Stanley to junior Tyler Patrick. The only trouble was once KU reached the 11-yard line back-to-back Stanley incompletions meant the home team had to settle for a 28-yard Gabriel Rui field goal, instead of a more emphatic touchdown.
"Really from the opening drive they were giving us looks that we had practiced and looked at all week on film," Stanley said. "Obviously wish we had been able to execute, especially myself those first two drives. We weren't scoring touchdowns on those drives."
Certainly no one in the KU locker room afterward had much reason to celebrate, despite evidence of offensive progress.
"It's positive," Sims said, "but at the same time we want to win at the end of the day. So being close to anybody, that's just, we don't want no pity from anyone. We want to win. Being close in a game, that don't really matter to us."
KU's next chance to show growth comes next weekend against the Big 12's lone winless team, Baylor (0-8, 0-5), at Memorial Stadium.
— See what people were saying about the game during KUsports.com's live coverage.
---
More news and notes from Kansas vs. K-State