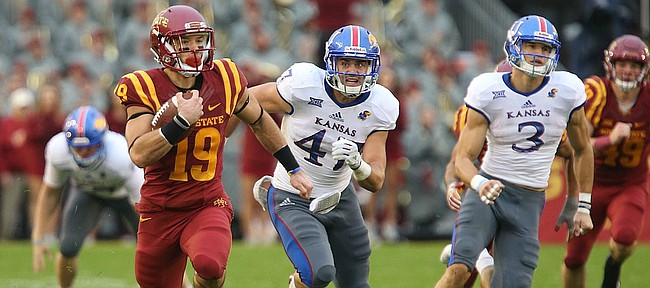 In an Air Raid offense that's supposed to stretch the field and hurt opposing defenses with a quick tempo, the Kansas football team did neither of those things in its most dismal offensive performance of the season.
Combine the offense's woes with a number of breakdowns on special teams, and the Jayhawks wasted their strongest defensive outing of the season in a 45-0 loss to Iowa State on Saturday at Jack Trice Stadium in front of 55,593 fans. It was the first time they were shutout since Nov. 21, 2015.
KU's offense, which was playing without running back Khalil Herbert and starting center Mesa Ribordy, averaged 1.8 yards per play. There were only five first downs. The Jayhawks (1-5, 0-3 in Big 12) never crossed their own 35-yard line until the fourth quarter.
Photo Gallery
Kansas football v. Iowa State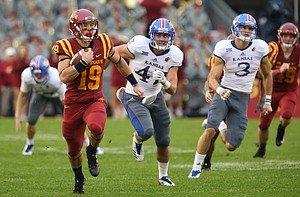 View a gallery of images from Saturday's game between the Jayhawks and Cyclones at Jack Trice Stadium in Ames, Iowa.
When it came to punting, that unit was perhaps just as bad as the offense. Receiver Steven Sims Jr. lost a fumble on a punt return in the opening minutes. Iowa State's Trever Ryen had a 68-yard punt return touchdown at the end of the first quarter. KU's Cole Moos, who punted 13 times, had one snap over his head and he bobbled another snap, which led to a blocked punt. Both botched punts directly led to ISU touchdowns.
On defense, many of the problems that have plagued the Jayhawks throughout the season disappeared for most of the afternoon. The Cyclones (4-2, 2-1) were limited to 4.4 yards per play, which included 212 passing yards and 106 rushing yards. Running back David Montgomery had 68 yards and three touchdowns on 21 carries.
But the emergence of KU's defense was negated by such a poor performance from the offense and blunders on special teams.
Peyton Bender, who started at quarterback, was 8-of-19 passing for 18 yards and one interception. Carter Stanley entered in the fourth quarter and was 3 for 7 for 26 yards, with 19 rushing yards.
Kansas extended its road losing streak to 43 games.
Here's a quick look back at some of the action:
• The game turned when: Bender threw an interception on KU's first offensive play. It wasn't necessarily a bad throw, but the ball deflected into the air after true freshman receiver Quan Hampton tried a sliding catch over the middle and collided with a safety Reggie Wilkerson. ISU defensive back Kamari Cotton-Moya grabbed the ball for an interception and returned it to the 8-yard line.
Two plays later, David Montgomery was in the end zone for his first of three touchdown runs, giving the Cyclones a 7-0 lead. More than that, it set the tone for KU's offense.
• Offensive highlight: There were none. KU recorded 106 yards on 59 plays.
• Defensive highlight: Until the final minute of the first half, the Jayhawks only allowed 10 points (ISU added a punt return touchdown). In the past few weeks, they've really struggled with stopping opposing offenses in the first quarter, which puts the team in a big hole.
The Jayhawks recorded three sacks and broke up five passes, showing improvement against the pass. Linebacker Joe Dineen had 16 tackles (10 solo), including two for loss.
• Key stat: Third down conversions. The Jayhawks went 2-for-17, which only led to a cycle of three-and-out punts for most of the afternoon.
• Up next: The Jayhawks will head to Fort Worth, Texas for their second straight road game, facing sixth-ranked TCU.
HOW THEY SCORED
FIRST QUARTER
9:32 — David Montgomery 4 run. Garrett Owens kick. Two-play drive for eight yards, in 0:44. (ISU 7, KU 0.)
1:30 — Ryen Trever 68 punt return. Owens kick. (ISU 14, KU 0.)
SECOND QUARTER
5:56 — Owens 26 field goal. Nine-play drive for 46 yards, in 3:48. (ISU 17, KU 0.)
0:20 — Montgomery 1 run. Owens kick. Three-play drive for 23 yards, in 0:33. (ISU 24, KU 0.)
THIRD QUARTER
10:48 — Montgomery 4 run. Owens kick. Four-play drive for 27 yards, in 1:46. (ISU 31, KU 0.)
0:00 —Marchie Murdock 8 pass from Kyle Kempt. Owens kick. Five-play drive for 35 yards, in 2:52. (ISU 38, KU 0.)
FOURTH QUARTER
6:03 — Sheldon Croney 10 run. Owens kick. Four-play drive for 56 yards, in 2:08. (ISU 45, KU 0.)
— See what people were saying about the game during KUsports.com's live coverage.
---
More news and notes from Kansas vs. Iowa State