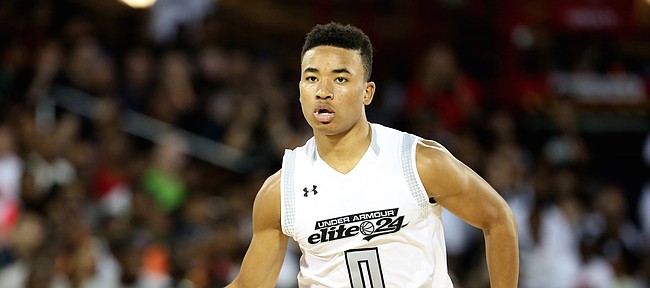 Being unselfish is often the first quality that people list when talking about pass-first, true point guards.
Friday evening, shortly after committing to play his college basketball at Kansas, five-star point guard Devon Dotson took being unselfish to another level.
After announcing the Jayhawks as his choice at a ceremony at Providence Day High in Charlotte, Dotson made the rounds on the interview circuit. Local and national media members with an interest in the what and why of Dotson's decision lined up for an interview. And in the middle of it all, he hopped on to USA Today's High School Sports site to pen a blog of his own explaining the choice.
Sure, Dotson wrote about his reasons for picking KU — which he did over finalists Maryland and Florida — but that was not all he wrote about. At the end of the blog, which painted the 6-foot-2, 180-pound point guard as a mature, thoughtful and intelligent young man, were a few lines about a friend in need.
"Before I end this, I want to talk about one of my fellow athletes here at Providence Day, Nathan Kocmond," Dotson wrote. "He plays football here and you may have heard that he's missing. I just want to help to get the word out so we can find him. If anyone has any information about him please call our school (704) 887-6000 or contact his family. Thanks for your help with that!"
Imagine that. Arguably the biggest night of his life and instead of celebrating like crazy and only thinking of himself, Dotson used both his time and his suddenly larger platform to try to help a scary situation that had a lot of people in his community very frightened.
As for the reasons Dotson chose to play at Kansas, he outlined those, too. And, not surprisingly, they had a lot to do with the people involved.
"One of the biggest factors that went into my decision was the relationship I've formed with Coach Self," Dotson said. "He's just a great guy and someone that you can trust. Plus, he's a Hall of Famer and I know that I'm gonna be in great hands there."
Self and assistants Kurtis Townsend and Norm Roberts actually made one final visit to Dotson's house on Wednesday. Even though the official announcement did not come until Friday, it was then and there that he told the KU coaches that he had picked Kansas.
"The best part was that I got to tell Coach Self in person about my decision," wrote Dotson, ranked by Rivals.com as the No. 17 player in the 2018 class. "He dropped into my house for a last-minute visit Wednesday and I came downstairs and talked to him for a few minutes then just told him, 'I'm coming to Kansas.' He was with Coach Townsend and Coach Roberts and all three of them went crazy just screaming and hugging me. They were pretty fired up!"
So, too, is Dotson, who said he was thrilled to put his recruitment behind him and get back to improving his game and preparing for his senior season at Providence Day.
"One of the things I love about Kansas is that they let their guards go downhill and attack and that's my game," he said. "I love playing tough perimeter defense and I love their up-tempo offense and I'm confident that I'll excel there."