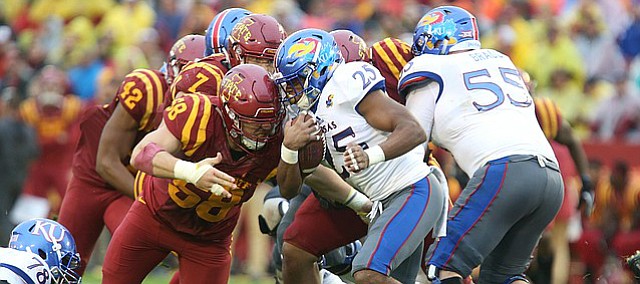 Ames, Iowa — On a rainy Saturday afternoon at Jack Trice Stadium, the Kansas football team's Air-Raid-branded offense slowly drowned the Jayhawks' chances of challenging Iowa State in a 45-0 shutout.
Somehow, over the span of four quarters, KU's skill players accounted for a measly 44 passing yards, picked up an inadequate five first downs, failed to go more than 17 yards on a single possession, totaled just 106 yards of offense and — perhaps most disturbingly — went three-and-out on 11 of their 18 possessions.
In its fifth straight loss of the season and the program's 43rd road defeat in a row Kansas (1-5 overall, 0-3 Big 12) averaged just 1.8 yards of production per snap versus an ISU defense that entered the weekend allowing 406.2 yards a game.
"It's just not good enough," KU head coach David Beaty said of the clumsy offense. "I could sit here and quantify it if I wanted to but at the end of the day it's not going to matter. We've got to be able to move the football offensively to create scoring. It's a conference that you've got to put the football in the end zone. We knew it was going to be an issue today in terms of scoring against this team."
Photo Gallery
Kansas football v. Iowa State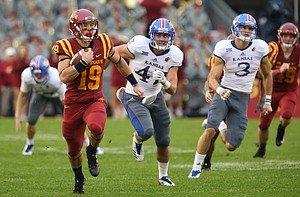 View a gallery of images from Saturday's game between the Jayhawks and Cyclones at Jack Trice Stadium in Ames, Iowa.
Junior quarterback Peyton Bender, who remained the starter after getting benched the entire second half a week earlier versus Texas Tech, completed just eight of 19 throws for 18 yards.
"Yeah, it was definitely frustrating today," Bender said after 15 offensive possessions traveled nine yards or fewer. "If you don't get the first down on one series you've got to go out there with the mindset that you're going to do it on the next. We did that today. We stayed up on the sidelines for the most part."
The morale did the Jayhawks no favors, though, in front of an announced crowd of 55,593 — especially with special teams blunders weighing them down, too. A harbinger of the calamities to come, after the Kansas defense got off the field on the game's first series with an Isaiah Bean sack of Kyle Kempt, Steven Sims Jr. mishandled and lost a punt, giving Iowa State (4-2 overall, 2-1 Big 12) a second crack at a positive start. Even that didn't take for the Cyclones once Osaze Ogbebor and Dorance Armstrong Jr. combined to finish a three-and-out and force another Colin Downing punt.
Even so, on KU's first offensive snap, Bender threw the ball low to receiver Quan Hampton for a potential chunk play down the middle of the field. But as Hampton failed to bring in the pass while sliding on the wet grass, the ball bounced upward and into the arms of safety Kamari Cotton-Moya, who returned it 23 yards.
Two David Montgomery rushes later, ISU had completed its third series, with KU having run just one play on offense, and the Jayhawks trailed 7-0.
"He dove down for it, maybe tried to scoop it and just kind of flipped it up in the air," Bender recalled of what actually was one of his better throws of the day. "I didn't really see what all went on. Just unfortunate. We've had a few of those this year and it's unfortunate it happened again."
In Beaty's words, "tips equal picks." But the offense, in spite of its glaring deficiencies, never turned the ball over again. An awful day for KU's special teams further derailed any hope for an upset road win.
After Sims' muffed return in the opening minutes, the Jayhawks also endured a 68-yard Trever Ryen punt return for a touchdown, one uncatchable snap from Logan Klusman for punter Cole Moos that gift-wrapped an ISU TD drive, and the misery of barely getting another punt off Moos' foot as would-be blockers came crashing in.
"That one was a great snap, definitely, by Klusman," Moos said of a third-quarter snap that he dropped, leading to a punt that netted minus-two yards. "Hit me right in the hands and I just took my focus off of it for a second. I made the mistake that receivers sometimes make. I looked up too early. There's no excuse for it. I just dropped it, so I tried to pick it up and get it off as quick as possible. But it didn't really work out too well."
Indeed, the Cyclones only needed four plays to go 27 yards and get Montgomery one of his three rushing touchdowns on the day.
The Kansas defense mostly held up its end of the bargain in defeat, surrendering only 106 rushing yards and 212 passing yards to the Cyclones, who picked up just 15 first downs while cruising.
ISU entered the second quarter averaging 1.9 yards a play on offense but up 14-0 thanks to either a comedy or tragedy (depending on one's perspective) of Kansas blunders.
Short-field TD drives soon became the trend with KU's offense and special teams so often doubling as buzzkills.
On each of Iowa State's first five scoring drives, the home team didn't even have to cross midfield en route to the end zone. The Cyclone's longest scoring possession of the rout, in the fourth quarter, only covered 56 yards of soaked grass.
Armstrong, who made four total tackles, tipped two passes and was credited with 0.5 tackles for loss and a QB hurry, said the short fields "definitely" qualified as one of the more frustrating aspects of the team's first point-less game since losing 49-0 at home to West Virginia, in 2015.
"When the offense only has so many yards to score, it's a lot easier than going down the whole field," Armstrong admitted after the KU defense came away with seven three-and-outs, while forcing nine ISU punts. "We have to watch film, see where the mistakes happened and hopefully we can come back and fix them."
Kempt, who quarterbacked ISU to victory at Oklahoma the prior week, completed 13 of 20 throws for 122 yards and a TD. Montgomery's longest carry went for 18 yards — better than KU's longest play from scrimmage, a 14-yard Taylor Martin carry — but the powerful ISU back averaged just 3.2 a carry on 21 attempts.
"It's pretty frustrating," KU junior defensive tackle Daniel Wise (1.5 tackles for loss, two QB hurries and a forced fumble) said of a day when the defense actually looked more sound than it had all season, "but that's the part we need to finish. We need to win a game despite the field position, despite where we are. We just need to finish the drive, finish the play."
After the KU offense totaled its fewest yards since 2014 (103, at Oklahoma), Beaty said it "would've been nice" to play some complimentary football. A 13-yard drive with Carter Stanley (3-for-7 passing, 26 yards) at QB to close the forgettable affair is the only reason KU's offense even reached triple-digit yardage.
Running backs Martin (17 carries, 53 yards), Dom Williams (zero yards, on two rushes) and Deron Thompson (one carry, no yards) didn't help matters, in the absence of Khalil Herbert (hamstring). Beaty said ISU's defense, led by linebacker Joel Lanning (10 total tackles), dropped eight into coverage with a three-down front "all day," and KU failed to capitalize.
"You've got to be able to run the football against that. We weren't able to do it with any consistency. We came up short on third down several times (2-for-17)," Beaty said. "I didn't think that we pushed them around up front good enough today. They pushed us around up front better than we pushed them around, and that's usually what it comes down to."
How does an offense that scored 34 points against West Virginia in its Big 12 opener account for the lack of production in two blowouts since?
"I wish I had a magic answer to let you know that, but I really don't know," Bender said. "We just didn't play well today, all around. All around on offense we didn't have a good game."
Kansas is back on the road next weekend, at TCU (6-0, 3-0). The sixth-ranked Horned Frogs won Saturday at Kansas State, 26-6.
— See what people were saying about the game during KUsports.com's live coverage.
---
More news and notes from Kansas vs. Iowa State