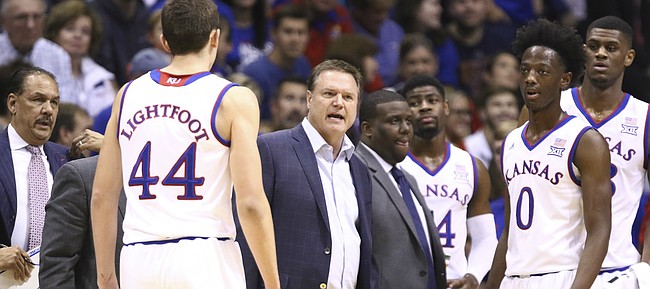 The major letdown during Tuesday's 86-57 victory over Fort Hays State in the exhibition finale at Allen Fieldhouse came in the energy department, where the Jayhawks started slow and remained sluggish much of the way.
KU coach Bill Self addressed that, both at halftime and after the victory, but also pointed to another area of his team's play that was nearly just as disappointing — poor defense.
"The biggest thing is how many times they put the ball down and just beat us," Self said of the Fort Hays State offense. "They are crafty and we'll probably play some guys like that who are just as crafty and maybe even more athletic."
Photo Gallery
Kansas basketball v. Fort Hays State (exhibition)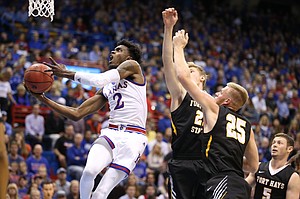 View a gallery of images from Tuesday night's exhibition game against Fort Hays State at Allen Fieldhouse.
One such instance will be Friday night, when Tennessee State comes to town for the regular-season opener. But even if the Tigers do not represent a much tougher challenge than the exhibition schedule presented, next week's Champions Classic clash with Kentucky in Chicago certainly will.
According to Self, that could be a good thing for this team.
"I think it's effort, it's focus, it's toughness, but it's also respect, too," he said. "We'll guard better against opponents that they probably respect more, but the bottom line is there's a lot of things just from an energy standpoint (that we can do better), but, also, some of it is technique."
The Jayhawks found a way to elevate their energy and effort during Tuesday's second half. And that led to the home team running away from the scrappy visitors. But just because the point differential improved did not mean that Self's mood did.
Head in hand throughout most of Tuesday's game, Self often looked to his assistant coaches or growled at players on the floor when the Jayhawks were not doing what they needed to be doing at any given moment.
"When you want to be a player, you can will yourself to be a player, defensively," Self said. "And that didn't happen tonight."
Svi Mykhailiuk, Malik Newman, Mitch Lightfoot and Billy Preston drew the heaviest criticism from their head coach. But that was not purely negative, Self said.
Take his comments about Preston, for example; first the bad and then the overall takeaway.
Bad: "I thought he played poorly. I did not think he ever posted up strong one time. He doesn't remember what we are trying to do and, certainly, he was a liability on defense. If that is the best we got from an intangible standpoint, it was not good."
Takeaway: "This is good for Billy because, whenever he is guarding a guy who is not exactly a West Virginia or a Kentucky guy and (he) cannot protect the rim against 6-foot guys, that is sad. There are a lot of things he can learn from this one."
Some of those lessons actually hit during the course of Tuesday's game, as Preston himself admitted after the victory that his first half was sub-par when asked to recall the objective in the second half.
"Just to play better as a team as a whole," he said. "And I just knew that, in order for us to do that, I had to play better and harder than in the first half and get myself more involved."
While that worked on the offensive end — Preston was 4-of-4 from the floor in the second half after a 1-of-2 showing in the first half — it still left some room for improvement in the eyes of his coach.
After tallying a rebound, a block, an assist and a turnover in his nine first-half minutes, Preston logged just one additional rebound and two turnovers, with no other notable stats outside of his made shots, in 14 second-half minutes.
"You make a jump shot so you play better," Self asked rhetorically. "That's not how I see the game. …He's just learning how to play harder and with energy."
---
More news and notes from Kansas vs. Fort Hays State