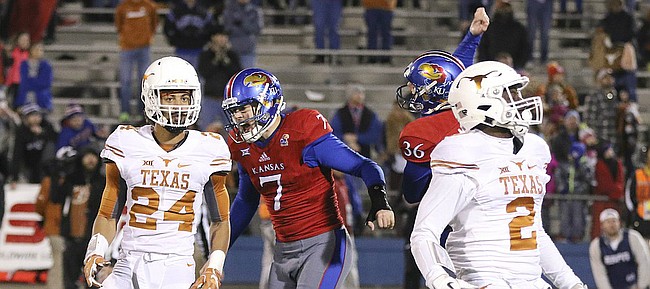 Nearly a year has passed since the Kansas football team, in its 2016 home finale, gave David Beaty his first Big 12 victory as a head coach, simultaneously providing a beleaguered fan base with a sense of better days down the road.
In the 10 games since an overtime win against Texas at Memorial Stadium, the Jayhawks have defeated just one other team, Southeast Missouri State — a fact that can't sit well with the Longhorns, the only opponent in KU's previous 27 Big 12 games to go down in defeat.
"Kansas beat Texas in football" even became a cult hit meme on Twitter. So its easy to picture the UT players who experienced the 24-21 loss in Lawrence referencing their darkest memories from the upset as they prepare to face Beaty's Jayhawks again, Saturday at Darrell K. Royal - Texas Memorial Stadium (5 p.m. kickoff, Longhorn Network and Jayhawk TV Network).
Sophomore receiver Colin Johnson told media in Austin, Texas, this week the Horns aren't taking a Kansas team on an eight-game losing streak lightly after what transpired the previous November.
Podcast episode
On this episode of the KU Sports Hour, hosted by KU football beat writer Benton Smith, the KUsports.com staff discusses KU's 38-9 loss to Baylor. Topics include: the postgame mood (5:50-16:50), takeaways from the game (16:50-28:30), dwindling fan support (28:30-38:40) and the KUsports.com football mailbag — firings, 200 points and ...
"Not at all, but it's really every game. We're real focused and motivated, but there's certain games you kind of have a little extra motivation," Johnson added. "I guess you could say this is one of them because of what happened last year just naturally. The emotions some of the guys on the team have because they're remembering that feeling, and that's a feeling we never want to experience again, so I guess you could say that."
The loss at KU, which ultimately cost the Longhorns bowl eligibility and played at least some factor in coach Charlie Strong losing his job, left a "bad taste" in their mouths, according to junior defensive lineman Chris Nelson. He said the result would "most definitely" double as motivation this week for Texas (4-5 overall, 3-3 Big 12).
"The coaches, it's not really about them, it's about us, but we don't really want to end up in that position, so they're talking to each and every one of us in the locker room, just saying that we got to stay hot, come out of practice with a high intensity, stuff like that," Nelson said.
Junior linebacker Naashon Hughes stated the previous meeting with Kansas had only been referenced "a little bit."
"Just because we were all a part of that and we have to own that that was a part of our team and a part of who we were last year," Hughes explained. "And that we're not going to be that same team that we were last year during the KU game. Just basically saying that this was that team and we're a different team."
Tom Herman, Houston's head coach at the time, had nothing to do with that infamous Texas loss. Asked how it might motivate the Longhorns who went through it, Herman said he doesn't think bringing up the past is of great benefit.
"I think if it gives a kid a little extra edge, knowing that they were embarrassed last year, then so be it. It's not something we'll dwell on," Herman offered. "We understand that this is — again, that the clock's ticking on the regular season and opportunities to win a football game. Regardless of the opponent, we are going to attack this week as we have each and every week with fanatical effort in our preparation and be motivated to go 1-0 on Saturday."
Beaty, who worked previously as a receivers coach at Rice when Herman was the offensive coordinator there, sang his praises before offering his theory on how the Longhorns might use last year's setback against this year's Jayhawks (1-8, 0-6).
"They've got a lot to play for. They've got a chance to get bowl eligible, and obviously from their standpoint, obviously, the game last year was something that was a huge win for us," Beaty said. "I know Tom. I mean, there's not going to be any secret. He's going to be motivating them through that, I guarantee it. And I don't blame him, I'd be doing the same thing."