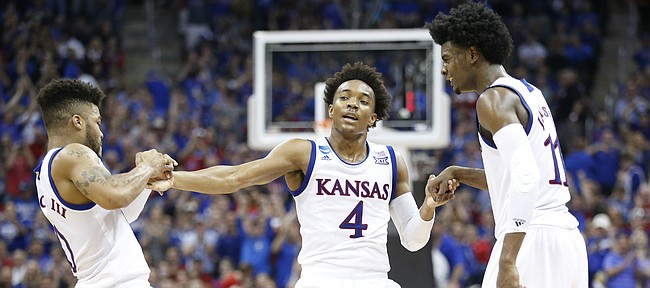 Kansas City, Mo — On a wildly entertaining display of fast-break basketball Thursday night at Sprint Center, Kansas showed why it has the best backcourt in America, Frank Mason III buried any debate as to the most deserving candidate for national player-of-the-year honors, and Devonte' Graham established himself as one of the favorites to win them next year.
Mason, the tireless introvert, and Graham, the happiest face on the basketball planet, never played better together than when they left Purdue with no shot at making an early lead hold up on the way to a Kansas blowout, 98-66.
Mason and Graham shared scoring honors with 26-point nights. Toss in Josh Jackson's 15 points and the trio alone outscored Purdue.
"It was great to see Devonté do the things he did," Mason said afterward. "He was great out there, probably one of the best games I've seen him play and I'm just happy for him, and hopefully he can continue that in the next game."
Photo Gallery
Kansas basketball v. Purdue (Sweet Sixteen)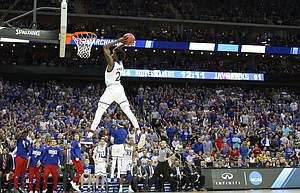 View a gallery of images from the Jayhawks' Sweet Sixteen game against the Boilermakers on Thursday at Sprint Center.
Mason was right about Graham having a great night, but he was only the second-best player on the floor, not that they keep score. They consider themselves one backcourt, not two guards, and that's the way they go about it.
"He is never going to talk about himself, but he played a great game, too," Graham said.
Mason made 9 of 11 shots, soared for seven rebounds, and dished seven assists.
He couldn't miss even when he wasn't trying to make it. Twice, Mason soared up for a defensive rebound right next to Purdue's 10-inches-taller Caleb Swanigan and the ball glanced off of Mason's fingers and into the hoop.
"I thought he did," Jackson said, smiling at the memory. "But hey, the guy knows how to put the ball in the hole, huh?"
Yes, he does, and in so many different ways. On one basket that Mason made look easy, he dribbled from right to left, squared himself in the air and put a rainbow runner through the hoop. He scored another on a mid-range, baseline jumper. Fearless Frank also figured out how to weave his way in among the trees and throw shots off the glass for buckets.
How does he do that?
"I really don't know," Jackson said. "I want to know so bad. The way he's able to finish around the basket against bigger guys just amazes me."
Graham drove aggressively to the hoop as well, which led to him making 7 of 9 free throws. He also continued his hot 3-point shooting, making 5 of 9 to make him 13 of 22 from 3-point range in three NCAA tournament games.
Graham plays with a contagious pep in his step, on his face, with his waving arms.
"His emotions definitely rub on off us, make us want to play harder, and I think it really showed tonight," Jackson said.
The freshman sensation described the veteran guards as "polar opposites. It's good to have both because we feed off Devonte' a lot, but we feed off Frank's energy just as much. Even though you don't see Frank do too many (emotional) things, the way he plays, how hard he plays and the way he scores, it really gives us a lot of energy.
I think they go perfect together, I think they do. Those two guards are perfect for our team."
Jackson said the personalties the guards show on the floor are "exactly the same, exactly the same," in the locker room and that Mason, "doesn't say anything. He'll give you a little smile or a little laugh every now and then but it's kind of rare."
Mason brings out emotions in those who watch him. The Sprint Center was loud.
Mason and Graham supplied so many thrills that it's conceivable you could poll 20 different people to name a favorite play from one of the guards and hear 20 different answers.
My favorite: Midway through the second half, Jackson blocked a shot at the rim and Mason picked up the loose ball and immediately shifted into turbo mode. He tore down the right side of the court as if he were in fast-forward and the Boilermakers were on pause.
No time for a changeup, Mason stayed in fast-forward and whistled a one-handed pass across his waist to an all-alone Lagerald Vick in the left corner. Swish.
"Don't know what it would be like to play against them," Jackson said of Mason and Graham. "Don't even want to think about it, to be honest. They're two great players. And I don't feel like they get enough credit for the things that they do."
Jackson and Landen Lucas said the evening Mason treated the crowd to should have settled any discussion on national honors.
"That guy over there, absolutely," Jackson said pointing to Mason's locker. "Any doubt? No. I don't think there should be."
Jackson also endorsed the idea of Graham keeping the awards in Kansas.
"Devonte's definitely got a shot (next year)," Jackson said. "He does."
At the moment they all have their focus trained on the shot they have at getting to the Final Four, with Oregon as the remaining hurdle in the way. So far, there hasn't been a more impressive team in the tournament than the one with the best backcourt.
"We we have two point guards and Frank is on the ball probably 65, 70 percent of the time, but Devonté, we saw tonight, that he's awfully good on the ball, too," Kansas coach Bill Self said.
The last four national champions have started two point guards. Kansas has three down and three to go to extend that winning-it-all formula to five years in a row.
— See what people were saying about the game during KUsports.com's live coverage.
---
More news and notes from Kansas vs. Purdue
---