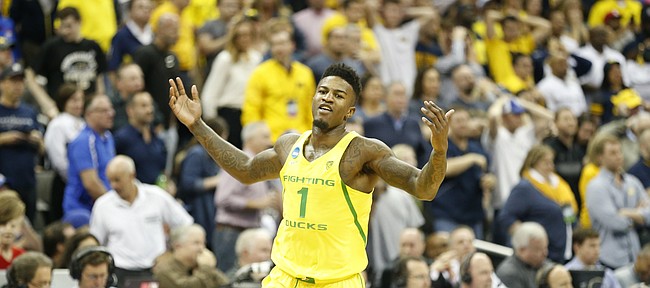 Kansas City, Mo. — The Big Ten flavor to the top-seeded Kansas Jayhawks' run through the NCAA Tournament's Midwest Region ended Thursday night at Sprint Center, thanks to the Pac 12's Oregon Ducks, who edged Michigan, 69-68, in the Sweet 16.
After toppling the Big Ten's Michigan State and Purdue to advance to the Elite Eight, KU will have to get past one of the Pac-12's marquee programs, third-seeded Oregon (32-5), Saturday (7:49 p.m.) in order to return to the Final Four for the first time in five seasons.
Eighth-year Ducks coach Dana Altman, who coached at Kansas State in the Big 8 during the early 90s, didn't know for sure during his post-game press conference which team he and his squad would encounter in this weekend's regional final. But he referenced how difficult an environment it could be for his Ducks if the Jayhawks got past "a really big" Purdue team.
"Kansas is Kansas," Altman said of the Big 12's 13-time defending conference champion. "Obviously, look out there (in the arena seats) and there is a little green section and a dark blue section and royal blue filled everything else. If it's Kansas, it will be a tough ball game, because it's a road game."
After his double-double (16 points, 13 rebounds) helped Oregon secure its program-record 32nd win, junior forward Jordan Bell made it clear the Ducks knew all about KU's Frank Mason III, Josh Jackson and Devonte' Graham, even if they had been preoccupied of late preparing for the Wolverines.
"Kansas, their guards are scrappy and shoot well," Bell said. "They have a candidate for player of the year, so either game it's going to be tough."
An Oregon victory never seemed certain until the final buzzer sounded. Michigan had a three-point lead with less than two minutes to play before baskets by Bell and Tyler Dorsey (20 points, 7-for-15 shooting) provided the Ducks with the slightest of margins.
The Wolverines' backcourt stud, senior guard Derrick Walton Jr. (20 points, eight assists), had a clean look at a potential game-winner in the final seconds, but left it short. Neither team led by more than six at any point, and Altman and his players said they were fortunate to survive.
"During the game you don't really think of that," Altman said of how tight a game it was. "Then afterwards you think of all the little plays that could've happened and it wears on you pretty good."
The game's final seconds wore on the players wearing Oregon's bright neon yellow uniforms.
"I was just watching the ball in the air hoping it didn't go in," Dorsey said, "and it didn't. I was happy and I was excited for us to get back to this Elite Eight. Just ball-watching, to be honest."
Now the eyes of both the Ducks and the Jayhawks can turn to a battle for one of four available spots in the national semifinals.
— See what people were saying about the game during KUsports.com's live coverage.
---
More news and notes from Kansas vs. Purdue
---