Kansas City, Mo. — Kansas basketball coach Bill Self, who has been on both sides of more than a few of these types of NCAA Tournament chess matches, stressed to his team all week that speed beats size.
Perhaps it was just to provide his team with confidence. Maybe it was to knock Purdue down a peg. Maybe it was just the truth, the whole truth and nothing but the truth the way Self saw it.
Either way, the top-seeded Jayhawks proved their coach right in a big way — and a bunch of ways — during Thursday's explosive, 98-66, Sweet 16 victory over fourth-seeded Purdue at Sprint Center.
What started as a street fight quickly turned into a time trial as the Jayhawks transitioned from trying to beat Purdue into a team that looked like it was trying to beat its own personal best track times.
There were a couple dozen speed-beats-size moments in this game, on both ends of the floor. But by far the most impressive, important and improbable came with just under 12 minutes to play, when sophomore Lagerald Vick slipped in front of a pass intended for Purdue big man Caleb Swanigan (18 points, seven rebounds in 35 minutes) 25 feet from the basket and raced to the other end for an uncontested dunk. Along the way Vick decided to elevate the degree of difficulty and ripped off a face-melting, 360-degree slam that sent the crowd into a frenzy and put Kansas ahead 63-54.
Photo Gallery
Kansas basketball v. Purdue (Sweet Sixteen)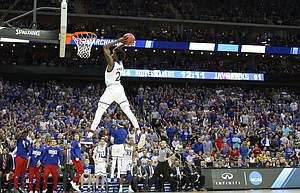 View a gallery of images from the Jayhawks' Sweet Sixteen game against the Boilermakers on Thursday at Sprint Center.
"I told Carlton before the game, if I got a steal, I would do it," said Vick, who tallied 12 points and two steals in 24 minutes. "I just happened to be in the right spot at the right time. It just brought a lot of energy to the building, got the crowd more into it and, after that guys made shots. It definitely changed the game."
Asked for a recap of the reception he received from teammates during the timeout that followed a couple of minutes later, Vick downplayed the moment.
"Everybody was excited," he said.
Luckily, Vick's teammates were more than willing to share their memories of the dunk-contest moment.
"When you've got an athlete like that on a fast break, where there wasn't really anybody near him, I had enough faith that he was gonna complete the play," said KU senior Landen Lucas, who played much better and tougher than his two points and four rebounds would indicate.
"I lost my mind," added freshman Josh Jackson, who snagged a double-double of 15 points and 12 rebounds on a night that his old pal, Swanigan, failed to do the same for just the seventh time all season. "Forgot I was out there playing for a second. I don't know what (Self) would've done if he missed that. He probably would've sent him home."
Instead, it was Jackson who did the sending and the Boilermakers (27-8) who went home.
On the next possession, Jackson, using a little quickness advantage of his own, did the dribble dance at the top of the key with Swanigan and buried a 3-pointer that put KU up double digits for the first time. Purdue quickly called timeout but the break in the action did not slow down the Jayhawks.
Two possessions and two Usain Bolt sprints up the floor later by KU's incredible cast of run-and-gun guards, Kansas led by 16.
"Everybody was excited and it was just a momentum shift," said Lucas of the stretch that came during a 51-26 second half edge by the Jayhawks on a night when KU closed the game on a 73-33 sprint after trailing 33-25 at the 6:46 mark of the first half. "And I'm sure for the other team it feels tough, too, especially with Josh coming down right after that and hitting a three that forced a timeout. That was a huge part of the game that kind of just put them away."
Added Jackson: "It was definitely a moment where we felt like we've got em down and we want to keep 'em down."
Led by 26-point nights from both Frank Mason III and Devonte' Graham, the Jayhawks (31-4) did just that the rest of the way, growing their lead, minute by minute, shot by shot until Tyler Self and the boys checked in for the third straight NCAA Tournament game during a stretch in which Kansas has won those three games by a combined 90 points.
"I feel like we are playing our best basketball that we have played this season," Jackson said. "But I feel like there's another step we can take. We can definitely get better."
Podcast episode
After the Kansas basketball team advanced to the Elite Eight with a 98-66 victory over Purdue, Kansas coach Bill Self, and guards Frank Mason III and Devonte Graham, talked about their Sweet 16 win, their strong second half and their shooting.
It wasn't all pictures by the world record sign and victory laps for the Jayhawks on Thursday night.
After a slow start offensively by both teams, the Boilermakers proved that the talk about their deft 3-point shooting, excellent ball movement and, most of all, their size was no myth. Purdue drained its first four 3-pointers and five of nine in the game's first 12:37. When they weren't doing that, 7-foot-2 center Isaac Haas was nearly unstoppable.
The big man who Kansas briefly recruited was a disruptive force on the offensive end during his first six-minute stint on the floor, cashing in on all three shots he attempted — all from point-blank range — and grabbing two rebounds while drawing a total of three fouls on three different Jayhawks.
But once the Jayhawks settled in and figured out what Haas and Swanigan were trying to do, that speed took over.
Kansas finished with nine steals and forced 16 Purdue turnovers. Many of them came when Haas and Swanigan caught the ball on the post but did not have deep enough position to make scoring inevitable.
"If you make 'em catch it outside the paint, they gotta dribble to get in," Jackson said. "(Our) guards did a really good job of just trying to rip the ball out from 'em every time they dribbled."
Those types of plays, along with KU's ridiculous 53.6-percent shooting clip from 3-point range (15-of-28) turned this one into a run-away that almost no one saw coming.
Kansas closed the first half on a 15-7 run and turned an eight-point deficit into a seven-point lead at the break.
After the break, the Boilermakers emerged from the locker room planning to go right at Lucas, who picked up his second foul at the 1:58 mark of the first half.
After a few unsuccessful trips and a lot of touches by Swanigan, Lucas was whistled for No. 3 when he was ruled to have thrown Swanigan down on a missed shot by Purdue with 15:28 to play in the game. Lucas went to the bench and junior reserve Dwight Coleby re-entered the game. At the time, Kansas led by just five. The game would never be close again, as the Jayhawks sprinted and swished their way to a huge advantage that basically gave Lucas the rest of the night off.
"I've been fortunate twice that we got some great bench play from the other bigs," said Lucas of Coleby and Carlton Bragg Jr. "I get to sit back and watch as a fan. After battling with (Purdue's) big guys all night it was kind of fun to sit back and watch our team extend the lead."
You know those Jimmy John's commercials that tout the sandwich shop as freaky fast? The Jayhawks on Thursday played like the inspiration for them, showing up wherever the Boilermakers were — and lots of places they weren't — without the Purdue players even realizing what happened.
"I feel like we're just on a high right now," Jackson said. "We're doing really good and hopefully we can keep it that way. We made it a fast-paced game throughout the game, they got tired and we wore 'em down."
One more game like that and Kansas will be headed back to the Final Four for the first time since 2012 and third time under Self.
— See what people were saying about the game during KUsports.com's live coverage.
---
More news and notes from Kansas vs. Purdue
---