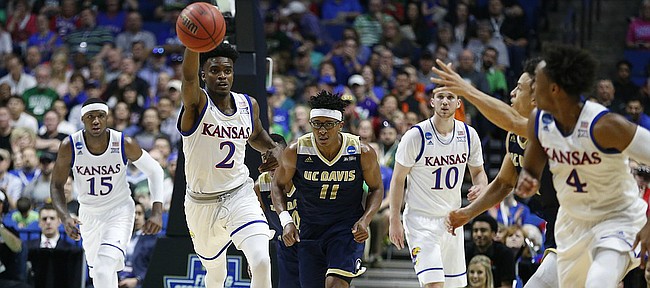 Tulsa, Okla. — It doesn't take much to spark the No. 1-seeded Kansas basketball team, and perhaps, all it took was one whistle Friday.
In KU's 100-62 rout over UC Davis in the first round of the NCAA Tournament at BOK Center, the Jayhawks pulled away with a big run before halftime.
That run started when Aggies coach Jim Les was whistled for a technical foul with a little more than seven minutes remaining in the first half. The Jayhawks led, 23-21, at the point of the technical foul and responded with a 20-2 run over the next five minutes.
"Once they got the tech, we went up four or five points and I was just telling the guys, 'This is our chance to extend our lead,'" KU senior guard Frank Mason said, "and we did a good job."
Photo Gallery
Kansas Basketball v. UC Davis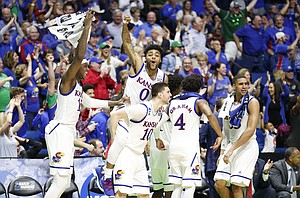 View a gallery of images from Friday's first-round game between the Jayhawks and Aggies at BOK Center in Tulsa.
Les picked up the technical when 5-foot-8 junior guard Arell Hennings was called for an offensive foul on a dribble-handoff.
Heading into a TV timeout, Hennings argued his case to the nearest official, but Les received the technical when he took a few steps out on the court to voice his displeasure with the call.
"The call was on the other end, just on a handoff," said Les, who coached Bradley to an upset win over Kansas in the 2006 NCAA Tournament. "And we had quick dialogue with the official as there was a timeout being called, and he felt it warranted a technical. So it is what it is."
Mason, who scored a game-high 22 points, hit the subsequent technical free throws. Then the Jayhawks made nine of their next 11 shots to end the half, which only increased their pressure on the defensive end.
Suddenly, a two-point game transformed into KU's 22-point halftime lead and the upset bid was over.
"I wish I could take back the technical, but it happened," Les said. "And you know, that's a good basketball team. So they got it going offensively. I thought they moved the ball really well.
"And you know, when they get it going, they're awfully impressive."
Of course, the Jayhawks have proven throughout the season that they are more than capable of playing dominant stretches at any given moment.
There's the fact that No. 16 seeds have an 0-132 record against No. 1 seeds in the NCAA Tournament and the Jayhawks would've likely hit their rhythm and stretched their lead at some point.
"I think it was a coincidence," Kansas coach Bill Self said. "I don't know that that keyed anything. Certainly the timing was probably a coincidence that we played our best ball after that."
Coincidence or not, the Jayhawks are happy to take advantage of any missteps by their opponents.

— See what people were saying about the game during KUsports.com's live coverage.
---
More news and notes from Kansas vs. UC Davis
---