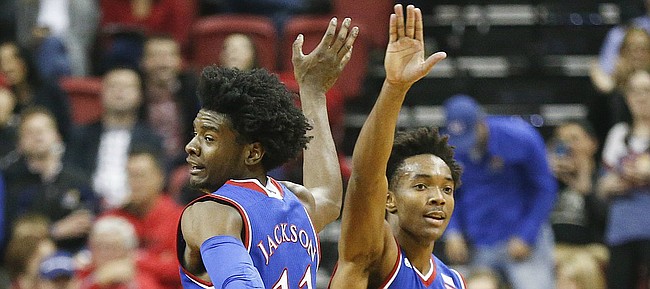 Few fan bases know the joy and heartbreak that comes with March Madness like fans of the Kansas Jayhawks.
Each year, whether they want to or not, the overwhelming majority of KU fans put Kansas down for deep runs in their NCAA Tournament brackets. Some years, the loyalty pays off. Other years, it merely adds to the pain and disappointment.
What becomes of the Jayhawks' postseason run this season remains to be seen, but here are 13 reasons why KU fans should be optimistic about their team's chances this March.
1 - Guards win in March — Analysts, coaches and fans alike will tell you that the key to winning big in the NCAA Tournament starts with having talented guards a team can trust. Few programs, if any, are set up better than Kansas in that department entering this year's tournament, where leading scorers Frank Mason III, Devonte' Graham and Josh Jackson will look to lead the Jayhawks back to the Final Four.
2 - Gotta have that dude and Kansas may have 3 of them — Speaking of those three players, many past NCAA Tournament champions have had that one guy who can take over a game or get a tough shot when his team needs it most. In Mason, Graham and Jackson, Kansas seems to have a trio of capable heroes.
3 - Sweet 16 and Elite Eight in Kansas City, Mo. — Location is a big factor in the tournament and Kansas could not have asked for a better draw than to have the Sweet 16 and Elite Eight of this year's Midwest Regional in their own backyard at Sprint Center in Kansas City, Mo. The Jayhawks have to get there first for it to be a true advantage, but, if they do, playing in front of a heavy pro-KU crowd in a familiar building could be huge.
4 - Experience in bunches — Another major factor in deep tourney runs is experience. Whether it's the experience of having been there and done that or the experience of having played together for multiple seasons, teams with a bunch of veterans often fare well in March. Kansas has just that in guards Mason and Graham along with senior forward Landen Lucas.
5 - Bill Self — Whether you're talking about his one trip at Tulsa, his one trip at Illinois or the six times he's done it at Kansas, Self, in 22 previous seasons as a head coach, has led his team to the Elite Eight or beyond eight times. Beyond that, Self's willingness to adjust on the fly, inspire toughness, emphasize team defense and balanced offense puts Kansas in great shape to make a run year after year.
6 - Three is worth more than two — With KU's new-look, four-guard lineup producing a team that ranks in the Top 10 nationally in 3-point percentage, the Jayhawks have found a way to put up points in bunches on a limited number of shots and can spread the outside shooting love around to five different players.
7 - Major motivation — For the trio of Jayhawks who lead this year's team — Mason, Graham and Lucas — the loss to Villanova in last year's Elite Eight has served as motivation throughout the offseason and well into the Jayhawks terrific 2016-17 regular season. None of those guys have forgotten the feeling of coming up just short a year ago and all of the work they've put in this year has been with an eye on making up for that disappointment.
8 - Jayhawks know how to win close games — Ten times during the regular season, the Jayhawks played games decided by six points or fewer and came out on top. For many of the reasons mentioned above — good guards, veteran leaders, clutch performers — the Jayhawks have had a knack for winning the close ones all season.
9 - Deficits won't scare them — Trailing by eight points or more 12 times during the regular season, the Jayhawks finished 11-1 in those games, including a 7-0 mark after December 29 in games in which they trailed by double figures yet still won.

10 - Team defense still improving — It's no secret that this team has not been up to the usual Bill Self standards on the defensive side of the ball. But "at game point," as Self likes to say, they've turned their defense up a notch to ensure victory. A clear sign that the Jayhawks are still improving on the defensive end, if they can take that mentality into the do-or-die portion of their season, these Jayhawks definitely can make a run.
11 - Battle tested by Big 12 — It's been a long time since the Jayhawks had a night off. From the start of conference play back in late December all the way through the Big 12 tournament in Kansas City, Mo., the Jayhawks have received the best possible shot from a conference ranked by many as the best in the nation, top to bottom.
12 - Andrea Hudy — KU's assistant athletic director for sports performance, Hudy works with the most cutting-edge equipment and knows how to keep the Jayhawks fresh, rested and rejuvenated throughout the season so their bodies are ready for the grind of March Madness.
13 - Vegas, baby! — Kansas enters this year's tournament as one of the favorites to cut down the nets in Arizona in early April. Las Vegas odds have no bearing on how the games actually turn out, but oddsmakers are so good at their craft that they rarely miss. If Vegas likes the Jayhawks, that's a good sign for KU's chances.
---
More from Selection Sunday
---