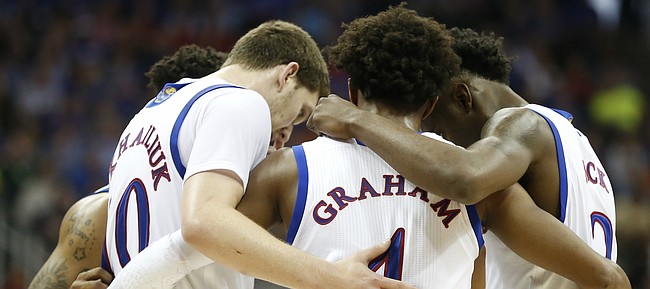 An earlier-than-expected loss to TCU in last weekend's Big 12 tournament in Kansas City, Mo., did nothing to derail the Kansas men's basketball team's ideal path in the upcoming NCAA Tournament.
And now the goal for Kansas is to get right back to where that loss took place.
KU's inclusion in this year's field marks the 28th consecutive season of advancing to the Big Dance (1990-2017), which moved Kansas past North Carolina (1975-2001) for the all-time record.
The Jayhawks on Sunday received a No. 1 seed in the NCAA Tournament's Midwest Region and will open play at 5:50 p.m. Friday on TNT in Tulsa, Oklahoma, against the winner of the First Four match-up between North Carolina Central and UC Davis in Dayton, Ohio, set for 5:40 p.m. Wednesday.
After earning a No. 1 seed for the seventh time in the past 11 seasons, the Jayhawks now know that two victories in Tulsa would bring them back to Kansas City's Sprint Center for the Sweet 16.
"There's already enough incentive to progress forward in the tournament and not lose," said senior forward Landen Lucas after the bracket was revealed. "But if it adds anything, we know that getting past this first weekend and getting to play in front of our fans for a chance to go to the Final Four is huge."
Asked for his initial thoughts on the Midwest Region as a whole, KU coach Bill Self, like all coaches this time of year, said he initially was stunned by all of the talented teams that piled up in his corner of the bracket.
"It's the same reaction I have every year, like, 'Are you kidding me?'" said Self of a region that includes No. 2 Louisville, No. 3 Oregon, No. 4 Purdue and No. 5 Iowa State, among others. "That's what I initially thought. Obviously, I think it's very difficult, but everybody in the tournament could say the same thing."
In order to narrow the focus as much as possible and avoid the potential pitfalls that could come from looking too far down the road, Self said his team would emphasize winning a four-team tournament in Tulsa this weekend before worrying about anything else. Eighth-seeded Miami, Fla. (21-11) and No. 9 seed Michigan State (19-14) also play Friday, with the winner facing the winner of KU's game on Sunday.
"That's our only focus," said Self of advancing past the first weekend. "We're happy that we were a 1 seed (and) we're obviously happy that we get to stay fairly regional with our travel."
While many Jayhawks already had been through the fun of Selection Sunday and what comes next, there was one difference about this year's experience for everybody. While watching the bracket unveiling from their theater room at McCarthy Hall, the Jayhawks discovered they would have to wait longer than normal to learn the identity of their first opponent.
"I do think it's a bit of a disadvantage, not knowing who you're going to play the first game," Self said of facing a play-in opponent in the first round. "But, obviously, the other teams are going to have to do the same thing, as well."
Added Lucas, when asked if the unknown would alter KU's preparation: "It does a little bit, but our coaches do a good job of at least making sure we're pretty well informed on both teams and then as soon as we do find out (who we're playing) we'll put a little more focus into that team.... (We've) just got to go and make sure we're on top of our game, and the rest will kind of handle itself."
For a team that features three seniors who have yet to reach the Final Four in their careers and a freshman All-American who likely won't get another chance, Lucas said the goal from this point on — beyond the obvious of winning each game — was to make sure that everyone on the roster was as focused, prepared and determined as possible to give the Jayhawks their best shot of getting to Arizona for their first Final Four appearance since 2012.
Just because they've only been there twice in Self's 14 seasons leading the program does not mean the Jayhawks are strangers to the formula for getting the job done.
"Here's the reality of the tournament: You've got to have fun, you've got to play loose," Self said. "And sometimes that's difficult to do if you know that it's a one-and-done scenario. So the teams that are able to balance that, to be intent, competitive, loose, fresh, still play with a purpose, those are the teams that usually play the best. And last year, we actually did a great job in the NCAA Tournament."
Drawing on last year's run and adding to it is something the Jayhawks plan to do in the next couple of weeks.
"I'm very confident," Lucas said. "Because I feel like we understand just how important it is to get everybody on board, and we're not accepting anything short of that focus and laser-sharp attention that is needed for each and every game.... We'll take it as seriously as you can, and I'll make sure that we do."
The fact that KU's 2015-16 season ended in the Elite Eight, just a few possessions shy of advancing, is a memory that never left Lucas or his teammates who were there and could prove to be a driving force for this year's run.
"After last year, all that I could think of was getting back to that spot and having another opportunity," Lucas said. "This is exactly where we want to be."
---
More from Selection Sunday
---