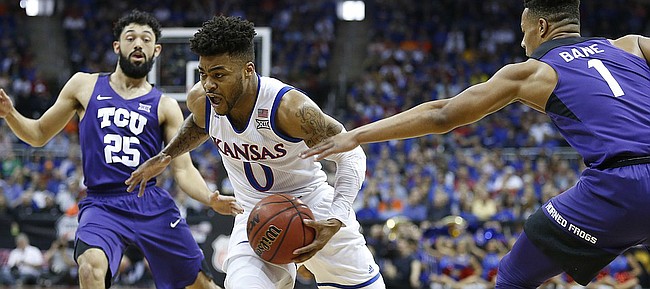 Kansas City, Mo. — The Kansas quarterfinal exit from the Big 12 basketball tournament Thursday underscored the importance of freshman Josh Jackson staying out of foul trouble and parking lots.
Without Jackson, Lagerald Vick, an energizing sixth man, became a not-ready-for-35-minutes starter and Kansas lost to TCU, 85-82, Thursday in Sprint Center. No Jackson means no help to speak of for Landen Lucas on the boards and on the interior defensively.
Other than that, the only race it ought to affect is the one for the various awards for college basketball's national player of the year and anyone who watched the game would agree that Frank Mason only helped himself in that regard. No. 1 seed? No credible argument for Kansas having lost that.
Photo Gallery
Kansas basketball v. TCU (Big 12 Tournament)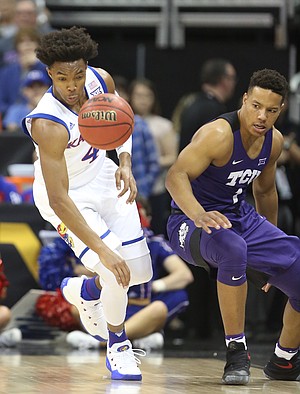 View a gallery of images from Thursday's game between the Jayhawks and Horned Frogs at Sprint Center.
Mason again was spectacular in rallying Kansas back from another deficit and TCU answered way too many of his twisting-and-turning drives for buckets and pull-up 3-pointers with points of their own. For all Mason's basketball gifts and unassailable will, at 5-foot-11 he's not equipped to defend in the paint and the Horned Frogs had too easy a time piling on the points with easy buckets. They shot .532 from inside the 3-point semi-circle and that was the difference.
Even at that, Mason still nearly rallied the Jayhawks all the way into the semifinals. He scored 16 of his game-high 29 points in the second half and finished with six assists and soared for three defensive rebounds.
It wasn't enough because TCU went on a 33-10 tear that started with 3:35 left in the first half and became an 11-point lead with 13:57 left in the game.
Then Mason went to work. He set up Sviatoslav Mykhailiuk beautifully for a 3-pointer, made one of his own while getting fouled, and sank the free throw and hit another 3-pointer and in a three-minute span. He had a huge hand in making that 11-point deficit a one-point one.
Mason put Kansas back on top, 71-70, with 6:45 left and drove for another bucket that put KU up four points with 2:18 left. Looking to give Kansas a six-point lead, Mason spotted Vick open underneath and threw a lob in his direction. Vick didn't react to it and it sailed out of bounds with 1:37 remaining.
"I saw Lagerald going back door," Mason said. "His man was kind of ball-watching. I think I threw it too high. If it was a little lower, it would have been a dunk for Lagerald."
Vick said the pass was "probably a little too high."
We'll never know because Vick didn't jump for it.
"I thought Lagerald was wide open," Kansas coach Bill Self said. "I think he threw it too high, or Lagerald thought it was too high, but I thought he was wide open.… I was disappointed Lagerald didn't jump."
Every time he was asked about the play in the locker room, Mason put the blame squarely on himself, so he had as good a post-game as he did a game in saying precisely what a senior leader should say.
"I made that play and they came back down and cut it down to two and they got momentum from that play," Mason said.
A little later, Mason said, "We had a lot of games where we were down almost double figures and somehow we came back from those deficits, and tonight we couldn't make it happen. We were up late in the game and I had a bad turnover, which led to like a three-or-four-point swing. And they just made plays from there."
Noble of Mason to fall on the sword like that, but the truth is Mason and Lucas would have been the primary reasons Kansas won the game. They had nothing to do with why they lost it.
— See what people were saying about the game during KUsports.com's live coverage.
---
More news and notes from Kansas vs. TCU
---