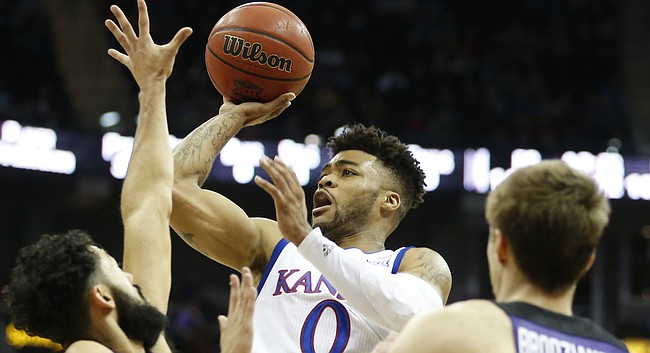 Kansas City, Mo. — The Kansas basketball team's postseason began in a fashion the Jayhawks had mastered in the previous months: overcoming a dangerous deficit.
For the ninth time this season, the nation's No. 1-ranked team found itself in a double-digit hole, but for just the second time this season, KU came up short, losing 85-82 to TCU.
Trailing by two with 22.8 seconds to play in the second half, KU's Big 12 Player of the Year, Frank Mason III (game-high 29 points) drove hard toward the paint and drew a foul that sent him to the charity stripe where he tied the game with two free throws.
But the Horned Frogs' Desmond Bane did one better when Svi Mykhailiuk fouled him on a corner 3-pointer with 2.5 seconds left after initially blocking Bane's shot attempt. Bane nailed all three of his chances, allowing the eighth-seeded Frogs to advance to the semifinals and sending KU back to Lawrence.
Photo Gallery
Kansas basketball v. TCU (Big 12 Tournament)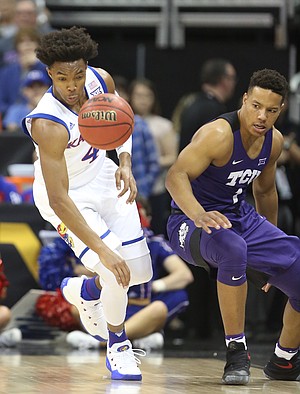 View a gallery of images from Thursday's game between the Jayhawks and Horned Frogs at Sprint Center.
Here's a quick look back at some of the action:
• The game turned when: TCU didn't sweat a 12-point Kansas lead in the first half.
Jamie Dixon's bunch steadily fought back and even withstood a KU rally after taking an 11-point lead of their own in the second half.
Kenrich Williams went for 18 points and eight rebounds, Bane scored 16, Alex Robinson added 13 and TCU pulled off what figures to be the shocker of the entire Big 12 tourney.
• Offensive highlight: With freshman Josh Jackson serving a one-game suspension, somebody had to step up and wow the Kansas fans in attendance.
While it wasn't one signature play, junior wing Mykhailiuk came through early, looking far better offensively than he had in weeks.
Mykhailiuk scored eight of KU's first 14 points and had 13 in the first eight minutes (18 total), as the Jayhawks got out to a 24-13 lead.
The starting guard still had his issues defensively, but his outburst — especially since Mykhailiuk hadn't scored in double figures since Feb. 4 versus Iowa State — gave Kansas a significant lift and a positive start without Jackson.
• Defensive highlight: With Kansas in the midst of its comeback, seldom-used backup big man Dwight Coleby gave the team a rare paint-protecting presence inside.
Twice in one sequence, with less than nine minutes to play, TCU's JD Miller went right at Coleby. And twice Coleby stymied Miller with a swat.
The Frogs spent plenty of time in the quarterfinal scoring inside (38 points in the paint), so any time Kansas came away with a stop, it seemed like a bonus.
• Key stat: Rebounding. TCU dominated the glass in the first half, with a 19-10 advantage. The Frogs also cashed in via the offensive glass, with 17 second-chance points, on 10 offensive rebounds.
TCU won the battle of the boards, 36-31, allowing the underdog to knock off the Big 12's top seed.
• Up next: The Jayhawks will have to wait until Selection Sunday to find out where and when they will open up the NCAA Tournament.
— See what people were saying about the game during KUsports.com's live coverage.
---
More news and notes from Kansas vs. TCU
---