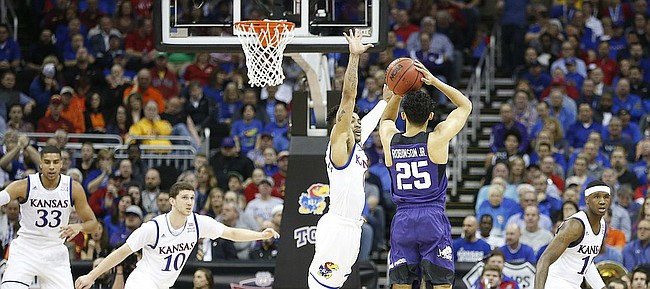 Kansas City, Mo. — As soon as TCU senior Brandon Parrish saw Kansas guard Devonte Graham's 3-pointer at the buzzer bounce off of the rim, he punched the air and let out a scream.
TCU sophomore Alex Robinson hugged Parrish as the senior shouted in joy, "That's what I'm talking about!"
For the Horned Frogs, Thursday's 85-82 victory over No. 1-ranked Jayhawks in the Big 12 Tournament quarterfinals at Sprint Center was an opportunity to keep their NCAA Tournament hopes alive.
But it still meant more than that for Parrish, who remembered a winless Big 12 season during his freshman year.
"Man, this is the win of my career right here, to be completely honest," said Parrish, who scored 12 points on 4-of-7 shooting.
Photo Gallery
Kansas basketball v. TCU (Big 12 Tournament)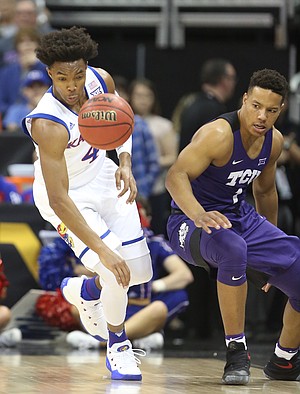 View a gallery of images from Thursday's game between the Jayhawks and Horned Frogs at Sprint Center.
TCU (19-14) entered the Big 12 Tournament on a seven-game losing streak — "Never stopped believing," first-year Horned Frogs coach Jamie Dixon said. That included three losses by three points or less.
After leading by as many as 11 points midway through the second half, the Horned Frogs didn't panic when the Jayhawks essentially erased the deficit in three minutes.
Actually, they expected the tournament's top seed to make a big run at some point and didn't wilt in crunch time. Trailing by four points with two minutes remaining, TCU scored six straight points before Desmond Bane sank three game-winning free throws with 2.5 seconds left.
"I mean, like I said, they're the No. 1 team in the nation for a reason," Parrish said. "We've seen numerous times where they've been down, down big in the second half, and they've come back and found a way to win. So we just wanted to be able to respond each and every time."
The Horned Frogs built their confidence with a big run at the end of the first half, taking a one-point lead into halftime with a 16-3 run in the final three-and-a-half minutes.
After winning a combined six Big 12 games in the last three seasons, TCU's win over the Jayhawks was something special.
"It was a lot of times where we would look at things in the media and people would tell us that we were never good enough, we would never be able to get it done," Parrish said. "I used to read articles that said me and Karviar Shepherd weren't ever going to be good enough to win in the Big 12.
"This is the high point of my whole career right here and I'm glad to have these guys, my brothers, with me to live it up with me."
— See what people were saying about the game during KUsports.com's live coverage.
---
More news and notes from Kansas vs. TCU
---