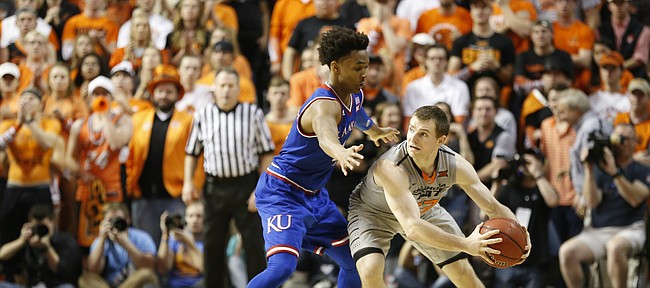 With the regular season and a 13th consecutive Big 12 Conference title now behind them, the Kansas men's basketball team is ready to shift gears into full postseason mode.
First thing's first, though.
"Right now, we're just focused on resting and getting prepared for March Madness and all the craziness that's coming along with it," said KU junior Devonte' Graham after the Jayhawks' 90-85 victory Saturday in Stillwater, Okla. "We've gotta refocus real quick and get ready for the tournament."
Tournaments, to be exact.
No. 1 Kansas (28-3 overall, 16-2 Big 12) will open play in the Big 12 tournament as the No. 1 seed at 1:30 p.m. on Thursday. The Jayhawks will face the winner of Wednesday night's 8-9 game between TCU and Oklahoma.
Kansas swept both teams during the regular season, but not without challenges. TCU battled KU to a six-point loss in the Big 12 opener for both teams in late December and OU led Kansas by nine at halftime in Norman, Okla., and by 12 in Lawrence with eight minutes to play in the second half. Those moments, and a handful of others, helped Kansas create an identity rooted in toughness and a never-say-die mindset.
"We've just been in every situation possible throughout the year," Graham said. "No panic in us, really. We just try to maintain our composure."
Asked how it felt to win the conference by four games, senior forward Landen Lucas said it was "big."
"I mean, that's one of the steps, one of our goals, and we accomplished it and now we're moving on to the next one," he said.
The next one comes this week in Kansas City, Mo., an appetizer to the full-on madness that lies ahead. Asked after Saturday's victory in Stillwater if he could feel it coming in the sold-out arena and frenzied atmosphere, Graham simply smiled and said, "Oh, man. Yeah. You can definitely tell that it's here."
Self agreed and said the large number of close games and intense battles between Big 12 teams throughout the past couple of months would be the perfect tip-off to it all.
"It's going to be wild," Self said of the Big 12 tournament. "People will probably look at us as the favorite because we won the league, but, hey, it will be as wild as can be. And so much of it is about match-ups and who you can match-up with on no rest and all that stuff. It will be wild. It will be fun."
---
Jayhawks earn all-Big 12 honors from league coaches