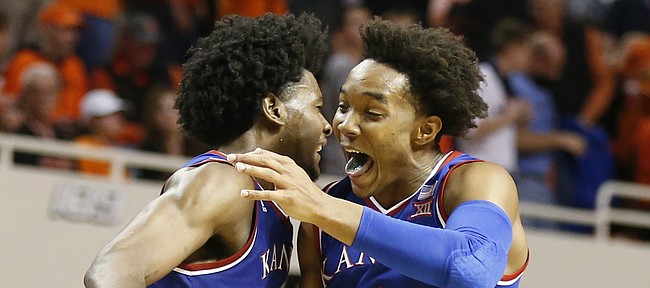 It's worth wondering if NBA scouts watching the college basketball game played at an NBA pace Saturday in Gallagher-Iba Arena left the building believing the same thing I did: Picking anybody but Kansas freshman Josh Jackson with the first selection is simply too risky a proposition to undertake because it could make whichever team passed on him look really, really bad in time.
Here's why: He showed so many point guard skills, some of which are only attainable for a player his size. At 6-foot-8, Jackson can see over the defense, which blended with his peripheral vision, makes him see potential buckets for others that most don't see. He's not unlike a great pool player who sees shots that non-hustlers don't know exist.
Type-cast Jackson as a small forward and it's reasonable to think that Washington's Markelle Fultz, an injured, 6-foot-4 shooting guard with a major-conference best 23.2 scoring average and UCLA's super-slick 6-6 point guard Lonzo Ball (national-best 7.8 assists average) will go ahead of Jackson. All three are freshmen.
But what if Jackson develops into a point guard, the way the Milwaukee Bucks' 6-11 All-Star Giannis Antetokounmpo did? It's never wise to bet against Jackson's ability to improve.
Even at Kansas, which schedules as aggressively as anybody, the slate becomes tougher once Big 12 play arrives. Not surprisingly, Jackson, intensely bent on self-improvement, has improved against tougher competition.
Check out his November/December/January/February statistics in four categories: Scoring, rebounding, 3-point percentage, free-throw percentage.
Scoring: 14.1, 15.3, 17.3, 17.8.
Rebounding: 5.7, 6.7, 7.6, 8.2.
3-point percentage: .294, .222, .385, .478.
Free-throw percentage: .541, .545, .553, .582.
Other than a 3-point dip from November to December, Jackson improved every month in every category.
He's playing more aggressively, yet most of the time under control and definitely more in control of a temper that led to early-season technical fouls.
In the NBA, defenders are required to switch constantly, which makes defensive versatility a valued trait. Not many players can say they guarded a 7-footer for most of the game and on the final defensive play stayed in front of a sub-6-foot point guard the way Jackson did in the victory at Baylor.
Frank Mason III's late-game domination has been so consistent for Kansas it has overshadowed the consistently clutch performances of Jackson late in close games, which in the case of Kansas means pretty much every game.
Kansas coach Bill Self called Jackson's 3-pointer from the left corner with 1:53 left on a feed from Mason, who had drawn multiple defenders by driving into the lane, "probably the biggest shot of the game." It put Kansas up by six points.
Jackson beat Oklahoma State's full-court pressure with a three-quarter-court, on-the-money in-bound pass to Lagerald Vick, who took it to the hoop for the final points of KU's 90-85 victory Saturday.
"He's a good passer," Self said of Jackson. "He's probably our best passer on the team. He's got great vision."
It takes vision to project Jackson as a point guard, a possibility that ranks among many compelling aspects of an NBA career that will start next season.
One of the coolest things about Jackson's approach to his career at Kansas is that he never looks like a player whose focus strays from the task at hand, which always is winning that day's game. He seems content to let NBA talent judges project his talents and he'll take care of helping Kansas extend its season. That also happens to be the best way to impress NBA scouts, even if too few players have the maturity to realize that.
With Jackson as the lone freshman in the seven-man rotation, Kansas brings a lot of experience into the postseason. The starting lineup features seniors Mason and Landen Lucas and juniors Devonte' Graham and Svi Mykhailiuk. And nothing suggests Jackson will resemble a freshman in the NCAA tournament.