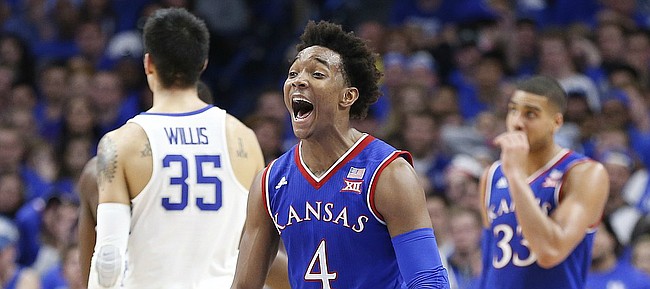 Lexington, Ky. — The games-played experience factor in the starting lineups favored Kansas, 426-132, and the second-ranked Jayhawks used every bit of wisdom at their disposal to knock off No. 4 Kentucky, 79-73, in the featured game of the fourth annual SEC/Big 12 Challenge Saturday night at Rupp Arena.
Facing four fantastic freshmen and one super sophomore in Kentucky blue, KU's crew of two seniors, two juniors and one freshman rallied from a 12-point first-half hole to control most of the second half en route to the bragging-rights victory.
"I thought we showed extreme upperclassman leadership tonight," KU coach Bill Self said after the win. "And I thought we played pretty tough. But I told 'em it doesn't mean anything if we don't gather momentum from this and build off of it. I think our guys are really excited, not that we played great. I think they were excited because we didn't play great and we fought through it and we ended up winning the game."
Photo Gallery
Kansas basketball v. Kentucky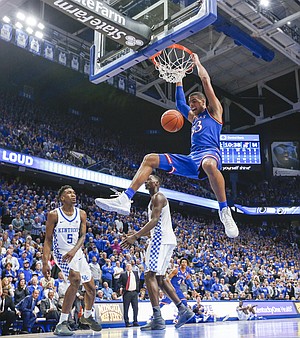 View a gallery from Saturday's blue blood matchup between the Kansas Jayhawks and Kentucky Wildcats at Rupp Arena in Lexington.
KU's starting five of Frank Mason III (21 points), Landen Lucas (13), Devonte' Graham (12), Svi Mykhailiuk (8) and Josh Jackson (20 and 10 rebounds) combined to score all but five of KU's points and played 168 of 200 minutes.
With NBA scouts in all corners of the building and Big Blue Nation roaring from start to finish, the Jayhawks (19-2 overall, 7-1 Big 12) and Wildcats (17-4 overall, 7-1 SEC) put on a show that lived up to the sensational hype that preceded Saturday's blue blood battle of the two winningest programs in college basketball history.
The game's opening minutes featured a dose of just about everything analysts, fans and the players and coaches themselves expected.
Both teams played fast. Kentucky, which missed its first five shots before scoring, pounded it inside to Bam Adebayo (10 points, 8 rebounds) repeatedly. And the pregame atmosphere featured a lot of noise, hype and excitement. Kansas led in the early going but quickly found the game slipping away when the Wildcats unleashed a 13-2 run midway through the first half to build a 10-point lead.
"I thought this could get ugly really fast," Self admitted after the game. "I thought it was already ugly.... We didn't shoot it at all, we played tight and they had all the momentum."
But a strategic call from the KU bench, moving from man-to-man defense to a 2-3 zone slowed the game down and paved the way for the Jayhawks to crawl back into it. Despite trailing 29-17 with 4:58 to play in the first half, the Jayhawks trailed by just five — 32-27 — at the break thanks to that zone defense and a 10-3 run to close the first half.
"There's not gonna be any educational tapes on that zone tonight," Self said. "But I do think we played it pretty well. It helped us. We would not have won the game unless we switched up."
Added Mason of the switch to zone: "Hopefully we don't have to do that moving forward because we take pride in playing man-to-man, but whatever helps us get the win, we're willing to do."
Podcast episode
Josh Jackson and Frank Mason break down KU's comeback at Kentucky.
With momentum resting in the Kansas locker room, the Jayhawks regrouped and started the second half with a statement. Back-to-back 3-pointers from Josh Jackson, who has hit 8-of-14 from 3-point range in the past three games, gave Kansas its first lead since 8-7 and helped return the swagger to the Kansas bench.
"We went down 12 points at one time, but we all had it in our heads that we were gonna come back," Jackson said.
For the next several minutes, the teams battled back and forth, with Kentucky maintaining a slim lead and Kansas charging hard. Lucas' tip-in with 12:55 to play put KU back on top and, from there, Kansas trailed just one more time.
Jackson was a big reason for that. Not only did the freshman from Detroit outshine all of Kentucky's brightest stars, he also delivered his best in the game's biggest moments and recorded his fifth double-double of the season.
A tip-in of his own miss put KU back up one with 7:15 to play and his offensive rebound and put-back with 1:09 to play gave Kansas a seven-point lead.
"I thought he was really good tonight," Self said of Jackson. "I thought he got his hands on loose balls, he rebounded great, the offensive rebound, put-back late was a huge play. And to me, he's a complete basketball player. He's one of the few guys out there that can do a little bit or a lot of everything."
Added freshman forward Mitch Lightfoot, who played just four minutes while spelling Lucas: "Wow. He just showed you guys why he's gonna be a top-5 pick in the (NBA) draft. There's no doubt about that. He's an amazing player."
Podcast episode
KU coach Bill Self on KU's big win which capped a tough week.
Even though the Kentucky faithful started filing out with around 2:00 remaining, the Jayhawks made things interesting down the stretch, allowing the Wildcats to trim a 69-59 KU lead with 4:41 to play all the way to four, 77-73, with 19.2 seconds remaining.
But Mykhailiuk's two free throws with 16 seconds to play pushed the margin back to six and Kentucky's final attempts to crawl closer fell short. Those free throws and a pair by Graham 36 seconds earlier proved to be just enough on another poor-shooting free throw night by the Jayhawks.
"Neither team shot free throws worth a flip," said Self, whose team finished 10-of-18 from the stripe, just three percentage points worse than Kentucky's 13-of-22 effort. "I mean, we could've won the game easily or they could've probably won the game if either team could step up to the line and make free throws."
True as that may have been, Saturday's game was not about free throws. It was about stars and hype, play makers and big moments. And the Jayhawks, thanks to all of that experience, had just a few more than the Wildcats on this night.
"It helped us a lot to come in here and get a win against a great team, great program. The tradition is great here," Mason said. "Just for all the guys to come here and experience that will help us a lot moving forward when it really matters."
Added Lightfoot, still in awe of what his teammates did to will Kansas to victory: "They're great and all, but I have Frank Mason, Devonte' Graham and Josh Jackson. That's kind of hard to match."
— See what people were saying about the game during KUsports.com's live coverage.
---
More news and notes from Kansas vs. Kentucky
---