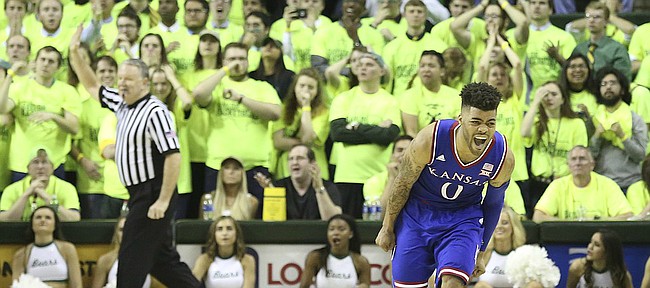 Waco, Texas — As the Kansas Jayhawks filed off the floor of Baylor's Ferrell Center on Saturday afternoon, some looking exhausted, others with arms raised in victory, assistant coach Jerrance Howard hollered instructions on the way back to the locker room.
"Let's get outta here," Howard yelled. "Let's get outta here. Nobody's showering. Let's get outta here."
Hygiene questions aside, Howard's postgame plans clearly demonstrated one thing — the Jayhawks came to Waco for one reason.
And with their latest victory in hand, yet another down-to-the-wire, 67-65 victory over No. 4 Baylor, there was no need to waste time sticking around.
"As far as a mental toughness team, I would take this team and go to the house and let it ride however it goes," KU coach Bill Self said after the win. "(Late in the game, you) gotta have great possessions every time, and these guys did it."
Photo Gallery
Kansas basketball v. Baylor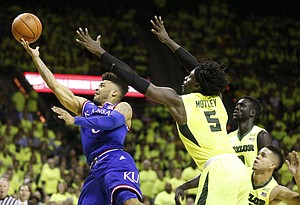 View a gallery of images from Saturday's game between the Jayhawks and Bears in Waco, Texas.
Kansas (24-3 overall, 12-2 Big 12) now boasts wins over No. 1 Duke, No. 2 Baylor, No. 4 Kentucky, No. 4 Baylor and No. 9 West Virginia. Four of those came in the past three weeks.
"And three of the four (top-five) wins were away from home," Self said. "It's incredible to me."
With the dark cloud of poor free throw shooting hanging over this team for most of the season, Self has cautioned that a bad night at the free-throw line could cost his team a game. Saturday, for the second weekend in a row, it was a trip to the free-throw line late that won the game, this victory coming on a pair of Landen Lucas free throws with 11.5 seconds remaining that broke a 65-all tie.
Asked if they were confident Lucas would knock the pressure-packed free throws down, several Jayhawks responded without hesitation.
"We've been inconsistent, but shooting 80 percent (16-of-20) from the line gave us a chance today," Self said.
Added junior guard Devonte' Graham: "I told him before he shot it, 'Shoot it nice and soft and no rim.' That's what we always tell each other. If it touches the rim, it don't count. And he made both of 'em, so it was good."
Lucas' clutch free throws capped an 8-0 Kansas run that closed the game.
After trailing by as many as 12 points just before halftime and still by six with 3:34 to play — facing double-digit deficits and finding a way to overcome them has sort of become KU's thing these days — the Jayhawks got multiple tough plays from the team's three best players on Saturday: Lucas, Frank Mason III and Josh Jackson.
More importantly, they never blinked.
"We were down more than that last game against West Virginia," said Mason, referencing KU's 14-point deficit during last Monday's wild, overtime win. "I think we just showed toughness and we showed leadership and the younger guys did a great job of following and executing down the stretch."
Baylor built its lead by responding to a five-point deficit that was an inch or two away from becoming eight with just under 10 minutes to play.
That's when an 11-0 KU run, sparked by Mason (23 points, 8 assists in 39 minutes), turned a 47-41 Baylor lead into a 52-47 Kansas advantage. The only make of the day from Svi Mykhailiuk, who suffered through a rough shooting day (1-of-6 overall, 1-of-5 from 3-point range), put Kansas up five with 10:18 to play and his in-and-out 3 from in front of the KU bench 65 seconds later nearly put Baylor in a heck of hole.
Instead, Mykhailiuk's make, against Baylor's tough zone, represented the Jayhawks' lone basket in a 6:23 Kansas drought during which the Bears reclaimed control heading into the final minutes.
"I told our coaches before the game that Svi and Devonte' will be the ones that win the game the game for us because they're gonna play zone," Self said after the victory. "And they go 2-for-18. So it just goes to show you, you just never know. Other guys step up and make plays."
Podcast episode
Bill Self on another tough Kansas victory over a Top 5 team
After a pair of King McClure free throws gave Baylor a 65-59 lead with 3:34 to play, those "other guys" came through in a big way.
First was Jackson, whose drive and finish through contact with no call pulled Kansas within four. On the next possession, Mason did the driving and found a cutting Jackson for a ferocious one-handed jam, one of four monster slams on the day for the KU freshman.
One possession later, Graham swished a pair of free throws. Seventy-eight seconds after staring at yet another uphill climb, the Jayhawks had tied the game and set the stage for a wild finish.
In the final 1:47 alone, Baylor missed four shots, got what had to seem like 40 hands on bouncing balls and held Kansas without a field goal.
But it was Lucas' offensive rebound of a missed 3-pointer by Graham (1-of-12 overall, 1-of-9 from 3-point range) with 15 seconds remaining that put the final touches on KU's latest win.
"It was huge," said Mason of Lucas' sixth offensive rebound of the day. "Coach said he was the only one (who should) crash the glass on the final possession and thank God he was the person he chose."
Baylor (22-5, 9-5) had one shot to tie or win, but got what Mason described as a shot they "settled" for thanks to KU's stifling defense.
Knowing they did not want to let Baylor throw it inside to Johnathan Motley (19 points, 9 rebounds), the Jayhawks denied everything to Baylor's most dangerous weapon and kept the action on the perimeter. With a hobbling Manu Lecomte (16 points, 4-of-9 from 3-point range) looking to create and Mason hounding him, Jackson abandoned 7-footer Jo Lual-Acuil to double-team Lecomte near the wing.
"We figured Acuil wouldn't shoot the last shot so might as well double," Jackson said with a shrug.
Instead of recovering back to his man, Jackson stayed to help Mason challenge Lecomte's shot attempt, which glanced off the rim and sent the Jayhawks sprinting to mid-court to celebrate their latest victory.
"I think we were great on the last possession," the always-modest Mason said. "Everyone was locked into what coach wanted us to do."
Added Self: "I thought those guys did an unbelievable job at game point.... I'm really proud of our guys and how hard they compete."
— See what people were saying about the game during KUsports.com's live coverage.
---
More news and notes from Kansas vs. Baylor
---