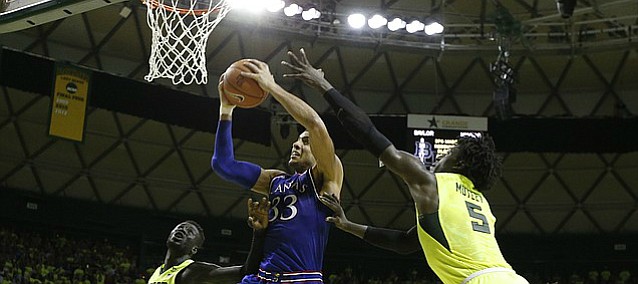 Waco, Texas — Most of the 10,021 in Ferrell Center whistled, waved, hollered and did whatever else they thought might influence Landen Lucas to miss at the free-throw line with the game tied and 11.5 seconds showing on the clock.
To that point, Lucas had missed his only other two free-throw attempts, was coming off a pair of games in which he combined to make 1-of-4 in the final minute and was shooting just 50 percent from the line in Big 12 play.
Yet, it never occurred to me that he would do anything but make both of them, and then at the other end play a role in keeping Baylor from forcing overtime.
I suppose that confidence stemmed from the general vibe when Lucas is on the floor is that good things are about to happen for Kansas and when he's not, the other team will go to town.
Photo Gallery
Kansas basketball v. Baylor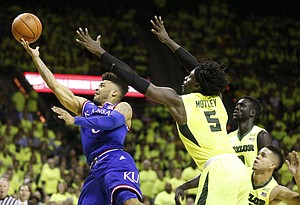 View a gallery of images from Saturday's game between the Jayhawks and Bears in Waco, Texas.
So it goes for a Kansas team so atypical in that it's devoid of front-court depth and so reliant on the fifth-year senior's brains and brawn.
He swished them both and Baylor called 30-second timeout with eight seconds remaining with a chance to tie it or win it with a 3-pointer.
"They ran the same out of bounds play against (Kansas State) toward the end of the game, so we were pretty prepared for it," Lucas said. "We had seen it before. They got it over the top against K-State and we just had to make sure they didn't get that over the top."
Lucas explained how he took that option away.
"Show that you're there. Show that you're alert," Lucas said. "If they're feeling uncomfortable about it, they're not going to force it. If they had tried it, I think we would have gotten a hand on it. Really, we were just in the right position, pretty ready for it, and then once we took that initial lob away, the guards did a great job of guarding out top."
Podcast episode
Bill Self on another tough Kansas victory over a Top 5 team
Josh Jackson, quick enough to stay with a point guard and long enough to guard a 7-footer, abandoned his man, 7-foot Jo Lual-Acuil, to help Frank Mason guard 5-foot-11 Manu Lecomte, leaving Baylor's point guard with a desperation shot that grazed the rim, making Kansas a 67-65 winner.
"We're a veteran team," Lucas said. "We know how to fly around at the end of the game. Really, there aren't a ton of principles. We just kind of make sure they don't get an easy shot. We just help each other out. We just do whatever we can to make sure it's a tough shot, and it worked out again."
Imagine that.
This team forever lives on the edge and so seldom falls.
The escape from Waco came one week after a one-point victory against Texas Tech in Lubbock, which came two days before an overtime triumph in Allen Fieldhouse against West Virginia in a game Kansas trailed by 14 with inside of three minutes remaining.
Lucas said that during Saturday's halftime talk, Kansas coach Bill Self referenced the time that it took to erase that 14-point deficit and followed it with, "We're down six with a whole half left. Don't panic. We're good."
Self also didn't see any reason to panic when Lucas, who had been struggling from the line, was there with 11.5 left after pulling down the offensive rebound on Devonte Graham's missed jumper.
"I was actually very confident," Self said. "I thought he'd make them and I think he was confident too."
Lucas stayed in uniform and in the building for a couple of hours after the West Virginia game to sharpen his free-throw touch.
"I was there until about 1:30 in the morning," Lucas said. "I couldn't really sleep after that, so I just figured I'd stay until I hit a couple hundred (free throws)."
After the exhausting West Virginia game and before extending his night with a lengthy free-throw session, Lucas sent out a Tweet assuring Kansas basketball fans, "Don't worry y'all I'm about to get in the gym and shoot some free throws".
The only worry Lucas spread Saturday came every time when he was whistled for a foul. Ditto for Jackson. Foul trouble limited Lucas to 31 minutes, Jackson to 32.
During the 31 minutes with Lucas on the floor, KU outscored Baylor by 10 points. During his nine minutes on the bench, the Bears had an eight-point advantage.
"I'll tell you this," Self said, "if he hadn't had four fouls I probably would have played him 38 minutes, 37 minutes."
If that were the case, the game might have been decided with a whole minute left, instead of in the final possession, which would have made it dreadfully dull by recent Kansas standards.
— See what people were saying about the game during KUsports.com's live coverage.
---
More news and notes from Kansas vs. Baylor
---