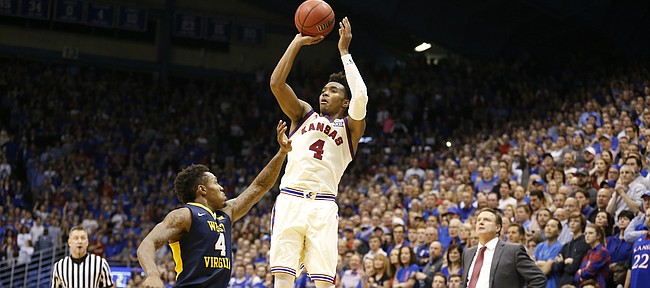 The fans who turned their backs on the court and headed for the exit ramps as West Virginia led by 14 points with fewer then three minutes remaining, just might have been muttering, "Where have you gone, Devonte' Graham? It seemed like just yesterday you outplayed the best player in the country."
Fair question, but those who left were not able to witness Graham's return to prominence, not to mention a once-in-a-lifetime team comeback. Oh, he came storming back, all right. Did he ever.
On the one-year anniversary of outplaying Oklahoma's Buddy Held in Norman, Graham's 3-point shooting and KU's full-court pressure combined to give the Jayhawks an outrageous comeback victory, 84-80, in overtime Monday night in Allen Fieldhouse.
Graham and almost every teammate were mired in a lousy shooting night and the Mountaineers were on the brink of making the race for the Big 12 title a very crowded one, when coach Bill Self instructed  his players to give WVU a dose of its in-your-face, full-court pressure and Graham decided to take his shot to the outer limits, where defenders wouldn't think he would dare to shoot. He shot and shot and shot and made and made and made. He shot the lid that had been on KU's hoop all night into pieces.
Photo Gallery
Kansas basketball v. West Virginia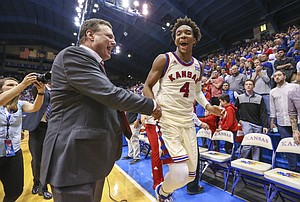 View a gallery of images from Monday night's game between the Jayhawks and Mountaineers at Allen Fieldhouse
Graham scored 14 of his 18 points in the final 6:56 of the 45-minute game.
His 3-pointer with 1:56 left in regulation cut the deficit to six points. His next one from way downtown pulled Kansas within two points with 34 seconds left and he was just heating up. He drew first blood in overtime with another launch from outer limits to put Kansas up, 74-71. His next one gave his team a 79-71 lead with 2:14 left. His was the first name West Virginia coach Bob Huggins mentioned after the game.
"Graham's killed us the last . . . last year in the conference tournament," Huggins said. "He's made shots."
Huggins was referencing Graham's 27-point explosion in the Big 12 Tournament title game, an 81-71 KU victory. That came after his 27-point game against Oklahoma. He made a combined 11 of 15 3-pointers in those two big games.
Afterward, Graham was told his big night came on the one-year anniversary of his big night in Norman.
"For real? Wow, I didn't know that," Graham said.
His 21 points against Oklahoma State stand as season-high, and before he blew up late in the game against WVU, he had just one field goal. Then, when things got desperate, Graham got hot.
"We needed it," Kansas coach Bill Self said. "He's our best 3-point shooter off the bounce. You know, he made a heck of a move to make a 3 when he put on a little dribbling show (in overtime). Devonte' has had a good, solid year, but he's yet to have a break-out stretch. Hopefully, this will give him the momentum to do that."
It's amazing that this night was the start of a possible break-out stretch, given that he made just 1 of his first seven 3-pointers and neither of his 2-pointers.
"The last past couple of games I felt like I really didn't have anything going, but I didn't turn it on like that," Graham said. "The coaches kept telling me to keep shooting. I kept penetrating and getting too deep and found myself not being able to make plays, so I believed in my shot and just let it fly."
Graham said the players became aware before that Kansas had not lost back-to-back home games during Self's 14 seasons. In fact, it had not happened since Roy Williams' first Kansas squad lost four in a row in Big 8 play in 1988-89. 
"We knew it and were definitely thinking about it during the game," Graham said.
Once the team started using full-court pressure that it hadn't practiced in a month and started, to use Graham's words, letting it fly, there was no time to think, no time to do anything but win, which this team does better than it does anything else.
— See what people were saying about the game during KUsports.com's live coverage.
---
More news and notes from Kansas vs. West Virginia
---