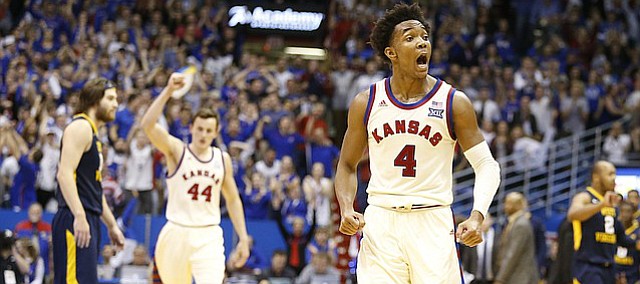 On a night when they set the Guinness World Record for loudest indoor arena, a handful of Kansas basketball fans began filing out of Allen Fieldhouse with a little less than 3:00 remaining.
Boy, were those folks sorry they left.
Despite trailing No. 9 West Virginia by 14 points with 2:58 remaining, third-ranked Kansas staged a comeback for the ages, using clutch shooting, suffocating defense and, of course, a little lift from the home crowd, to shock the Mountaineers, 84-80, in overtime.
"I still don't know how we did it," Kansas coach Bill Self said after the victory. "The fans deserve a ton of credit, those that stayed. We had a few that trickled out of here, but they missed a hell of a finish. It was a remarkable game."
Photo Gallery
Kansas basketball v. West Virginia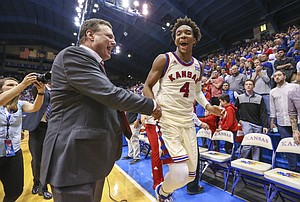 View a gallery of images from Monday night's game between the Jayhawks and Mountaineers at Allen Fieldhouse
After a layup by WVU's Tarik Phillip put the Mountaineers ahead 64-50 in a game in which nothing had gone KU's way, the Jayhawks (23-3 overall, 11-2 Big 12) closed regulation on a 21-7 run and pushed that margin to 29-7 to build a 79-71 lead in overtime en route to the improbable comeback.
After struggling to make a shot for much of the second half — the Jayhawks hit just 8-of-25 shots from the floor in the second stanza and 34.4 percent for the game — guards Devonte' Graham and Frank Mason III got hot down the stretch, combining for 17 points, including three 3-pointers, to pull Kansas back into the game.
All of the offensive heroics in the world would not have mattered, however, had it not been for KU's nasty press that forced three West Virginia turnovers in the final two minutes and led directly to Kansas points.
The most notable WVU turnover came with 33.1 seconds remaining, when Josh Jackson and Landen Lucas trapped Phillip in the corner after an inbounds pass with KU trailing 71-69. After absorbing the trap and trying to look for help, Phillip rose above it, faded away and fired a pass across the court intended for WVU guard James Bolden. Bolden caught the ball over the out-stretched fingertips of Mason, but came down out of bounds when he did. That gave Kansas a chance to attack and Mason did just that, drawing a foul and tying the game at the free throw line.
From there, it was up to the Kansas defense to get the Jayhawks to overtime and Jackson's challenge of a 23-foot 3-point attempt by Phillip forced a miss.
"I think it started on the defensive end," said Mason of the comeback about which he was "still amazed" after the game. "We had to start getting stops and making them work really hard for each shot they take and I think we did a good job of that moving forward in the game."
Added Self, still marveling about KU's ability to turn the Mountaineers over so many times during the Kansas comeback: "If you ask the guys how often we work on the press, maybe a month ago. Something like that. We actually worked on trapping the other day, but not like that. The guys just stepped up and made plays.... It was a remarkable win. It was a toughness win and there certainly wasn't much going right."
Podcast episode
Kansas basketball coach Bill Self talks about his team's 84-80, overtime victory over West Virginia. The Jayhawks trailed by 14 points with under three minutes to play.
After crawling all the way back and forcing overtime, much like in the 2008 national championship game against Memphis, there was a feeling circulating throughout the fieldhouse that this game belonged to Kansas.
"We were down nine with 2:00 left then," said Self of the title game. "But in that situation it seemed like everything went right down the stretch. In this situation, we had a lot of things not go right and the guys hung around."
Added Jackson, who finished with 14 points and 11 rebounds for his ninth double-double of the season: "I wouldn't say we had it won, but we definitely had the momentum, we definitely had a lot of energy."
Kansas opened the five-minute overtime period with eight straight points to take commanding control of the game. Graham showed his hot hand was no short solution to KU's problems, draining a three to open OT and then hitting another from behind the arc with the shot clock winding down and a Mountaineers player right in his face.
After that one, which put KU up 79-71, Graham raced back down the floor screaming and smiling.
The perfect cherry on top of KU's comeback sundae came when WVU's Nathan Adrian accidentally lost the ball out of bounds on an uncontested rebound after two free throw misses by Lucas with 13.8 seconds to play in OT and KU leading, 72-68.
KU turned the ball over immediately after the Adrian miscue and West Virginia (20-6, 8-5) crawled within two, threatening to pull off an improbable comeback of its own. But two free throws from Mason put the game on ice. It was officially over when Mason grabbed a WVU 3-point miss and fired the ball down to the other end as time expired.
As Mason walked off the Allen Fieldhouse floor after an on-camera interview with ESPN, he pointed to the fans who packed the bleachers waiting to send him out with a roar.
That was about the extent of KU's celebration following this one.
"Sometimes when we win a big game, guys will get up and dance and everything," Self began. "(Tonight), everybody sat there and was totally exhausted and nobody got up out of their chair and we were just very thankful. There was no jubilation outwardly because I think everybody's exhausted."
— See what people were saying about the game during KUsports.com's live coverage.
---
More news and notes from Kansas vs. West Virginia
---