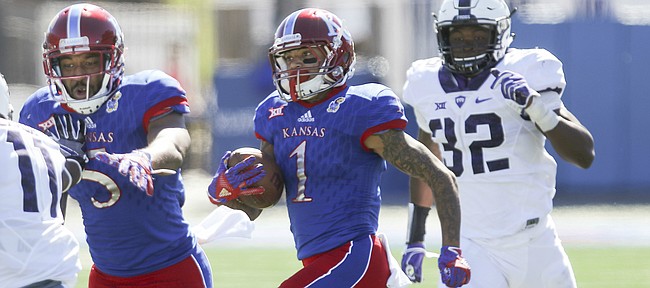 Former Kansas receiver LaQuvionte Gonzalez didn't take long to find a new college football home.
After head coach David Beaty dismissed KU's No. 2 wideout from the previous season just ahead of August camp for an undisclosed violation of team rules, Gonzalez has resurfaced in Lakeland, Florida.
Gonzalez Friday night tweeted out a photo of himself posing in a black No. 2 Southeastern University jersey.
The tweet included a few words from the one-year KU receiver and return specialist: "They tried to knock me down but (you) can't stop a man on a mission (and you) sure can't stop what the man upstairs got lined up for me," accompanied by the hashtag "#YouWillRegret."
Gonzalez is listed on the Fire's 2017 roster as a senior. Because it is an NAIA program, the former Jayhawk would be eligible to play this season.
A fast, 5-foot-10 target within KU's passing game, as well as a kickoff return threat in 2016, Gonzalez caught 62 passes for 729 yards, contributing three touchdowns on offense. The Cedar Hill, Texas, native averaged 21.5 yards a kick return and scored one touchdown on special teams, too, during his one season suiting up for Kansas, after transferring from Texas A & M — where he also played for Beaty, a receivers coach for the Aggies at the time.
Beaty said following Gonzalez's dismissal the receiver failed to meet the standards to which he holds his players.
"We thank him for all that he did," Beaty said of his longtime pupil. "He is not a bad person. He is not a bad kid. Anybody that gets him is going to be getting a special kid, and I hope that he'll move on and be better for it as he moves on in his career."