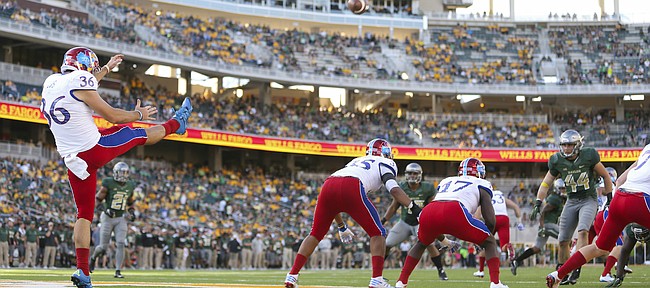 When they got on a bus and headed to Kansas City, Mo., Friday, Mazin Aql, Beau Lawrence, Cole Moos and Reese Randall had no idea what was in store for them.
The Kansas football walk-ons, like all of their teammates, figured they would get to see star defensive end Dorance Armstrong Jr. throw out the first pitch, watch the Royals play the Indians and have an enjoyable Friday night out, effectively breaking up their preseason practice routine.
But when each of their names appeared on Kauffman Stadium's giant video board in the middle of the fifth inning, their night transformed into one they'll never forget. It was then that each was surprised with the news that the coaching staff had decided to make them scholarship players.
"Congratulations on your KU football scholarships," a message on the screen behind the wall in centerfield read, before a camera cut to the players in their seats, as their fellow Jayhawks congratulated the former walk-ons.
"There's no way," was the first thing to enter Randall's mind, he told the Journal-World in a phone interview shortly afterward.
"It was a huge surprise. It still hasn't really set in yet," Randall, a Lawrence native who starred at Baldwin High, said. "To be able to feel that with my teammates and have four of us on was a really big moment. I'm still pretty emotional and surprised."
A redshirt junior running back, Randall has yet to play in a game for Kansas. He considered his scholarship an "added blessing." His father, Jeff, is one of KU's team physicians, and his older brother, Preston, also walked on for the Jayhawks before earning a scholarship. Reese admitted he often had wondered if this day would come and hoped it would.
"This is just a victory for a few guys," said Randall, who already has a bachelor's degree in marketing and is working on an MBA. "But it's something that's good for our whole team, I think. We've got a lot of positive things to come."
Aql, a former Blue Valley High standout from Stilwell, is a 6-foot-2, 230-pound redshirt sophomore defensive end. A Scout Team Player of the Week three times in 2016, Aql has not yet appeared in a game, either.
Lawrence, a Blue Valley Southwest product from Overland Park, is a 6-5, 309-pound redshirt sophomore offensive lineman who, too, has yet to check into a KU game.
Moos, the most well-known in the group, became KU's starting punter in 2016, as a junior. The former Northeastern Oklahoma A & M specialist averaged 41.4 yards per punt and is expected to start again as a senior.