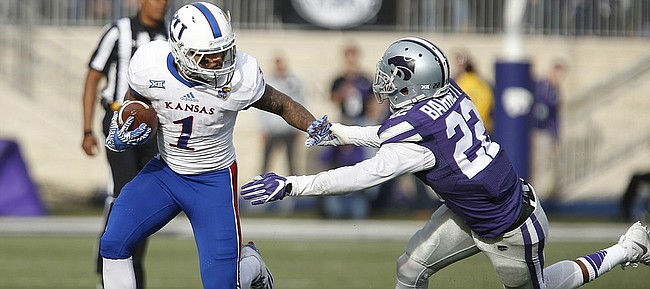 Thought to be one of the Kansas football team's deepest positions this fall, the Jayhawks' receiving corps suffered an unexpected blow just days before the start of preseason camp.
KU's second-leading receiver a year ago, would-be senior LaQuvionte Gonzalez has been dismissed from the program for an unspecified violation of team rules, a KU official confirmed to the Journal-World Sunday afternoon.
Third-year head coach David Beaty was not available for comment but is expected to address the situation Tuesday, at a previously scheduled media session.
A fast, 5-foot-10 target within KU's passing game, as well as a kickoff return threat in 2016, Gonzalez caught 62 passes for 729 yards, contributing three touchdowns on offense. The Cedar Hill, Texas, native averaged 21.5 yards a kick return and scored one touchdown on special teams, too, during his one season suiting up for Kansas, after transferring from Texas A & M.
His game-breaking ability helped Gonzalez, sometimes referenced as "Speedy" by Beaty, account for the team's two longest scoring plays this past season. In Week 2 of 2016, Gonzalez took a kickoff against Ohio 99 yards for a touchdown. As a receiver, he was partly responsible for the third-longest pass play in Kansas history — a 95-yard TD from Carter Stanley, at Kansas State in the season finale.
Expected to give the Jayhawks' punt-return team a boost, too, Gonzalez struggled in that facet. He fumbled two punt returns in KU's home loss to Ohio, then muffed a punt two straight weeks late in the season. He finished the year with -10 yards on six punt returns.
Still, Gonzalez's multi-purpose ability landed him this summer on the preseason watch list for the Paul Hornung Award, given annually to major college football's most versatile player.
Even with Gonzalez's departure the receiving group, coached by first-year KU offensive coordinator Doug Meacham, should remain a strength in 2017. The team's leading pass-catcher, junior wideout Steven Sims Jr. (72 receptions, 859 yards, seven touchdowns), is back, and should be bolstered by the presence of sophomore Daylon Charlot, a receiver who transferred to Kansas from Alabama.
Coaches see potential in returning receivers such as Chase Harrell, Ryan Schadler, Jeremiah Booker, Tyler Patrick and Bobby Hartzog Jr., as well. Plus Kerr Johnson Jr., a junior college transfer, enrolled in the spring semester, working his way into KU's rotation, and true freshmen Quan Hampton, Kenyon Tabor, Takulve Williams and Travis Jordan hope to find ways to contribute.
Gonzalez began his college career under Beaty at Texas A & M, where Beaty coached wide receivers from 2012 to 2014. When Gonzalez decided to transfer, his former position coach recruited him again, this time to Kansas.
It is uncertain at this juncture where or if Gonzalez will finish his college football career.
The Jayhawks check in for preseason camp Monday and practice begins Tuesday.