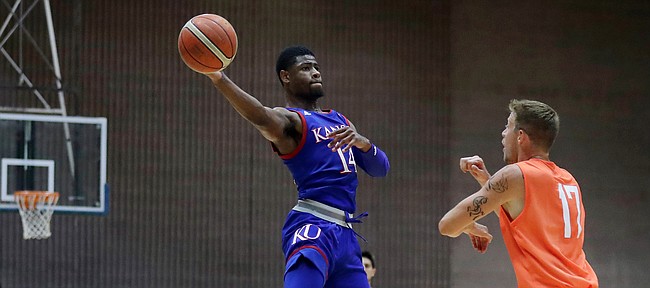 Milan — The competition wasn't great and the games were completely one-sided, but that did not keep Kansas coach Bill Self from learning something about his basketball team during the Jayhawks' recently completed eight-day, two-city tour of Italy.
"I think maybe we learned how to play faster offensively," said Self, whose team averaged 99.8 points per game in its four blowout victories and saw its point total increase each game. "Even though there was a quickness difference, I think guys did a better job of driving the ball. Like Svi (Mykhailiuk) did as good a job of driving it since he's been at Kansas probably."
The Ukrainian senior was far from the only player to do so, and the Jayhawks, who played without 7-foot center Udoka Azubuike for two games and without 6-10 freshman forward Billy Preston for one, attacked in all ways and at all times as if it were second nature.
While that might make sense given the team's personnel and the necessity to play small during much of their time abroad, it also was far from a given considering Kansas lost its top two scorers from last season in Frank Mason III and Josh Jackson, who also excelled at attacking the rim off the dribble.
If Mykhailiuk, Lagerald Vick, Devonte' Graham and Malik Newman can keep the floor spread while each driving to the paint and kicking out to shooters, the Jayhawks have a chance to become a team that plays at an extremely fast pace all season.
"It'll be nice to play those four guys at least part of the time around our big center, Udoka (Azubuike), who obviously didn't play the last two games," Self said.
Photo Gallery
Jayhawks on Lake Como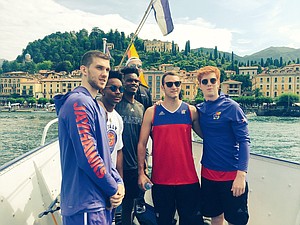 The Kansas men's basketball team capped its Italian exhibition tour with a ride around Lake Como and a visit to upscale resort town Bellagio on Monday, Aug. 7, 2017.
Azubuike's absence did nothing to change the outcomes of the exhibitions, but it did prevent Self from going to a lineup that consisted of the seven or eight rotation players who will be eligible during the first semester of the upcoming season. To play that group for 30 or so minutes of the 40-minute games was Self's goal for one of the games in Milan. But after Azubuike went down, Self stuck with the plan of trying to keep the minutes as even as possible and letting everybody play, even walk-ons Clay Young and Chris Teahan and transfers Charlie Moore and K.J. Lawson.
The exhibition tour gave the Jayhawks a chance to achieve a lot of goals. From team bonding and becoming closer to experiencing a new culture and playing against an actual opponent, the Jayhawks were able to cross all but one item off of their wish list.
"I think it would've been nice to put a little pressure on us and really see how we would play under pressure," Graham said when asked if the players, like their coach, had been hoping for more competitive games. "But, overall, the trip was still good, just playing together and being out there together helped us a lot."
After more than a week away from Lawrence, the Jayhawks were slated for a departure just before 11 a.m. Local time and KU officials said the entire team was returning to the United States together.
From there, some of the team planned to return to Lawrence and others were scheduled to head home to visit family for the next two weeks before returning to campus on Aug. 21 for the start of a new school year and the 2017-18 season.
"The trip's been good and the people here have been very nice," Self said. "I believe the best thing we got out of it was traveling and team chemistry and camaraderie.... I don't know if we got a lot better, but it's been a good trip."