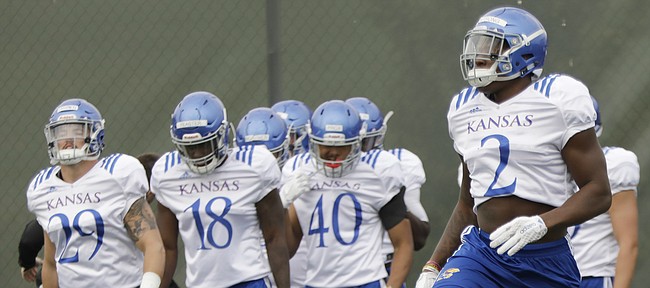 Dorance Armstrong Jr. is no fan of sitting out. So when the defensive end's right hamstring sidelined him during many important repetitions the first week of Kansas football's preseason camp, Armstrong took his typically assertive style and applied it to recovering.
The Big 12's preseason Defensive Player of the Year visited Murphy Grant's training room three times each day and spent what seemed like the remainder of his waking hours stretching.
"I feel a lot better now," Armstrong said Saturday during the team's Media Day.
Defensive coordinator Clint Bowen said following Monday morning's practice the junior pass-rusher looked more like himself.
"I don't think he missed a rep the last couple of days," Bowen reported. "He's back to feeling good."
Armstrong's full return to practice made it easier on coaches, too. Bowen said he and defensive line coach Jesse Williams tried some days this past week getting Armstrong on the field for a play or two. The problem was convincing Armstrong to sub out. The 6-foot-4, 246-pound lineman tried debating his way into extra snaps every time.
"We're trying to take care of him and do what's best for him," Bowen said. "But, no, he wants to be in there. He's that guy."
When Armstrong and junior Josh Ehambe (undisclosed minor surgery) missed preseason camp repetitions, other defensive ends found themselves taking their place.
"Every end that has got in has shown me something," Armstrong said.
According to KU's defensive star, that included walk-ons Mazin Aql and Vaughn Taylor.
"Everybody fits in good," Armstrong said. "So it doesn't matter who's in or who's out. I feel confident in who's in."
Even though KU hasn't simulated a lot of live plays yet or scrimmaged, Bowen said Armstrong and the rest of the D-linemen have the ability to set the correct tone for the entire defense at practices.
"I think Dorance coming back, he'll get back in the mix. The one guy that's playing the way we need everyone to play is (junior defensive tackle) Daniel Wise," Bowen said. "He continues to play, producing, high productivity and making plays. We need the rest of them to jump on his lead and play with the effort and aggressiveness that he's playing with."