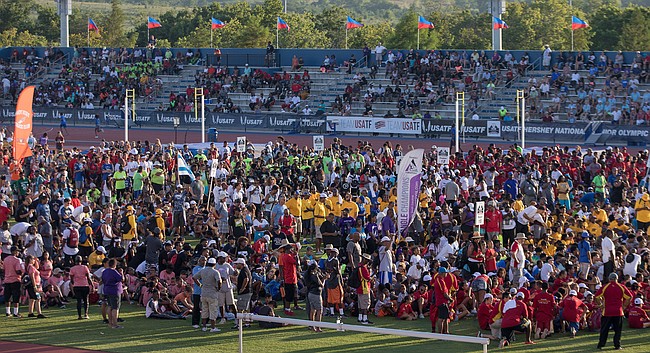 If Royals general manager Dayton Moore had taken the podium during the World Series parade of 2015 and announced, "We're hiring a new manager," and that was the first Ned Yost had heard of it, it would have come as no less a surprise than what happened in the wake of a successful USA Track and Field Junior Olympics event at Rock Chalk Park.
The event drew about 25,000 visitors, including 8,000 athletes. Those visitors, according to eXplore Lawrence (the city's convention and visitors bureau) estimates, spent $17.7 million. Bob Sanner of Lawrence Sports Corporation, which until October, 2016 fell under the umbrella of eXplore Lawrence, attracted and organized the event.
A couple of days after the meet's conclusion, Michael Davidson of eXplore Lawrence announced that the organization had hired a sports sales manager to attract events and that the agreement in which eXplore Lawrence paid LSC $5,300 a month would end in mid-December.
Robin Brown-Beamon of USATF and Davidson agree on what a smash hit the event was in Lawrence, which means it likely will return in the near future to Lawrence, perhaps for an even bigger event involving Olympic athletes, right?
Not so fast.
"It's a relationship business," Brown-Beamon said. "I can assure you if we come back to Lawrence to do anything, Bob Sanner's name is going to be attached to it or it's going to be an uphill battle. You can't walk through the door with a stranger and bid on another event because the first question is going to be, 'Where's Bob?' This is crazy, crazy. I was shocked when I heard that."
Brown-Beamon said she has been to each of the past 25 USATF Junior Olympics and ranked Lawrence as one of the top three host cities, joining Jacksonville and Miami.
"Bob Sanner did an amazing job at putting this together," Brown-Beamon said. "We couldn't have asked for more. He spent the last two years making sure everything was the way we wanted it."
All parties, Davidson, Sanner, Brown-Beamon, are in agreement that Rock Chalk Park knocks it out of the park as a venue, even if it doesn't offer much in the way of shady places to shield the sun.
"It's a great facility, a great venue and a great city," Brown-Beamon said. "The people at the restaurants were so nice to us. The people at the gas stations were so nice to us. And every little detail that we asked for — and we tend to ask for a lot of things — Bob did what he said would be done. At the end of the day, a track is a track. Bob took care of the ancillary things that go into an event. We had the best medical program (University of Kansas Health Systems) we've ever seen and there were so many other details that go into planning an event like this.
"If you only knew the depths of the things he had to put up with the last two years and he always did it in the name of Lawrence. It was never about Bob Sanner. It was always about the town. They ought to be having a ticker-tape parade for this guy. This totally dismays me."
Evidently, whatever chaos there was behind the scenes, a shortage of volunteers, etc., it didn't work its way to USATF officials and athletes.
And in the blink of an eye from the meet's conclusion, Davidson hired B.J. Harris as a sales manager charged with attracting sporting events to Lawrence.
"We don't want to be in the role of actually running events," Davidson said.
Interesting. But if other bids agree to a number of conditions to help an organization in running an event and Lawrence doesn't, that surely will hurt Lawrence's chances of winning bids.
AAU Junior Olympics likes to run its own events, with limited help. USATF banks on a local organizer. Either way, the stronger the relationship between the person recruiting an event and the person being recruited plays a big part in winning the bid. Sanner has built so many such relationships and is highly respected in track-and-field circles. For example, he will serve as a panelist at the Olympic Committee's convention later this month in New Orleans.
Sanner never has taken a "you're-on-your-own" approach in making bids because he knows that doesn't work. Why run the risk of losing the USATF as a partner for other events, potentially even world-class athletes competing in national championships? At first blush, it smacks of a personality clash between Davidson and Sanner.
"I don't think we've been aggressive enough in finding new events," Davidson said. "We've had the Downtown Shot Put, Junior Olympics, some cycling and cross country events, but we need to do more."
Tennis, for example, he said. Attracting more events means a bigger budget will be required.
Davidson said the Lawrence Sports Corporation should be able to "create the revenue they need to operate events," via sponsorships, hotel rebates, etc.
Maybe eXplore Lawrence and LSC can make competing bids for the same event, thereby driving up the size of the check one of the Lawrence organizations writes. Don't laugh. It could happen, and wouldn't that be grand.
In talking about how the success of the Junior Olympics, Davidson pointed out that beyond the $17.7 million it generated on a $200,000 investment, it also did not disrupt the community. He used the Tour of Lawrence cycling event, which last was run in 2016, to paint a stark contrast.
"Last year we had to talk to downtown businesses concerned about the streets being closed," Davidson said. "If it were 5,000 or 10,000 riders, that would be one thing. But it was 200 riders. Is the economic benefit from that worth disrupting the community?"
If the Tour of Lawrence, which won't take place this summer because of all the construction on KU's campus, returns, it will be the LSC bringing it back.
The Downtown Lawrence Shot Put was cut out of the eXplore Lawrence budget in 2017 and LSC was able to arrange funding sources for it. If Sanner, whose salary has been paid by eXplore Lawrence (formerly known as Convention & Visitors Bureau) for the past 12 years, bolts town to put his contacts to work on behalf of another city, it's likely my favorite annual Lawrence night, The Downtown Lawrence Shot Put, will die.
Economic-impact studies are based on out-of-town visitors and therefore don't reflect the way the Shot Put packs downtown restaurants and bars. But even if it doesn't make quantifiable dollars, it certainly makes sense.
Lawrence is the only town in the USA that has been able to get its act together well enough to have a Downtown Shot Put. The competitors spread throughout the world the word of what a great downtown Lawrence has and what a great event it stages. High school competitors in town for the Kansas Relays flock to it and in the process are exposed to downtown. It's a factor in leading many to conclude that Lawrence would be a nice place to go to school for four years.
If the unmistakably Lawrence event dies, a part of what makes Lawrence a town that dares to be different goes with it.
The huge success of the Downtown Shot Put and Junior Olympics fueled Sanner's plan to make Lawrence a hub for track and field events.
"Why would they do that? Why?" Brown-Beamon said of hiring someone to do what Sanner always has done.
Excellent question, Robin. My guess: A personality conflict.
Sanner said the first he heard of the hiring of B.J. Harris to attract sporting events to Lawrence was when Journal-World reporter Rochelle Valverde contacted him for comment. That, if accurate, is disappointing.
Is it accurate?
"I think it's accurate," Davidson said. "I think communications between eXplore Lawrence and Lawrence Sports Corporation have not been as two-way as they should be."
By that, Davidson meant Sanner hasn't involved him enough. Sanner countered by saying that he, per an agreement, gave Davidson monthly JO updates and attended explore Lawrence board meetings at the invitation of Davidson.
In trying to sort out this mess, it helps to remember that Sanner was a finalist for the eXplore Lawrence director job, but could not garner unanimous approval from the board for the promotion and the board ultimately decided to hire Davidson. Then eXplore Lawrence spun off Lawrence Sports Corporation as a separate entity and had to keep Sanner on board to make the Junior Olympics a smash hit. Now that the event is in the past, Sanner's future in Lawrence looks shaky.
Here's my fear: Davidson put too high a premium on the process and let that override the successful result: $17.7 million generated and USATF being extremely pleased with how it went, meaning they would be back again and again and again.
Snubbing Sanner by essentially hiring a replacement at the very least temporarily halted the momentum of a big hit. Hearing Brown-Beamon's reaction over the phone makes me think the repercussions won't necessarily be so temporary. What a shame. With so much at stake for all of Lawrence, surely it didn't have to come to this.