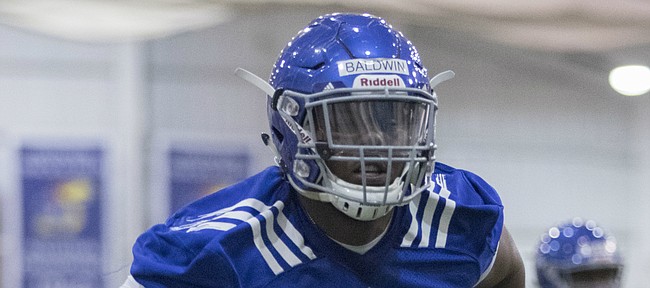 In the weeks leading up to the 2016 season, Kansas coaches gladly welcomed Charles Baldwin, a former Alabama offensive lineman, to the program knowing a college football icon, Crimson Tide coach Nick Saban, cast the 6-foot-5, 305-pound tackle aside for a violation of team rules.
The conversations KU offensive line coach Zach Yenser had with Baldwin prior to his arrival made that possible. As his boss, David Beaty, said nearly a year ago when first discussing the addition of the former Alabama tackle: "I don't give a crap how good you are. I don't want to be around jerks."
Baldwin told Yenser before he got to Lawrence the whole recruiting process — being considered a five-star junior college prospect, signing with powerhouse Alabama, etc. — changed his mindset for the worst.
"I got a big head about it," Baldwin admitted to Yenser.
But now that the potential wall of a right tackle has been at KU for close to 12 months, Yenser can tell Baldwin "is getting it." In Yenser's eyes, that means Baldwin realizes he has to compete for a starting job and be a good teammate. Six practices into preseason camp, the O-line coach is impressed.
In part, Baldwin said, that's because he's in a lot better shape than when he first turned up at Kansas. He usually weighs in somewhere between 302-304 pounds, but the biggest difference is his flexibility, agility and speed, which Baldwin credited to a "hell of a strength coach," in KU's Zac Woodfin.
His mental approach to football, Baldwin added, has changed for the better, too, even since spring.
"Just my energy level to be honest. It's just little things," he said of how he has stepped up, "like getting out there (to practices) five minutes early or getting to meeting rooms five minutes earlier before everybody. Just little details refine my game."
Strides in such areas haven't gone unnoticed by Beaty, who said the talented O-lineman has come around to understanding what KU's coaches expect out of him, as well as the program's "earn it" philosophy.
"I've been really, really pleased with what Charles has done over the first three, four or five days of camp. He's done a nice job," Beaty said. "He's matured a lot, which is good. But we're going to continue to hold his feet to the fire just so we don't see any of that return, right? Those are characteristics we've got to work out of him."
When Baldwin first joined KU, he said players such as Dorance Armstrong Jr. and Hakeem Adeniji made sure he felt at home. From there, he had to endure a lot of scout team work, because as a transfer he wasn't allowed to play. The closer the junior gets to KU's Sept. 2 opener versus Southeast Missouri State the more motivated he feels.
"Sitting out last year wasn't the easiest thing to do," Baldwin said, "but I got to see it with the perspective of a fan and be able to see it from the sidelines and just noticed how much I loved and missed the game."
According to Yenser, competition on the depth chart has driven Baldwin, as well. Yenser raves about the progress of sophomore right tackle Antione Frazier since the end of last season.
"And I think Charles recognizes that, too," Yenser said, adding Frazier's play won't allow Baldwin to go through the motions. "Both of them are talented and both of them going back and forth with each other is going to make both of them really good."
Baldwin's raw strength and massive build make him a natural for right tackle. Now that he's buying in and impressing his coaches, he thinks a little more progress in another area will give him the edge he needs to meet his potential.
"I was ready to go," he said of the first week of preseason camp, "but plays were still a big thing for me. Still trying to get the plays down. It's a work in progress every day, but once I know what I'm doing, I'm ready to rock and roll."