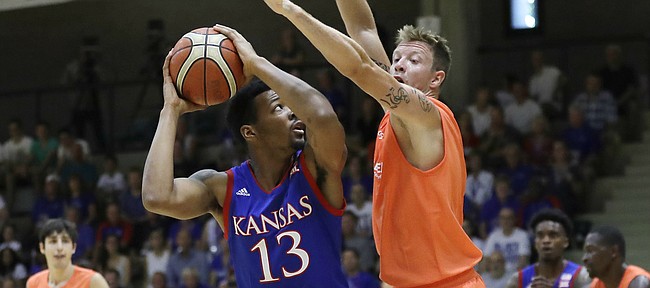 Milan — Kansas senior Devonte' Graham, the pick by many to lead the Jayhawks in scoring during the 2017-18 KU basketball season, did not score his first basket of his team's 118-74 win at Palasport gymnasium outside of Milan on Sunday night until the midway point of the third quarter.
And he could not have cared less.
Asked after the game what he thought about his line of seven points, 10 assists and seven steals in 23 minutes, Graham flashed visible and audible excitement over one of those numbers.
"That's what I had today," he asked of the 10 assists before letting out a, "Yeaaahhhh. I wanted 10. At halftime I knew I had five so I told them at halftime I was gonna try to get 10 assists."
Graham got them, with ease, really, and helped pace the Jayhawks to their most impressive offensive performance of the week.
His teammates' knocking down 65 percent of their shots — KU shot 59 percent as a team after factoring in Graham's 2-of-11 shooting clip — had a lot to do with that, but getting others involved and getting the machine clicking was precisely what Graham hoped to accomplish before leaving Kansas.
And by all accounts, it seems as if the trip was a rousing success in that way.
"Just playing with each other," said Graham when asked to pinpoint the best part of the tour of Italy. "All summer we've been competing against each other. And actually being out there together and getting a feel for guys and what they like to do and different spots they like, I think that helped us out."
As for those seven steals, which often led directly to points on the other end, Graham conceded that he he figured his total in that department also would be high given the way he played.
"I thought I had about 10 steals," Graham joked. "I was kind of hacking out there a bit. But, yeah, I'll take that."
More on Preston's absence
The Jayhawks became even smaller than they already were one night earlier when freshman forward Billy Preston missed Sunday's Italian finale.
"He tweaked his knee back home and he said he was sore," KU coach Bill Self said of Preston's ailment. "We didn't know it until after pre-game meal. So I didn't know it until I was getting on the bus. He probably could've pushed through it, but I didn't see any reason why."
Preston's absence came one day after Self praised him for his strong play in KU's Game 3 win, and the Kansas coach said both nights delivered good news.
"It was good for him to have a good day like he had (Saturday)," Self said. "But it was also probably good for him to see we can actually play without him."
With 7-foot center Udoka Azubuike out with an illness and Preston on the bench in a sweat suit, Kansas played a ton of perimeter players and played fast because of it. Just 33 of the game's 200 available minutes went to KU forwards, with sophomore Mitch Lightfoot (six points, three rebounds) and newcomer K.J. Lawson (nine points, nine rebounds) doing most of the work inside for Kansas.
As for an update on Azubuike?
"He doesn't feel worth a flip," Self said. "There was no reason for him to be around the other guys over here if he didn't feel well. He'll feel better. Hopefully soon. But that was an easy call."

Heck of a week
Although their talent and conditioning advantage was noticeable and significant, the Jayhawks impressed by playing nearly the entire week in Italy without trailing.
KU trailed for 16 seconds in Sunday's finale after falling behind 3-2 at the 8:55 mark of the first quarter. But Malik Newman — who else? — put KU back in front for good with one of his six 3-pointers at the 8:39 mark of the quarter.
The jumper sparked a 17-2 KU run that put the Jayhawks up 19-5 and put the game out of reach.
Dream Team Italy never pulled closer than 11 points (31-20) the rest of the way.
The only other time Kansas trailed all week was at 5-2 in the opening quarter of Game 2 in Rome.
This and that...
There was not a soul in the building who did not believe Sunday's conditions were much better than what the Jayhawks — and their fans — endured on Saturday. Many believed it was at least 10-15 degrees cooler in the gym on Sunday than it was on Saturday and KU coach Bill Self agreed.... KU's four victories in four tries this week improved Self's international record at Kansas to 21-2.... KU leaves Italy having averaged 99.8 points per game in their four games against Italian players. The Jayhawks scored 399 points in four games.