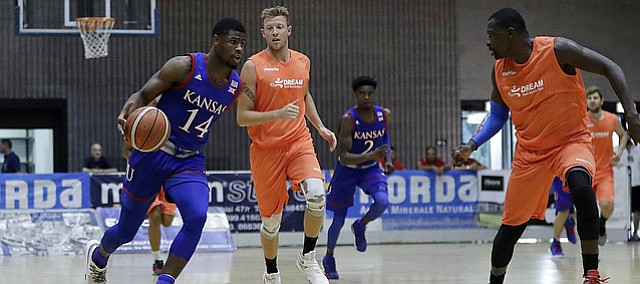 Milan — Kansas guard Malik Newman was the first Jayhawk to take the floor for KU's final exhibition game on Italian soil on Sunday night at Palasport gymnasium just outside of Milan.
And by night's end, the Mississippi State transfer was serenaded on his way to the team bus with chants of "New-man, New-man, New-man" from a small group of young Italian basketball fans.
It was that kind of night for KU's starting shooting guard, who finished with 32 points, including 25 in the first half of KU's 118-74 victory over Dream Team Italy.
In his final tune-up before the 2017-18 season officially arrives, Newman made 13 of 17 shots, including six of eight from 3-point range, to help Kansas finish 4-0 on its overseas adventure.
"The basket just opened up, teammates found me early and got me going and I just got rolling from there," Newman said after the game. "In warm-ups, I got some good looks and I think it started then and I got to feeling it."
The way Newman was shooting the ball, Graham said it became a no-brainer to look first — and sometimes even second and third — to his red-hot teammate before worrying about running anything else.
"Of course," said Graham, who took a night off in the scoring department but still finished with seven points (all in the second half), 10 assists and seven steals. "If you see him hot like that you've got to come down and look for him every time until he misses a couple shots."
Asked if that's the best he had seen his new running mate play, Graham said yes and qualified the answer with the phrase, "in a minute."
A minute was all it took for Newman to catch fire. He scored 10 of KU's first 15 points and teamed with Svi Mykhailuk (26 points) and Lagerald Vick (20) to outscore the Italians, 78-74, by themselves.
"Malik can score in bunches," KU coach Bill Self said after the win. "But I think he's more of a complete player.... The way we play, it could be Devonte', it could be Svi, it could be Lagerald and, of course, tonight it was Malik. It's nice to have four guys out there who can shoot the ball like that."
Part of the reason they shot so well and played so much was the absence of big men Udoka Azubuike, who missed his second straight game because of illness, and Billy Preston, who sat on the bench in street clothes because of soreness in his right knee.
That left Self with a lot of perimeter players and sophomore forward Mitch Lightfoot and that turned out to be a nightmare for Dream Team Italy.
The other part of the reason the KU guards went nuts was because it was the last time they'd play a real game against an actual opponent until their Oct. 31 exhibition opener at Allen Fieldhouse.
"We definitely wanted to go out with a bang," Graham said. "It was our last game, so coach told us not to hold back on anything and we just went out and made shots and tried to get out and run and have fun."
Newman got the memo as clearly as anyone and his hot hand early did not come close to cooling off until the second half.
Newman remained on the floor because he was able to play within the offense to get his points and he scored in just about every way imaginable during that stellar first half.
He hit five 3-pointers, including two in a row to push KU's lead from 18 to 22, and also showed off his ability to drive and finish at the rim and even threw down a break-away dunk in transition.
In the second half, he even scored off of an offensive rebound, tipping in a missed shot by Mykhailiuk in transition.
"I think Malik isn't just a good shooter," Self said. "I think he's a really, really good shooter. And Devonte' and Svi and Lagerald are, as well."
KU's point total went up every game during this week's four-game tour of Italy, with the Jayhawks scoring 28 more points in the finale than they did in the opener.
After reaching 92 points by the end of the third quarter, Kansas eclipsed the century mark on a jumper by Mykhailiuk with 5:17 to play in the game.
For Newman, who has waited a long time to get back onto the floor for a real game — since March 10, 2016, to be exact — the chance to do that with his new squad, with which he spent the past year practicing and sitting in the shadows, was what the trip to Italy was all about.
"It was great," Newman said of KU's trip to Italy in which he averaged 19.3 points in the four games. "To come over here with the guys, play, have fun, bond, it was all I could ask for. As long as we're winning, everybody's having fun, everybody's playing their role, playing basketball. Coach is having fun, we've having fun, the crowd's into it; I mean, that's what I grew up to do."
Done with the basketball portion of the trip, the Jayhawks will travel north to Lake Como on Monday for a lake tour before closing things down with a farewell reception Monday night and heading to the airport on Tuesday for their flight home.