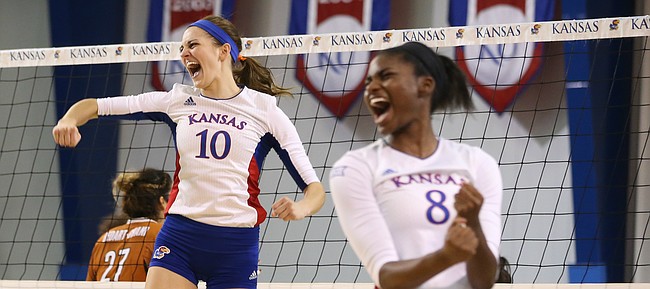 Asked outside of the team bus about the impact of No. 2 Texas' five-set loss to No. 6 Kansas Saturday night at Horejsi Family Athletics Center, UT coach Jerritt Elliott had nothing but positive things to say about the team he is now tied with atop the Big 12 standings.
"We need this in our conference," said Elliott about another top-tier program with which to compete for a title. "Our conference is getting better but, for us to grow and develop, we need teams that are at this level to be able to play at a high level."
The Longhorns, who have been to seven of the last eight Final Fours on the national stage, also have won five consecutive Big 12 titles. In order to make that six in a row, they now will have to keep one eye on their six remaining opponents and one eye on the results out of Kansas. Not that that's anything new, really.
Photo Gallery
Kansas volleyball v. Texas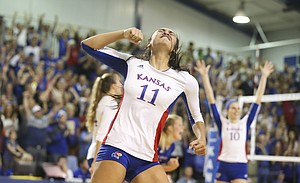 View a gallery of images from the Jayhawks' and Longhorns' match on Saturday at the Horejsi Center.
For the past few seasons, Elliott and his players have watched the Jayhawks (20-2 overall, 9-1 Big 12) reach new heights, and Elliott said he often has talked to his team about the value of as many regular season challenges as possible.
"It's good that Kansas is getting there," he said. "It's needed. It helps us. You've gotta be put in these situations to be emotionally be able to handle it. We've got a lot of respect for each other and they deserved to win. We weren't as consistent as we should've been."
The fact that the Jayhawks finally broke through after 25 consecutive losses to the Longhorns — Texas (17-3, 9-1) also now leads the overall series 40-5 — brought equal parts relief and euphoria for the KU players and coaches. But KU coach Ray Bechard said it was important that the Jayhawks emerge from Saturday's huge victory with their minds focused on their other goals — winning a Big 12 title and returning to the Final Four.
Still, Bechard said he'd be lying if he didn't acknowledge what a huge moment Saturday night was for his program. And he shared that message with Elliott after the match.
"They've set a great standard that we're all trying to chase down," Bechard said. "That's what I told him on the floor. We've been looking up at them in the standings for a long, long time and that team made us better tonight. Hopefully other teams feel the same way about us."
As recently as last Wednesday night, following a 3-0 Kansas sweep at Texas Tech, Bechard received a similar compliment. Saturday night, Elliott was the one willing to dish it out.
"We're not gonna get more stressed than we were tonight in terms of environment," he said. "And that's a tribute to some of the pressure Kansas put on us."
---
More from Kansas-Texas volleyball
---