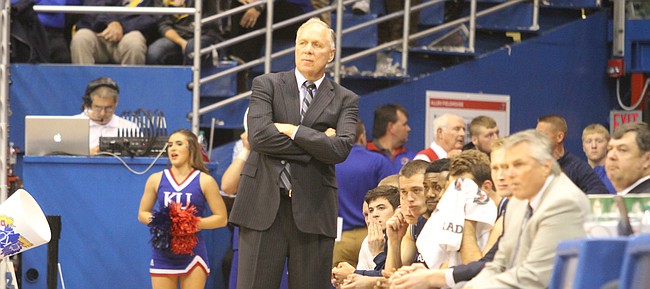 Ten times during his 41-year Washburn University coaching career, Ichabods basketball coach Bob Chipman has stepped onto the Allen Fieldhouse floor as the leader of KU's opponent.
At 7 p.m. Tuesday, during the 2016-17 exhibition opener for No. 2 Kansas, Chipman's 11th trip will mark his last.
This summer, Chipman announced that the 2016-17 season would be his final go around as the head coach at Washburn. And the veteran coach who has racked up 788 career victories and considers himself as big a KU fan as anybody said he could not think of a better way to tip off his farewell season.
"To start it with KU, in that venue, I mean, Coach (Bill) Self has just been unbelievable to us throughout the years and it's great to have this experience in my last year," Chipman told the Journal-World. "It's something I'm always gonna remember."
Asked for the memories that pop up most from his days coaching in a place known across college basketball as one of the greatest venues in the game, Chipman said two came to mind.
The best came in 2012, when the Ichabods lost by just 12, 62-50, in a game that was a grind from the start and featured Chipman coaching his son, Bobby.
"Bobby had 7 points, 13 boards and we gave 'em a pretty good run against (Jeff) Withey and (Ben) McLemore," Chipman recalled. "I think we turned 'em over 24 times and we were right there in the game most of the way. My kid fought 'em pretty hard inside. It was a great team effort and that was the game, maybe because of my son, that I won't ever forget."
And the worst? That might have been even easier for Chipman to recall.
"For some reason, we were playing the game in December and it was Jacque Vaughn's coming-back party," Chipman began. "He had broken his wrist and it was Jacque, it was (Paul) Pierce, it was (Raef) LaFrentz, it was (Scot) Pollard, Jerod Haase diving all over the floor, Ryan Robertson. I mean, an incredible group. I know it's always unbelievably loud, but with Jacque coming back it was crazy."
The Jayhawks won that game 90-65 on Dec. 30, 1996, but it was not the final score that Chipman remembered best. In fact, he may not ever have known the final margin at all.
"I think the score out of the gate was 16-0," he said. "I mean, we couldn't even make a pass. So, at the first TV timeout, I turned and was going to the locker room and my assistant grabbed me and said, 'Coach, where ya going?' And I said, 'That was halftime wasn't it?' And he goes, 'Coach, that was the first TV timeout.' And I just went, 'Oh my God.' It had to be the longest game in the history of basketball for me. They were just incredible that night. Oh wow."
With a veteran group of gritty players — mostly Kansans — on this year's team, Chipman is hopeful that his final Washburn team will look more like the 2012 team and less like that 1996 squad. But he isn't holding his breath either way. Instead, he's hoping that his group is able to learn a little and compete a lot during Tuesday's clash.
"We're very realistic about the experience," Chipman said. "It's a fabulous opportunity, playing in that venue against who I think is the best coach in college basketball. Having said that, we're gonna try and play 'em. I don't know if they'll even notice, but we're gonna try and guard 'em, extend the defense some, really go man-to-man and try and attack."
Regardless of what happens on the scoreboard, Chipman said he'd walk away with two things unchanged in his mind. First, his admiration for Self is off the charts.
"He's the whole package," Chipman said. "And I hope the KU fans just enjoy every second. It seems like he'll be there forever, but it's still probably gonna go by too quick. Enjoy him. That would be my message. Enjoy him. He's about as good as it gets in college basketball in every facet."
Second, even though he believes it's the right time to leave Washburn, he already knows he does not want his coaching career to end after this season.
"I'm loving it so much and I feel so good that I must admit that I'm thinking about going on and coaching somewhere because this is still who I am," he said. "I think it is time (to leave Washburn) after 41 years and to give someone else a chance, but as far as being done with basketball, I'm not ready. I can tell now after I've started this season."