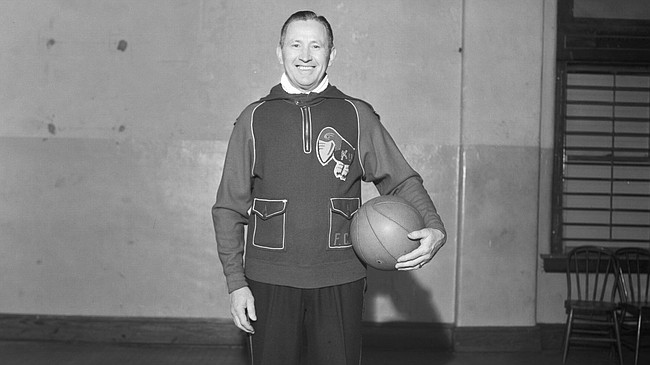 Most Kansas basketball fans can recall from memory the classic photo of the game's creator James Naismith standing proudly on the left with the coach Phog Allen to the right.
The two figures of basketball royalty are both wearing fedoras and the only thing stopping them from holding hands is a basketball that they hold together. The image portrays the two as allies and collaborators in lock step, cradling the game in its fledgling years. But a new book on Phog Allen suggests reality wasn't nearly as picturesque.
According to the new book by Scott Morrow Johnson, "Phog: The Most Influential Man in Basketball," the relationship between the two men was at times contentious, especially when it came to their respective visions for the game and its potential.
"There was about 15 or 20 years where the two of them were butting heads over the game," says Johnson. "Naismith just wanted it to be this schoolyard game that kids played like bombardment, or something you just did to pass the time. Allen saw something greater and that sort of irked Naismith."
Photo Gallery
A photo gallery of Phog Allen through the years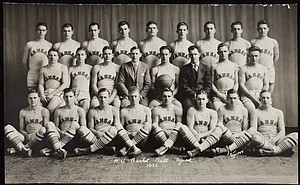 View a gallery of famed University of Kansas basketball coach Phog Allen through the years.
Now, if you're beginning to fear that with every page turn, the happy bedrock of the nation's most storied college basketball program will begin to crumble beneath your feet, don't worry. Johnson's book has been long sought by Lawrence resident Judy Allen Morris, granddaughter to Phog Allen. Johnson's own grandfather, William "Skinny" Johnson played for Allen in the early 1930s.
What the book does is aim to give is an honest portrayal of the famed KU coach, who could be described as ambitious, stubborn, good-hearted, a man of science, a competitor, a loving father and grandfather, and last but not least, a visionary.
"When [Judy and I] talked about it, one of the first things as a journalist that was important to me was to show the man, warts and all," said Johnson, who lives in Seattle and previously worked as a sports writer for the Everett Herald for almost 20 years.
"She was on board with that but, but I was just explaining to her that to really show all sides of a person, [you needed] the good and the bad."
Through anecdotes of his journey, from birth to death, Johnson gives attention to the various life experiences that shaped the man such as his first coaching job at Baker University — while still a sophomore at KU in 1907 — and the tragic death of his 14-year-old son, Forrest Clare Allen Jr.
To accurately provide the scope of Allen's lasting influence, Johnson also highlights other historically important figures who followed the many tributaries of basketball that led to and passed through Allen, forever shaping the game which we know today. Some of them with names like Smith and Rupp, just like their mentor, went on to have basketball cathedrals named for them also.
Another such story includes a chance encounter with a 17-year-old from Indiana by the name of John Wooden, who was passing through Lawrence in search of work and met Allen, who put the young man to work as a laborer in the Memorial Stadium renovation of 1927.
Johnson makes the case that some of the modern institutions of basketball could look quite different without Allen. For example, the first ever NCAA tournament in Evanston, Ill. in 1939 was a financial disaster until Allen convinced organizers to move it to Kansas City the following year in 1940, with the promise of a profit.
"He was such a salesman," recalls Judy Allen Morris, who also provided the foreword for the book.
"He was responsible for a lot of rules," says Johnson. "There was a period there where they were trying to take the dribble out of basketball and Phog Allen was responsible for saving [it]. There were so many things that he had his hands in."
Johnson also makes mention of a 1935 essay from Allen, titled "Dunking Isn't Basket Ball," and quotes Allen as saying the act "does not display basketball skill — only height advantage." He goes on to tell how later, Allen was even a proponent of raising the goal to 12 feet in an effort to prevent the dunk. Whether or not he experienced a change of heart over the dunk could possibly be evidenced by Allen's pursuit of Wilt Chamberlain, the biggest fish landed by KU to date and the sport's most prolific dunker of the era.
Of all the heavy names that get dropped throughout the book, Johnson repeatedly brings the conversation full circle back to Allen.
"People talk about Michael Jordan, Magic Johnson, John Wooden and all these people that have transcended the game over the years … but Phog gets lost in that," says Johnson.
"Naismith invented the game, but Phog took that little seed and blossomed it into what it became," he said. "He was hugely influential."
Johnson will have a 3 p.m. book signing on Nov. 5 at the Lawrence Public Library.