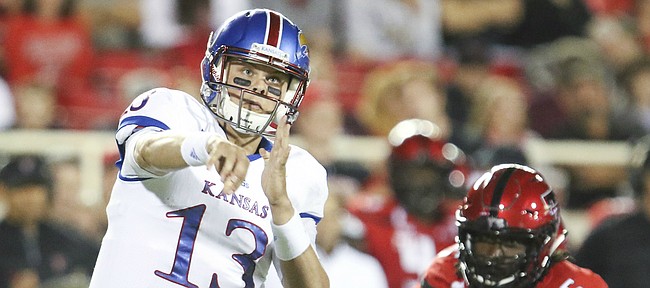 The Kansas football team has a new starting quarterback.
KU coach David Beaty announced Monday night on his weekly "Hawk Talk" radio show sophomore Ryan Willis will start this week, when the Jayhawks play host to TCU at Memorial Stadium (11 a.m. kickoff, ESPNU).
In KU's first three games of the season, fourth-year junior Montell Cozart started at QB, and Willis played in relief.
However, coming off a 55-19 loss in which Cozart struggled (9-for-20, 97 yards, a TD and an interception) at Texas Tech, Beaty has decided to move on from starting the veteran, in favor of Willis, who started eight games in 2015, as a true freshman.
"You know, we're gonna make some personnel changes," Beaty said casually. "Number one: we're going to start Ryan Willis at the quarterback this week."
Through four games this season, Willis has completed 31 of 53 passes (58.5 percent) for 374 yards, three touchdowns and an interception as an often-utilized backup.
Cozart, as a starter sharing time in KU's quarterback rotation, has completed 57 of his 91 throws (62.6 percent) for 581 yards and six touchdowns, with four interceptions.
"(Willis) has shown some real progress for us, you know, from fall camp moving along, in terms of how he's studying and the way he's starting to understand. And I think his efficiency has been a little bit better for us, even though Montell's produced for us," Beaty said.
"The thing I love about those two guys is they are for each other, man. Those guys on the sideline are working hand in hand, and today when we talked to both those guys, neither one of them batted an eye, and they're ready to go," the KU coach shared. "I mean, they're team guys. I know Ryan's excited about it, and we're looking forward to seeing him take advantage of the opportunity."
Beaty, who also serves as offensive coordinator and quarterbacks coach, didn't indicate whether he would stick with a two-quarterback approach. The head coach did say he hopes to see the offense run more efficiently with Willis at QB.
"For us to really utilize this offense the way it needs to be used, you've gotta be able to string first downs together," Beaty said. "And that calls for accurate execution in all areas — not just at the quarterback, but up front and in all those areas. You know, we are getting closer. But close is for hand grenades, man. I mean, we've gotta execute, and it's gotta be precise, and we know that. We understand that going in."
All 11 players on offense, Beaty added, need to make things run more smoothly for KU (1-3 overall, 0-1 Big 12).
"You can not do it by yourself," he said. "Those guys up front, they've gotta do a nice job. Those guys out wide have gotta do a great job of getting open and then they've gotta make the plays when it's there. Even when they're not supposed to make plays, they've gotta make plays."