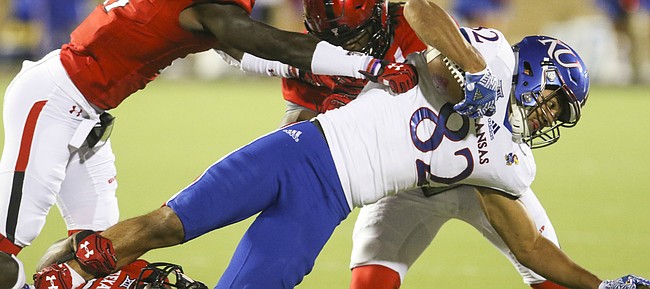 It's obvious to University of Kansas head football coach David Beaty, and anyone keeping tabs on the team four games into the season, the Jayhawks' lack of offensive production has cost them dearly in three consecutive losses.
KU enters the week ranked last in the Big 12 in scoring (25.5 points a game), rushing offense (91 yards a game) first downs (17 a game), third-down conversions (32.1 percent), time of possession (25:33) and turnover margin (-1.75 a game) — and that's with the support of numbers put up in a 55-6 romp against outmanned FCS foe Rhode Island in the season opener.
The Jayhawks (1-3 overall, 0-1 Big 12) rank ninth in total offense (353 yards a game), eighth in red zone offense (81.8 scoring percentage on 11 trips) and seventh in passing offense (262 yards a game) as they prepare to face TCU (3-2, 1-1) Saturday, at Memorial Stadium.
"We've gotta finish drives," Beaty responded during Monday's Big 12 coaches media teleconference, when asked about his thoughts on the offense coming off Thursday's 55-19 loss at Texas Tech. "I mean, as we get inside that 50 and we get opportunities. We've gotta be sure we put points on the board with those drives, and when we do it we need to finish with touchdowns."
Simply reaching Red Raiders territory proved difficult this past week, though, for the KU offense during its Big 12 opener. On 17 total drives, the Jayhawks' average start came on their own 30-yard-line and series often lulled to a standstill, with seven three-and-outs during the road loss.
On 12 occasions, a KU series began and ended on the visitors' side of the 50-yard-line. On one possession that crossed the midway mark of the field, Kansas only went as far as Texas Tech's 49.
Twice, both instances coming in the third quarter, the Jayhawks operated under the benefit of starting a drive in Red Raiders territory. The results: a seven-play, 39-yard drive for a TD, and a nine-play, 20-yard series ending in a successful Matt Wyman field goal.
Later, in the fourth quarter, Kansas advanced to Tech's 29 before Montell Cozart threw an interception.
"If we can avoid the turnover problem," Beaty said, "then it gives you a chance to finish those drives, so that's what we're focusing on."
Injury updates
Beaty didn't have specifics as of Monday morning but provided limited updates on a couple of key Jayhawks who left the field hurt at Texas Tech.
The head coach said he thinks sophomore defensive line standouts Dorance Armstrong Jr. and Daniel Wise should be able to play against TCU (11 a.m, ESPNU).
"But we'll know a lot more definitively tomorrow," the coach added, "so I'll be able to give you an update then."
KU-Baylor kickoff set
Following the Jayhawks' first home game in four weeks, they will hit the road again Oct. 15 for a road date with Baylor.
The Big 12 announced Monday the game will kickoff at 2:30 p.m. and air on FOX Sports 1.
The Bears are 11-4 all-time versus Kansas and a perfect 7-0 in Waco, Texas.