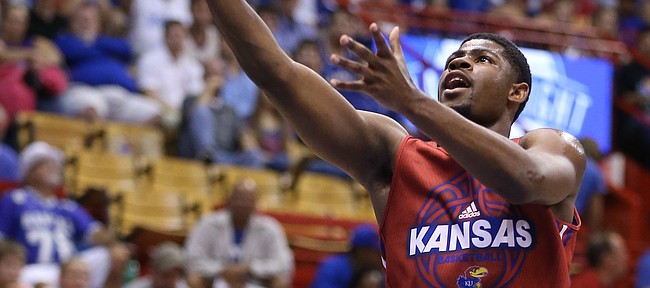 Although he won't be able to play an actual game until the start of the 2017-18 season, Mississippi State transfer Malik Newman got the most out of his first appearance at Allen Fieldhouse last Saturday night.
Starting for the Crimson squad, which included Devonte' Graham, Carlton Bragg, Josh Jackson, Dwight Coleby, Evan Maxwell and Tyler Self, Newman finished with 12 points and three assists in 18 minutes of the scrimmage that capped this year's Late Night in the Phog.
Heading into Late Night, Newman said he was equal parts excited and nervous.
"I don't think I've ever played in front of 16,000 people," he told reporters last week.
But once he hit the floor, the nerves were hardly noticeable.
Newman looked smooth in transition, knocked down a couple of outside jumpers and finished with ease at the rim.
All were skills Newman showed as a true freshman at Mississippi State, where he made 21 starts in 29 games and averaged 11.3 points per game a season ago. But none, according to KU coach Bill Self, would come as easy for Newman in the future as they did on Saturday night.
"I hate to say that," Self said. "You're not gonna get open shots like that. He can shoot the ball though."
For reference, Newman made 61 of 161 three-point attempts (.379) in 803 minutes for the Bulldogs last season. KU's leading three-point shooter last season (Devonte' Graham) made 75 of 170 three-pointers in 1,238 minutes.
Although Newman's ability to knock down the outside shot won't help the Jayhawks on the scoreboard for another year, Self said Newman's presence on the roster and deep range will help KU during practice as soon as this season.
Asked which player on this year's roster Newman's presence would impact the most, Self offered an obvious but potentially overlooked answer.
"If anybody gets help the most, it'll be him," Self said. "Having to go against Frank and Devonte' and Josh or whatever.... His ball-handling skills will get better, but he can certainly shoot the basketball."