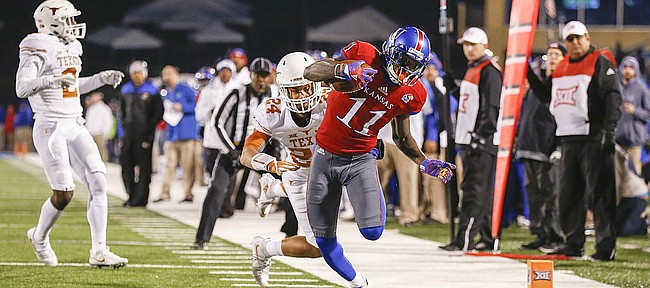 In a memorable victory full of crucial, game-altering plays, one Kansas football player came through with two in the fourth quarter by showing off some offensive and defensive skills.
First, with his team trailing by five, sophomore receiver Steven Sims Jr. executed a two-point conversion that helped set the stage for KU's 24-21 overtime victory against Texas.
Senior running back Ke'aun Kinner took the snap instead of starting quarterback Carter Stanley, and then Sims took a pitch on a reverse. The receiver headed toward the right sideline with an option to throw the ball or keep it.
"I knew we needed that two-point conversion to make it a three-point game," Sims said after KU snapped its nine-game losing streak. "I knew we needed it bad. So in my mind I was just like, 'I've gotta get it. I've gotta do whatever I gotta do to do it.' Coach (David) Beaty put the ball in my hands and I made a play."
Photo Gallery
Kansas football v. Texas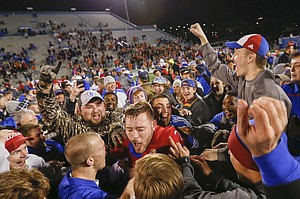 View a gallery of images from the Jayhawks' matchup against the Longhorns on Saturday at Memorial Stadium.
Sims elected to keep the ball and beat UT's defense to the pylon to cut the home team's deficit to 21-18 with 7:48 left in regulation.
The trick play, head coach and offensive coordinator Beaty revealed afterward, entered his repertoire while watching another overtime affair — a high school game in Texas some years back between Southlake Carroll and Tulsa Union.
"Man, I'm stealing that," Beaty thought to himself at the time, upon seeing the reverse pass-option.
"And I thought he did a terrific job," Beaty said of Sims, "because the pass option went away. Carter got covered and he made the (Dylan) Haines kid miss, and he got to the end zone. That was a huge play for us, allowed us to only have to kick the field goal to tie it."
Podcast episode
After earning his first Big 12 victory, Kansas football coach David Beaty talked about his team's 24-21 win in overtime against Texas, the fans rushing the field and how happy he is for his players.
Little did the 5-foot-10 sophomore receiver know at the time, but his biggest play would come in the final seconds, when he served as a pseudo-defensive back. With just 0:12 left and KU still down three points, Stanley took a shot toward the end zone for Sims from 19 yards out. Sims finished with seven catches and 79 yards but it became apparent on the ball's descent toward the left corner he needed to knock it away from the Longhorns' Kris Boyd, who was poised to intercept the throw and seal a victory for UT (5-6 overall, 3-5 Big 12).
"Oh my goodness. Well, difference in a win and a loss," Beaty said of Sims' improvisation. "What a great, great effort by him because he knew he had to do it. We talked about it before we went out there that we're not — 'We can't leave it short, Carter'— and we left it a little short. And we wanted to make sure we took a chance at the end zone."
Beaty said Sims did exactly what his coaches asked of him.
"You have to become a defender if things get hairy over there," the second-year KU coach said following his first Big 12 victory. "Even if we get a penalty, you have to become a defender and get the ball out. And he kept fighting, the guy didn't drop it until the very end, but he kept fighting. And that's why you got to continue to play through every play and he did that and it made a big difference in the game."
Even KU's defensive players couldn't claim the play surprised them. According to sophomore linebacker Keith Loneker Jr., who led KU with a career-best 16 total tackles, the Jayhawks (2-9, 1-7) almost expect Sims to make any play at any time.
"We see it every day in practice, so it's nothing new to us," Loneker said. "That kid can play, and I'm excited to see what he does not only in his career in college, but after. He's a good player."
This and that...
KU won its first Big 12 game since Nov. 8, 2014, against Iowa State. … The Jayhawks posted a season-high six takeaways in their upset victory — the most for the program since a six-takeaway performance against Kansas State in 2006. … Five Kansas defenders had at least 10 total tackles: Loneker, Fish Smithson (12), Mike Lee (11), Dorance Armstrong Jr. (11) and Tevin Shaw (11). … KU played in its first overtime game since a loss to Texas Tech in 2012. … Kansas won its first OT game since defeating ISU in 2005. … The Jayhawks earned a victory on the final play of a game for the first time since Matthew Wyman, who won this one in overtime with a 25-yard field goal, hit from 52 yards against Louisiana Tech in 2013.
— See what people were saying about the game during KUsports.com's live coverage.
---
More news and notes from Kansas vs. Texas
---