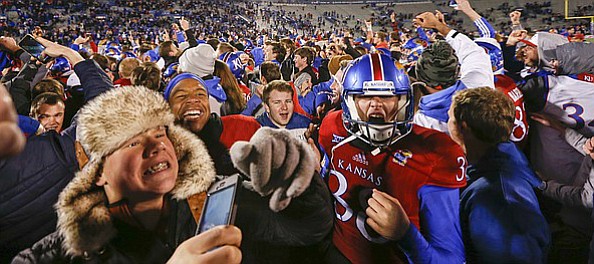 Kansas true freshman Mike Lee grabbed an interception in overtime and Matthew Wyman drilled a 25-yard field goal to lift the Kansas Jayhawks to a 24-21 victory over Texas on Saturday at Memorial Stadium.
The victory on Senior Day ended KU's 19-game losing streak in the Big 12 and it was the first win against Texas since 1938.
Wyman drilled a game-tying 36-yard field goal at the end of regulation after the Jayhawks marched down the field on a six-play, 52-yard drive that included a 26-yard pass to running back Ke'aun Kinner and a costly roughing-the-passer penalty on Texas.
The Jayhawks (2-9, 1-7 in Big 12) trailed by 11 points with less than eight minutes left until KU freshman quarterback Carter Stanley led a 10-play, 80-yard drive that was completed with a one-yard touchdown run by Khalil Herbert.
With the Longhorns (5-6, 3-5) running out the clock in the final minutes, junior running back D'Onta Foreman was stopped on a 4th-and-5 run at the 29-yard line.
Texas turned the ball over six times, including a pick-six touchdown by KU senior cornerback Brandon Stewart in the first half.
Kansas couldn't plan a worse start. On the first play of the game, Texas quarterback Shane Buechele tossed a short pass to receiver Jacorey Warrick, who juked a defender and ran 75 yards for an easy touchdown.
But eventually KU's defense settled down. The Longhorns didn't score another point for the rest of the first half as the Jayhawks wrecked havoc in the backfield. KU sophomore defensive end Dorance Armstrong was a one-man wrecking crew, registering five tackles, three tackles for loss (two sacks), a forced fumble and a fumble recovery in the first half.
It was the first conference win for KU coach David Beaty.
Here's a quick look back at some of the action:
• The game turned when: KU freshman defensive back Mike Lee grabbed an interception on the second play of overtime. It allowed KU's offense to go on the field without much pressure, setting up an eventual game-winning, 25-yard field goal for Wyman.
• Offensive highlight: Trailing by 11 points in the fourth quarter, Stanley led a 10-play, 80-yard drive down the field, ending with a one-yard touchdown run by freshman Khalil Herbert. There were plenty of big plays on the drive — after being shutout on offense all game — including a 20-yard run by Stanley and three catches by Steven Sims for 31 yards.
• Defensive highlight: Midway through the second quarter, Brandon Stewart jumped a slant route and returned an interception 55 yards for a touchdown. It was one of the four first-half turnovers by Texas.
• Key stat: Turnovers. Texas had six turnovers, including a costly interception in overtime, that led to 10 points for the Jayhawks.
• Up next: The Jayhawks will travel to Kansas State for the Sunflower Showdown and final game of the season at 11 a.m. Saturday.
SCORING BY QUARTERS
FIRST
14:49 — Shane Buechele 75-yard pass to Jacorey Warrick. Trent Domingue kick. One-play drive for 75 yards, in 0:11. (UT 7, KU 0.)
SECOND
5:04 — Brandon Stewart 55-yard interception return. Matt Wyman kick. (UT 7, KU 7.)
2:27 — Wyman 36-yard field goal. Five-play drive for 25 yards, in 1:43. (KU 10, UT 7.)
THIRD
11:27 — D'Onta Foreman two-yard run. Domingue kick. Eight-play drive for 38 yards, in 2:42. (UT 14, KU 10.)
FOURTH
13:34 — Foreman one-yard run. Domingue kick. Nine-play drive for 46 yards, in 2:32. (UT 21, KU 10.)
7:48 — Khalil Herbert one-yard run. Wyman kick. Ten-play drive for 80 yards, in 2:48. (UT 21, KU 18.)
0:07 — Wyman 36-yard field goal. Six-play drive for 52 yards, in 0:51. (UT 21, KU 21.)
OVERTIME
0:00 — Wyman 25-yard field goal. Six-play drive for 17 yards. (KU 24, UT 21.)