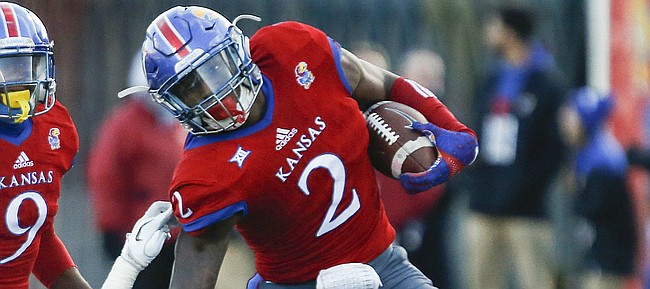 The heights and weights listed on the rosters, the betting line, the stars placed next to their names by recruiting services, all tell me that I'm supposed to write that the team of misfit toys somehow found a way to slay giants Saturday at Memorial Stadium.
One problem with following that script: I watched the football game and if Kansas didn't have the most talented player on the field, then I guess I just don't know how to watch football.
Kansas, the team with the best player won the football game, 24-21 in overtime, over a Texas squad favored by 24 points and motivated by trying to earn a bowl berth.
Dorance Armstrong, KU's sophomore defensive end from Houston, a workout warrior, a serious student of the game and a freakishly fast player, threw his strong 6-foot-4, 246-pound frame all over the field to disrupt play after play and never allowed himself to be derailed by the KU offense's repeated failure to take advantage of opportunities gift-wrapped by the defense.
Photo Gallery
Kansas football v. Texas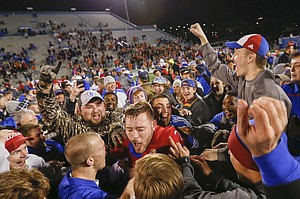 View a gallery of images from the Jayhawks' matchup against the Longhorns on Saturday at Memorial Stadium.
In the first half alone, Armstrong forced a fumble, recovered one and had two sacks. For the game, he tallied 11 tackles, nine solos, three for a loss. His returned the fumble seven yards, but covered much more ground than that looking for daylight, seeking six points he couldn't get. He went after it like he goes after the quarterback.
"I ran across the field, came back," he said. "I heard a lot of people call my name, wanting me to pitch the ball, but I wanted to get in the end zone so bad."
It was one of four turnovers the defense forced in the second quarter and one of six for the game. Armstrong's in incredible shape, but even he had to be exhausted in the midst of an on-field celebration. Still, he loved it, soaked it all in with his signature smile taking up residence in so many strangers' smart phones.
"I honestly feel like I took a picture with every person that was in this stadium," Armstrong said. "I came in the locker room and they were already talking. I was like, 'Dang, I didn't know I missed all this.'"
No big deal, the photographs, snapped by the most loyal Kansas football supporters, will last forever. A crowd of 25,673 watched Kansas storm back from a 21-10 deficit to snap a 19-game Big 12 losing streak.
A native of Houston, Armstrong was recruited by Texas, but never received a scholarship offer.
"I had a lot of them," he said of letters from Longhorns coaches. "But I never had an offer. I went to two camps there. I went on an unofficial visit and toured their campus, but I still didn't get an offer. I'm not mad. I just feel like they missed on an opportunity to have me."
If there is any justice in the world, Armstrong is headed for first-team Big 12 honors, but senior safety Fish Smithson didn't stop there when addressing the enormity of his teammate's talent.
"Honestly, I think he's as talented as any defensive end in America," Smithson said. "He's a sensational player. After his freshman season, he put on a whole lot of weight and still has great speed. So he's big, fast, physical and athletic. You saw him with the ball in his hands making people miss."
The offense, led by receiver Steven Sims, running back Ke'aun Kinner and quarterback Carter Stanley, came alive late to keep another strong effort from the defense from being wasted and this was the defense's best game of the season.
Brandon Stewart, Smithson and Mike Lee picked off passes, Stewart taking his 55 yards for a touchdown.
Denzel Feaster and Cameron Rosser each forced and recovered fumbles. Keith Loneker was in on 16 tackles, including 11 solos. Smithson made 10 solo tackles, including one on which he was the last hope to bring down monster back D'Onta Foreman (250 yards and two touchdowns).
"He's huge, even bigger in person than he is on film," Smithson said of the 238-pound Heisman Trophy candidate.
Defensive tackle Daniel Wise, who next to Armstrong has been the team's best defensive player, had two sacks and another tackle behind the line of scrimmage, and like Armstrong played with a contagious energy because that's the only way to the two most important building blocks to KU's future know how to play.
Armstrong and Wise have two more seasons together after this one.
"It feels good," Armstrong said of having more games playing with Wise ahead of him than behind him. "I know, he knows, and everyone on this team knows next year we're going to be even better, and the year after that we're going to be even better. With all the new kids that come in, we're going to be even better than we were."
Many things had happened in the world since Kansas last had defeated Texas. To name a few, there was World War II, the invention of the automatic dishwasher and computer, Mario Chalmers' three-pointer against Memphis, KU volleyball's first Big 12 volleyball title, clinched hours before the football team defeated Texas for the first time since 1938.
And of course, the birth of Dorance Armstrong, a player so talented he is capable of accelerating the rebirth of KU football.
— See what people were saying about the game during KUsports.com's live coverage.
---
More news and notes from Kansas vs. Texas
---