After enduring week after week of emotions ranging from anger to disappointment to disgust, second-year Kansas football coach David Beaty and his Jayhawks immersed themselves in a sea of bliss Saturday night at Memorial Stadium, where many of the 25,673 in attendance greeted them with hugs, high-fives and selfie requests in the moments following a thrilling, 24-21 overtime victory over Texas.
Once senior kicker Matt Wyman drilled his second crunch-time field goal of the final minutes, every soul wearing crimson and blue felt the density of not just a nine-game losing streak this season, but also a 19-game Big 12 losing streak dating back to 2014, vaporize.
"My teammates just rushed me," Wyman said of his game-winning 25-yard field goal in overtime, "and I got to celebrate with my teammates and all those fans. It was awesome."
Photo Gallery
Kansas football v. Texas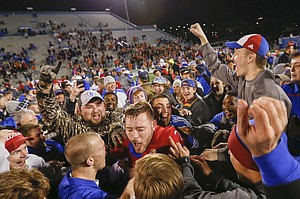 View a gallery of images from the Jayhawks' matchup against the Longhorns on Saturday at Memorial Stadium.
Few could comprehend what the victory meant for Beaty, who entered the weekend winless in conference play and 1-21 as KU's head coach. He witnessed his fortunes begin to change over the course of the fourth quarter and the lone extra period, and that elusive conference win really seemed tangible once a true freshman who couldn't get on the field a few months back broke on a Shane Buechele pass.
Two untimed downs after KU won the OT coin toss and elected to open on defense, Beaty had a perfect view from behind the Longhorns (5-6 overall, 3-5 Big 12) as safety Mike Lee all but won the game with an interception, the third pick of the game and sixth takeaway by the Kansas defense. Beaty noticed Lee's eyes grew larger than he'd ever seen and then the freshman from New Orleans tried to end the game himself, returning his interception 35 yards.
"I thought he did a really nice job of trying to get it and got really close to getting out," Beaty said of Lee, who also contributed 11 solo tackles and a pass breakup in the upset. "And then I thought our offense did a really good job from that point, driving the ball down the middle of the field to put it in position and give Wyman a decent angle to kick the ball."
None of those scenarios seemed possible as late as the fourth quarter, with Kansas (2-9, 1-7) trailing 21-10. With more than 10 minutes left in regulation, the offense had only produced six first downs. Then redshirt freshman quarterback Carter Stanley took off on a passing play for a 20-yard run and everything began to change.
"It sparked us," Beaty said. "The thing about it is when we can get him going in tempo it helps. But you've gotta string first downs together to do that."
Podcast episode
After earning his first Big 12 victory, Kansas football coach David Beaty talked about his team's 24-21 win in overtime against Texas, the fans rushing the field and how happy he is for his players.
Suddenly, Texas couldn't stop KU. Another true freshman, Khalil Herbert, hit Texas with a 15-yard run for another first down. Over the next few minutes, Stanley (21-for-42 passing, 220 yards, one interception) connected three times with sophomore receiver Steven Sims Jr. (seven receptions, 79 yards) for first downs and Herbert capped a 10-play, 80-yard drive with a one-yard rushing touchdown.
"I think that scramble of Carter, that was a big play for us. We really needed it," Sims said. "… He just made a play with his feet and that was a big momentum shift for us."
From there, Sims kept the ball on a reverse to pull off a two-point conversion. KU only trailed 21-18 with 7:48 to play and a previously lifeless offense had revived a downtrodden team.
The Jayhawks' defense, which in the first half took the ball away from Texas on four straight possessions, elevated its play in the clutch, too. With Texas driving and riding star running back D'Onta Foreman (51 rushes, 250 yards, two touchdowns) following KU's first offensive score, sophomore fill-in linebacker Denzel Feaster forced a fumble recovered by KU senior Cameron Rosser.
The Kansas offense didn't capitalize and turned the ball over on downs, but the defense again proved to be the team's strength with a four-and-out in the final minutes, highlighted by sophomore linebacker Keith Loneker Jr.'s fourth-down tackle of Foreman that kept the stud runner short of the line of gain. Fittingly, Loneker led KU with 16 total tackles, a career-high.
With less than a minute left, Stanley completed three passes of a 52-yard drive to senior running back Ke'aun Kinner, setting Wyman up for a 36-yard field goal with seven seconds left that sent the game to OT.
"What resilient dudes those guys are," Beaty said. "They have continued to work through some really, really difficult situations. And I've said it before, I feel like we got the right type of kids in our program. They kept fighting, they got us a chance to win the game, and they were able to seal the deal there at the end."
In fact, the game had blowout defeat written all over it one play in. Before the KU seniors could as much as dry the tears from their cheeks following a pre-game ceremony involving their families, Texas had gone 75 yards for a touchdown on the first play from scrimmage. Safety Fish Smithson missed Jacorey Warrick in the open field on a quick pass just beyond the line of scrimmage and the senior Longhorns receiver won a 70-yard foot race to the end zone to put KU down seven points a mere 11 seconds into the home finale.
"We just stuck together," said Smithson, who finished with 12 total tackles, a tackle for loss and an interception. "I went around and told everybody that was my fault and everything, missing that tackle on the first play of the game, putting us in a bad situation to start. But everybody kept me up and I kept them up also. We was going one play at a time."
The defense recovered to the tune of 10 straight scoreless Texas possessions. Senior corner Brandon Stewart really ignited KU's hopes with a 55-yard interception return for a touchdown that tied the game at 7 in the second quarter. That came after a Dorance Armstrong Jr. strip-sack and Feaster recovery and a Smithson pick, and before an Armstrong fumble recovery of a Rosser strip.
"You've gotta give credit to our defensive line," Stewart said. "Those guys were in there working. They was rattling the QB (Buechele, 17-for-26, 165 yards), they was rattling the running game, and without them we probably wouldn't have made any of those plays. You've just got to give credit to them to make the QB rattled and throw some kind of errant passes. It felt good."
For once delight ruled the day for the Jayhawks, who defeated Texas for the first time since 1938.
Said Loneker, a Lawrence native who starred at Free State High: "That's the best feeling I've had as a KU player and probably the best feeling I've had after a game ever in my whole career. That was pretty sweet."
Added Armstrong, following his mammoth 11-tackle, two-sack showing: "It means a lot. Coach Beaty got teared up a little bit. Probably a lot of coaches got teared up a little bit. Coaches were dancing to our music. We never see that. It was just a good vibe the entire time we were in there."
Before Beaty and company turned their attention to Kansas State and the coming season finale in Manhattan, they couldn't help dwelling on the on-field aftermath of the program's first overtime victory since 2005.
"Our guys truly want to win," KU's head coach said, "to make their fans, the students here, their fan base, their stakeholders, they want them to be happy. They've gone through a lot. To see those fans down there, I saw so many great supporters of our university that were out there that, I mean, it felt good to give them a hug and thank 'em — with a win."
— See what people were saying about the game during KUsports.com's live coverage.
---
More news and notes from Kansas vs. Texas
---