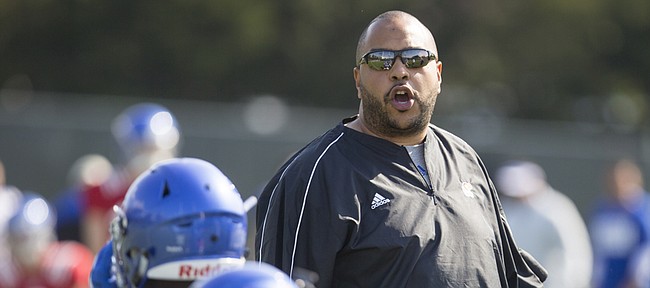 During his first four months on the job, Kansas University running-backs coach Tony Hull's deep connection to his hometown of New Orleans has paid off more quickly than expected for the rebuilding Jayhawks.
Hired by second-year KU coach David Beaty to replace veteran running-backs coach Reggie Mitchell, who left for Arkansas, Hull four times already has taken advantage of his reputation among young athletes in his home state by inspiring them to leave Louisiana for the chance to play at Kansas and in the Big 12 Conference.
"Coach Hull, he's just an honest person," three-star defensive end Troy James, the most recent of the Louisiana commitments, told the Journal-World. "He doesn't cut any corners, he keeps everything real, and he doesn't sugar-coat anything. He just wants us to come up there with him and help change this program around."
That desire, according to those who know him best, is driven fully by what's best for the young men first and Hull and Kansas football second.
That's the way Hull always has operated, dating back to his days in New Orleans as a high school coach at Warren Easton High, which he turned from disaster to contender in just a couple of years.
Because Warren Easton's status as a magnet school allows it to draw enrollment from multiple districts, Hull always received great interest from athletes all over Louisiana. But the numbers game did not always allow Hull to take those who wanted to play football for him.
Rather than turning them away, Hull stayed involved.
"When he couldn't get kids in, he shipped 'em to his rivals just to help the kids," Beaty told the Journal-World. "He was sending them to the guys that he had to beat to win a state championship, and he was doing it because he wanted what was best for those kids."
With that philosophy perfectly in line with what he believes is paramount to running a program — strong relationships — Beaty always had an inkling that he would hire Hull if he ever got an opportunity to run his own college program. That day came in December of 2014, and after kicking the tires to see if Hull was interested in joining his first staff, Beaty finally reeled him in this offseason.
Asked if he had even the slightest hunch that Hull, the former NASA employee who gave up a lucrative career in aerospace engineering to return to his mentor role in New Orleans, would get his college coaching career off to such a hot start, Beaty did not hesitate to answer.
"Yeah, I did," he said. "And the reason I did is because he's one of them. He grew up where they grew up, he comes from where they come from, and he understands what their lives are about. Beyond that, he's just a good man, too."
It was Hull's potential and the strength of his relationships that inspired Beaty to hire him, but Beaty made no concessions for Hull, whom he first met years ago when learning the Air Raid offense with current Texas Tech coach Kliff Kingsbury.
Instead of simply calling and offering Hull the job, however, Beaty first brought him to campus.
"He came up before he spoke at our coaching clinic, and we made him interview in front of our entire staff because I wanted them to see what I already knew," Beaty said. "He was phenomenal. His interview was so good. I mean, it was over right there, to be honest with you."
That moment might go down as one of Beaty's most important recruiting plays, and it has been paying off ever since.
First came three-star athlete Travis Jordan, from Marrero, La., who committed to Hull and the Jayhawks in early April. Then came two-star wide receiver Takulve Williams, of New Orleans, who committed in mid-May. Finally, four-star cornerback Mike Lee, of New Orleans, and James, of Baton Rouge, both committed in June 19 days apart.
And that's to say nothing of current freshman Tyriek Starks, a quarterback who played for Hull at Warren Easton and committed and signed at KU before Hull was hired. Starks was the first to show those in and around New Orleans that the road to Lawrence was open, and others quickly took note and soon followed.
Upon hearing that Hull would be joining him in Lawrence, Starks first expressed how happy he and countless others in New Orleans were for his former coach. Only then did Starks begin to contemplate how continuing their relationship these next four years would benefit him.
"He gets the best out of people," Starks said of Hull. "Just having him there will probably help me understand things better, not just football, but also life and stuff off the field. He's just that type of coach. You can go to him with anything."
Added James: "As soon as I met coach Hull, I felt like I had known him for years. He knew where I was from and I felt a strong connection to him right away because of that. A lot of coaches will pretend they know about you or about where you're from, but coach Hull really does. He lived it. And that makes me feel really close to him already."