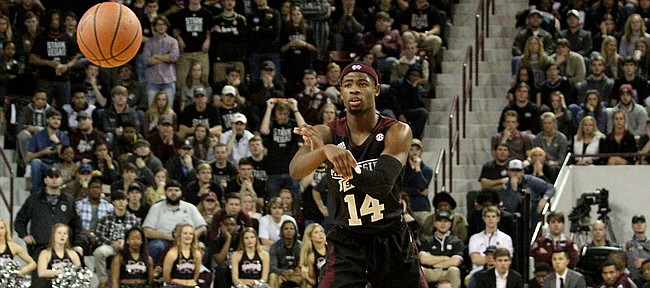 Former Mississippi State basketball guard Malik Newman, who admittedly was in a great mood Friday after announcing plans to transfer to Kansas University, laughed into his cell phone upon hearing a question he particularly embraced.
"Did you ask if this was a great marriage? I like that. I think it'll be a perfect marriage. Can I use that?" Newman, a former McDonald's All-American and Rivals.com's No. 8 prospect in the recruiting Class of 2015, asked a Journal-World reporter after making what he called at least a two-year commitment to KU.
Podcast episode
Spodcasters Matt Tait and Tom Keegan examine what the addition of Mississippi State transfer Malik Newman means for the future of Kansas basketball.
He'll practice but not play in games this upcoming season in accordance with NCAA transfer rules, then will compete in games for the Jayhawks in 2017-18 before reassessing his NBA prospects after his red-shirt sophomore season.
"I mean, I definitely will be playing in a Kansas jersey. After my first year of playing (in games), we'll see how everything weighs out, and we go from there. I'll definitely be there for two years, my sit-out year and the year that I'll play," Newman said.
Newman averaged 11.3 points a game off 39.1 percent shooting in his one season at MSU after leading Callaway High in Jackson, Miss., to an unprecedented four straight state titles.
He entered the 2016 NBA Draft before dropping out after receiving so-so reviews at the combine and in individual workouts for teams. Newman said he actually is looking forward to practicing a full year against Frank Mason III, Devonté Graham and freshman Josh Jackson. Jackson, the No. 1-ranked prospect in the Class of 2016, is a former Team USA teammate of Newman, a 6-foot-3 combo guard who was named MVP of both the FIBA Under 16 and 17 championships.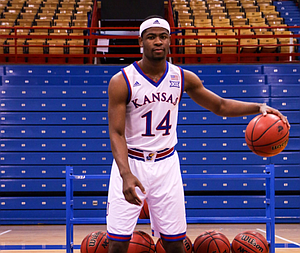 "I think it'll be great. I think it'll be some high-level, competitive practices. I think it'll get me better, and I can help those guys get better each and every day," said Newman, who said he'll arrive in Lawrence on Tuesday for the start of second session of summer school. "I think all of us will benefit. I think I will benefit the most. I get a full year to learn the system and learn how he (coach Bill Self) likes things done and what he expects."
Newman, who had a nagging foot injury this past season, also gets to work on his 190-pound frame.
"Their strength-and-conditioning program is second-to-none," Newman's dad, Horatio Webster, told the Journal-World. "I look forward to how she (Andrea Hudy, strength coach) will transform his body. I've seen what she's done with other players. I told Malik, when I see him next I don't want to recognize him," Webster, who played basketball at Mississippi State then overseas, added with a laugh.
Malik stated: "It (working on his body) is important because playing at Kansas, anytime you come on the court, you get everyone's A-game. There will be some games where I get beat up. I know I need to work on my body. That's always something I preach, how big and strong I am, how fast. Those things are important that I work on them."
Practices at KU can be as physical or more physical than the games, as Malik and his dad witnessed during their Tuesday/Wednesday visit to KU.
"Coach Self is a zero-tolerance guy: Work hard, or you are not going to play," Webster said. "That is what Malik needs. I saw the workout. I've played ball overseas and at the highest level, everywhere but the NBA. I was like, 'Man, those guys put on their hard hat.' Malik gets that, along with the skills he has, we might have a ballplayer."
Newman, who chose KU over Western Kentucky, Oregon, North Carolina State and Miami this past recruiting process — he chose MSU over KU, Kentucky and others the first time — said he also loves KU's McCarthy Hall, the players' living quarters.
"Outstanding. I've never seen anything like it," he said.
And he loves Allen Fieldhouse.
"I hear it's one of the best places to play. When my time comes, I'm going to be very excited to play," said Newman, who said rather than classify himself as a point guard or shooting guard, he'll likely play both positions here.
"Whoever gets it, they get it and go," Newman said.
More than anything, Newman says he feels fortunate KU recruited him for a second time — after he announced his decision to leave MSU.
"I feel like a lot of the arrows were pointing toward KU the first time. I kind of took a different path. The second time around, it was pointed right back at those guys. I don't see why it'd be a wrong move," Newman said.
"Coach Howard (Jerrance, lead recruiter in Newman recruitment) is more than a coach. He's like family to me. Coach Self is a very cool dude. I mean much cooler than I expected him to be. As everyone knows, he is a great coach. I'm definitely excited to get up there and work with him. Coach Howard did a helluva job the first time of pulling me in. I'm just thankful for the opportunity, that those guys still wanted me the second time around. I'm just excited to get up there and work hard with those guys."
Self is elated the Jayhawks were able to snag Newman.
"In our opinion, Malik was a top-five player coming out of high school," Self said, noting KU "recruited Malik extremely hard out of high school."
"He's a combo guard that has good size, can really shoot the ball and stretch it. There are things he needs to get better at, but the year off will allow him to address things that the NBA people wanted to see more of out of him. Even though it didn't happen the first time for us, we were excited to know we are getting a fabulous talent — just a year later than what we originally planned."
One thing Self likes about Newman is, just like incoming freshman Jackson, he's known as a winner.
"I feel as long as you win," Newman said, "everything else is being taken care of, because at the end of the day it's what basketball boils down to — who wins. You win, and everybody loves you."
KU has one scholarship left to give in the current recruiting class of 2016.
---
More reaction to Malik Newman's arrival
---