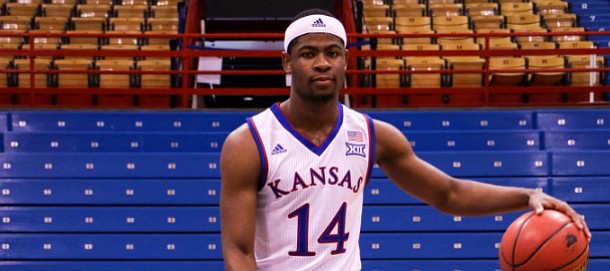 Kansas University basketball assistant Jerrance Howard, who had spent two years recruiting Mississippi high school phenom Malik Newman, remembers the disappointment felt on April 24, 2015 — the day Rivals.com's No. 8-rated player announced for Mississippi State over KU and Kentucky.
"Most definitely," Howard recalled, asked if the agony of defeat, signified by Newman wearing an MSU cap and ringing a cowbell in a news conference at Callaway High School in Jackson, Miss., was real. "Coach (Bill) Self will tell you I had a bad attitude a couple weeks after that."
Howard was speaking on Friday, the day 6-foot-3, 190-pound combo guard Newman chose KU as his transfer destination over Oregon, North Carolina State, Western Kentucky and Miami.
"Fourteen times. Seven during the school year both years," Howard said, asked how many trips he made to Mississippi in pursuit of the McDonald's All-American. "We never missed a (AAU) game in the summertime. Once I couldn't go," Howard added, who on that one occasion was attending to a death in his family.
"I spent a lot of time at the high school, got to know his high school coach. One of the assistant coaches was a KU fan. We just couldn't get over the hump. Mississippi State being close to home. Dad played there," he added of Horatio Webster, Malik's father. "They had a lot of momentum switch when coach (Ben) Howland got the (MSU) job. It was really tough. He (Newman) is probably the best scorer I've seen in 11 years of coaching, definitely the best scorer of any recruit. He has a natural niche in scoring the ball."
Howard, the lead recruiter on KU's staff in the pursuit of Newman, was so liked by Malik and Horatio they almost felt guilty choosing MSU the first time.
"Oh my gosh, yes indeed," Webster said, asked if he respects the work Howard, Self and the rest of KU's coaches put in recruiting his son. "Coach Howard and Malik have developed a great relationship. It was like, had they not hired coach Howland in the last hour, then the kid was going to Kansas."
"I've repaid him (Howard) for all those times," Malik said with a laugh. "He is like family. That's how close we got. Even now, before I committed, I could text him, 'What's up. How are you doing?' It's more than basketball with him," Malik added.
Accepting Newman's decision gracefully the first time had to help KU's chances in landing Newman the transfer the second go-round.
"As a staff and coaches, we put a lot of work in," Howard said. "The kid liked Kansas the first time. You can't knock a kid for staying home and going to dad's alma mater. It's why it is really important you handle things the right way whether you get a kid or not. There were no hard feelings. We kept a good relationship and wished them the best."
The Newmans contacted KU shortly after the decision was made to bolt Mississippi State after one season in which Malik averaged 11.3 ppg.
"They said, 'Is there still interest?' We said, 'Most definitely,''' Howard said. "Coach Self was good in explaining it all. He said, 'This is business strictly, it's all about basketball and school. It has to be the right fit. If you want to reach your goals we feel we can help you.' We weren't going to play around and call and kiss his butt," Howard added. "We didn't want that. He and his dad didn't want that. They said they were happy to get a second chance."
Now Newman is preparing to come to campus Tuesday for second session of summer school, and the Jayhawks will begin coaching an elite offensive talent.
"A lot of it is in his blood. His dad was a big-time scorer at Mississippi State," Howard said. "He (dad) had him in the gym at a young age. He scores a lot like Keith (Langford), mid-range, off the dribble, off the catch, from three. He's a big-time scorer and it's natural. I feel we're getting a steal. At one point his junior year he was ranked No. 1 in the country. He's been through the fire, got some experience at Mississippi State. Being able to sit out a year and go against Josh (Jackson), Frank (Mason), Devonté (Graham) will be good for everybody."
Regarding his offensive game, Newman, who averaged 29.7 ppg his senior year at Callaway, said: "My father, my uncles did a good job of getting me in the gym. Whenever I told them there was something I needed help on, they made it a main point to make it one of my strengths.
"Doing things hundreds and hundreds of times it started to get to be second nature."
Webster said simply that his son, "was born to put the basketball in the goal. That's what he's been blessed with."
Last year, Newman was saddled with a nagging foot injury that obstructed his game, Webster said. Also Malik had some problems changing his game while trying to facilitate more for others at the point. Overall, MSU had a 14-17 record, which is something Newman is not used to. He figures to get back on the winning track at KU.
"What we liked is he's a winner, He's been winning since sixth grade," Howard said. Newman in fact was MVP of USA Basketball's gold-medal winning Under 16 and 17 championship teams.
"As long as you win," Newman said, "everything else is being taken care of. At the end of the day it's what basketball boils down to, who wins. You win and everybody loves you."