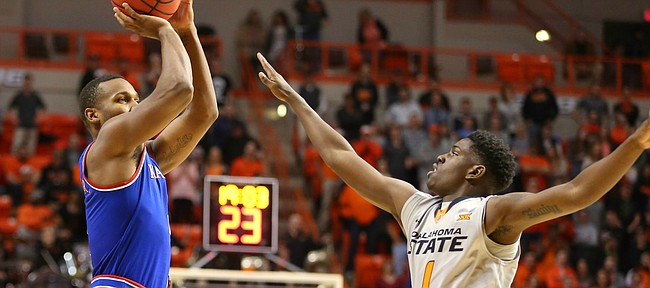 Stillwater, Okla. — If 42 points in a two-point home loss to Oklahoma didn't launch Oklahoma State freshman point guard Jawun Evans onto center stage nationally, his performance in a blowout victory against No. 3 Kansas University should do the job.
Evans totaled 22 points, six rebounds and eight assists and took just 11 shots in leading Oklahoma State to an 86-67 Tuesday night destruction of No. 3 Kansas in Gallagher-Iba Arena.
"I think he's great," Kansas coach Bill Self said of Evans. "I think he's great. You can talk about other freshmen in the country. He's right up there with them. He's great."
Oklahoma State coach Travis Ford could not have been happier with the the performance from the 6-foot, 175-pound point guard from Kimball High, in Dallas.
Photo Gallery
Kansas basketball v. Oklahoma State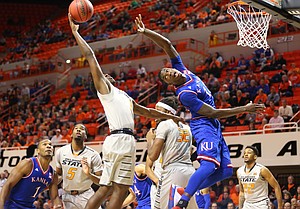 Images from Tuesday night's game between the Jayhawks and Cowboys at Gallagher-Iba Arena
"All five players on the court are watching him defensively and trying to figure out how to slow him down," Ford said.
"He's probably the best I've ever seen at understanding when to shoot and when to pass," Evans' coach added. "He can go out and get you 20, 25, 30 points or 10, 11, or 12 assists. He did a little bit of both, but we had everybody step up, definitely."
Teammate Jeff Newberry, who scored 13 points, talked about the freshman being a great student of the game.
"He is one of the most humble people I have ever played with," Newberry said. "He is very eager to learn and listen. He doesn't just take praise to the good stuff. He wants to know what he did wrong. I like that he consistently wants to get better every day, and comes calm and collected, knowing he has to lead the team, and he takes on that burden."
Evans had six turnovers, but as for what he did wrong, the answer still was not much at all.
— See what people were saying about KU at Oklahoma State during KUsports.com's live coverage
---
More news and notes from Kansas at Oklahoma State
---