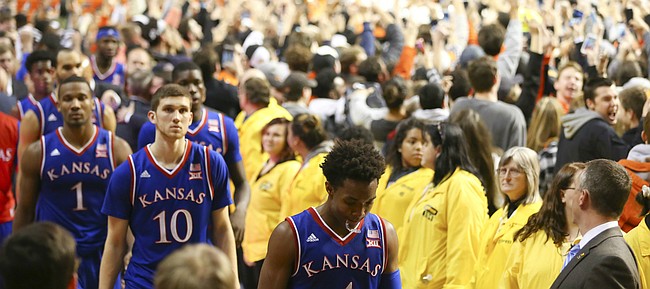 Stillwater, Okla. — A reporter asked Kansas University basketball coach Bill Self if he could pinpoint a "common denominator" in the Jayhawks' three consecutive losses at Self's alma mater, Oklahoma State.
"Yeah, me," KU's 13th-year coach said after the No. 3-ranked (15-3, 4-2) Jayhawks' 86-67 blowout loss to (10-8, 2-4) OSU on Tuesday night before an announced crowd of 11,383 fans in a building that seats 13,611.
"We've had different players every year. ... I've got to do a better job. We've never played well down here, it seems to me," he added after KU's second-straight double-digit road loss.
The Jayhawks, who have a 3-6 record in Stillwater during the Self era, fell by five points last season and seven the year before. This time ... an unsightly 19-point margin of defeat tied for KU's third-worst loss in a Big 12 game under Self, trailing only a 25-pointer to Texas and 23-pointer vs. Baylor.
Photo Gallery
Kansas basketball v. Oklahoma State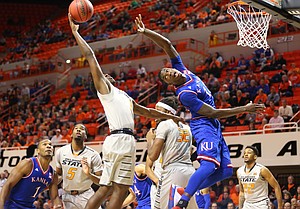 Images from Tuesday night's game between the Jayhawks and Cowboys at Gallagher-Iba Arena
"We are struggling right now. We are laboring. We are not playing well as a unit. We are not playing well individually. We are inconsistent," Self said, adding, "We are so spoiled here. We have not had very many games like this over the years, but we've had 'em. Mature guys understand it's one game and bounce back. It is disheartening at the moment, but we'll find out how tough we are.
"I've always questioned whether or not this team from a mental standpoint was tough enough to fight through some stuff. To be honest, we haven't shown that we are, but we aren't going to go anywhere if we don't show that we are. If there's anything positive out of this is we'll find out who we really are. I know we're capable of being much better."
The Jayhawks, who trailed 43-38 at the half, were outscored 43-29 the final 20 minutes. KU hit just 42.1 percent of its shots, including a chilly six of 22 from three and 13 of 24 from the line. Meanwhile, OSU, which hit 50 percent of its shots, including 11 threes in 21 tries, out-rebounded KU, 38-31.
"I think about everything that could go wrong with us went wrong," Self said. "We didn't make shots when the game was at least somewhat in balance. What went wrong was they were far better than us."
KU guard Frank Mason III hit four of 12 shots en route to 14 points, while Devonté Graham had 10 points off 4-of-9 shooting and Wayne Selden, Jr., seven points off 3-of-8 shooting.
"We are not getting much out of our guards at all," Self said. "We're not going to go anywhere unless he (Mason) plays well. Devonté and Wayne have got to be consistent."
Podcast episode
Kansas basketball coach Bill Self discusses the Jayhawks' 86-67 loss at Oklahoma State.
When asked about Mason looking as if he was worn out, Self pointed out in the first 14 minutes he "had one point and zero assists. We want the ball in his hands. He's got to do better. We've got to do a better job of setting him up to do better. We're not running our stuff to score right now. We're running stuff just to run stuff."
As far as his physical condition, junior point guard Mason said: "My leg's a little sore. Other than that, everything's OK."
"I haven't seen the things we're capable of doing, starting with me," Mason said. "I've got to be better, being a leader of the team. I'm not playing well right now. Wayne can be a lot better and Devonté. It falls back on us. We've got to do a better job with everything. I wasn't as aggressive as can be, didn't get in their end and create easy shots for teammates. We had some good looks but didn't knock 'em down. I'm looking forward to the next game (1 p.m., Saturday, vs. Texas in Allen Fieldhouse)."
The Jayhawks did appear a bit shell shocked after this a game, in which freshman Jawun Evans scored 22 points with eight assists, six rebounds (and six turnovers) and the Pokes had several rim-rattling, crowd-pleasing dunks.
Ellis, who hit three of 10 shots and seven of 12 free throws en route to 13 points, said: "We're not playing the way we know we can as a team. There's so much more we can bring to the table. We're not doing it right now."
— See what people were saying about KU at Oklahoma State during KUsports.com's live coverage
---
More news and notes from Kansas at Oklahoma State
---