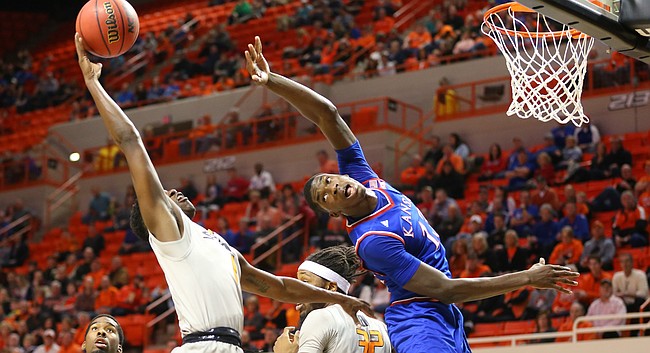 For the second consecutive game away from Allen Fieldhouse, the Kansas University men's basketball team on Tuesday night lacked energy and passion and the Jayhawks watched their opponents take it right at 'em.
Tuesday night, Oklahoma State was that opponent and despite playing in front of a gym that was more than half empty right up until tip-off, the Cowboys got all the energy they needed from their play on the court and knocked off No. 3 Kansas, 86-67.
Just like that, for the third year in a row, the Oklahoma State fan base stormed the floor and the Jayhawks (15-3 overall, 4-2 Big 12) dropped their second conference game in a week's time.
Both were on the road and it's not exactly as if the rest of the conference is lighting things on fire, but if KU can't find a way to bring better effort on the road than it has in its past two road outings, their spot as kings of the conference could face a serious challenge.
Photo Gallery
Kansas basketball v. Oklahoma State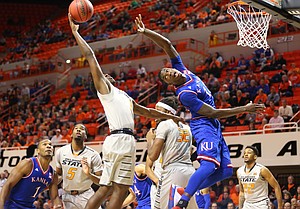 Images from Tuesday night's game between the Jayhawks and Cowboys at Gallagher-Iba Arena
Perry Ellis, once again, led the Jayhawks with 13 points, while Devonté Graham (10) and Frank Mason III (14) also cracked double digits. But none of the three appeared to be that sharp or efficient on offense, where KU shot 42 percent for the game.
What's more, KU's defense, which again was exposed in the half-court, allowed the Cowboys (10-8, 2-4) to shoot 50 percent from the floor for the night, a number very uncharacteristic of Bill Self teams.
Here's a quick look back at some of the action:
• The game turned when: Oklahoma State pushed its five-point halftime lead into the 9-10 range six minutes into the second half. OSU stayed hot from the outside and, unlike Kansas, even picked up a few points in transition while extending the lead from a couple of possessions to one that genuinely made Kansas sweat.
• Offensive highlight: You know it was a rough night when the offensive highlight for Kansas was an outside jumper that looked smooth instead of forced or herky-jerky. So we'll just let that speak for itself here and not really pick an offensive "highlight."
• Defensive highlight: The stats say KU finished with zero blocks and seven steals, one from seven different players. I can't really remember many of them, but the one I do remember came from Ellis, mid-second half. He poked the ball away from a driving Cowboy near the free-throw line and helped kick-start a transition opportunity for Kansas on the other end. It was one of the rare times Tuesday night, when KU looked to have a little spark on defense instead of sitting back and letting OSU take it to them.
Podcast episode
Kansas basketball coach Bill Self discusses the Jayhawks' 86-67 loss at Oklahoma State.
• Key stat: Three-point shooting. Not exactly known as a good outside shooting team, the Cowboys torched the nets to the tune of 11-of-21 shooting from downtown, while KU shot just 6-of-22.
• Up next: The Jayhawks will be back in Allen Fieldhouse on Saturday for a 1 p.m. tip-off against Texas. The game will mark the first time since he took over the UT program that Longhorns' coach Shaka Smart has walked into Allen Fieldhouse.
— See what people were saying about KU at Oklahoma State during KUsports.com's live coverage
---
More news and notes from Kansas at Oklahoma State
---